Healthcare Programs
Courageous Care
Begin or advance your healthcare career through St. Scholastica's more than 30 healthcare programs. Our values inform our healthcare programs and, combined with our innovative curriculum, prepare you to be a compassionate and qualified professional, sought out by the healthcare community.
St. Scholastica has been a leader in healthcare for more than 100 years, and has a strong history of innovation that continues through to today.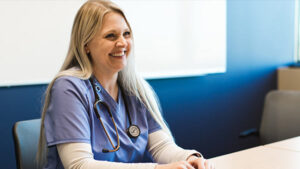 From having the first health information management program in the nation to starting a new cutting-edge PA medicine program, St. Scholastica has shown its dedication to being a leader in training healthcare students to have the knowledge and skill to make an impact on the healthcare industry.
The College's strong tradition of leading in healthcare continues today through its extensive offering of programs to train healthcare professionals. Our programs offer hands-on training to give you a strong foundation of knowledge and skill that will make you ready to excel in your healthcare career.
Programs Offered
Do You Have Questions? We're Here to Help!
Feel free to contact us at any point in the application process, whether you're just starting to think about one of our programs or you're ready to apply. We're always happy to answer your questions!
Contact Admissions at admissions@css.edu or give us a call at 800-447-5444.
Courageous Care
St. Scholastica's healthcare programs will provide you with the knowledge and practical experience to begin or advance your career with the courage to gently care for your patients. Each program has a different impact and each one one will give you the opportunity to develop your skills in real-world situations. You will grow in your ability to make hard decisions for your patients' benefit and to dare to advocate for their well-being.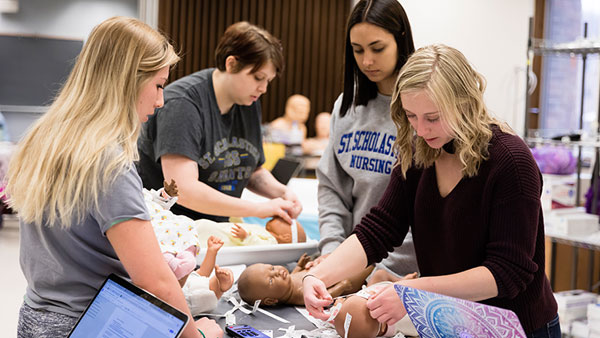 The hands-on approach to learning and patient-centered care helped me graduate as a confident physical therapist.
Facilities and Locations
As a student in a health discipline, you will spend most of your time in one of our state-of-the-art facilities. There are several locations that offer a variety of classroom and hands-on learning experiences to ensure that you are ready for your future career.