Post-Graduate

Doctor of Nursing Practice

The Post-Graduate Doctor of Nursing Practice provides nurses with the leadership, change management and systems design knowledge necessary to be a leader in the healthcare industry. This program is a perfect fit for nurse executives and nurse educators, not only APRNs.
Recognized as one of the top nursing schools in the Plains region as well as one of the top private nursing schools in the country.
Degree Details
Tuition: $895/credit*
---
* Tuition rates are for the 2023-24 academic year. Additional fees and costs for course materials may apply. Total program cost and completion time varies depending on transfer credits and individual program plans. Tuition rates are subject to change. View 2022-23 rates.
Visit our Catalog to view the program, course and degree requirements, and learning outcomes. Be sure to create your course plan in consultation with your advisor.
As healthcare costs continue to increase, DNPs and other advanced-practice nurses are able to transform practice by implementing innovative strategies that improve health care systems and patient outcomes while reducing cost (Institute of Medicine, 2011). The Bureau of Labor Statistics estimates that all types of advanced practice registered nurses will see an increase in employment, of up to 45% within the next 10 years.
The baccalaureate degree program in nursing, the Doctor of Nursing Practice degree program, and post-graduate APRN certificate program at the College of St. Scholastica are accredited by the Commission on Collegiate Nursing Education, 655 K Street, NW, Suite 750, Washington DC 20001, 202-887-6791.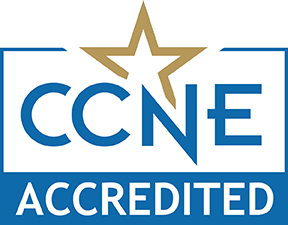 Board Approved
The College of St. Scholastica's pre-licensure degree program, the Bachelor's to DNP with APRN concentration degree program, and the post-graduate APRN certificate program are approved by the Minnesota Board of Nursing.
Visit our admissions page for information about transcripts, online application, international admissions and financing.
Application Deadlines
Applications open in mid-August in NursingCAS for the May cohort. Applications will be accepted and reviewed on a rolling basis at the end of each month September-March. Deadline: March 15.
Eligibility
Bachelor's Degree (BA, BS, BSN) in Nursing
Cumulative GPA of at least 3.0
Current, unencumbered licensure as a registered nurse in the state in which clinicals will occur
Master of Science or Arts with a nursing focus, or a related field (applicant must have a baccalaureate degree in nursing). Applicants may apply pending completion of the master's degree; degree conferral must be received prior to the start of the program.
Transcripts
All official transcripts
If you have previously attended St. Scholastica you must request your transcripts to be sent to NursingCAS. Contact the Registrar's office.
No high school transcripts are required
Online Application
The following requirements will be required in the online Nursing CAS application. Please carefully review all the instructions prior to beginning your application. No items should be sent directly to St. Scholastica.
Visit www.nursingcas.liaisoncas.org/apply and select Summer 2023 for your term. Then click APPLY.
A complete NursingCAS application includes:
All official transcripts

If you have previously attended St. Scholastica you must request your transcripts to be sent to NursingCAS. Contact the Registrar's office.
No high school transcripts are required

Essay upload
The Four Essay Questions should be answered in three to four pages and are as follows:

The College of St. Scholastica is founded on Benedictine values. Describe the connection between the Benedictine Values and the DNP role.
Provide a brief example of a professional ethical challenge you faced in your clinical practice and how you addressed it.
Plagiarism has become a concern in academics in the last several decades with the advent of easily accessible internet resources. Discuss your understanding of what constitutes plagiarism, what is acceptable fair use, and how plagiarism can be an issue for the DNP.
Group work and working in interprofessional teams are common for the DNP/ APRN student and professional DNP/APRNs. Provide an example of how you work in a team.

Additional requirement: Resume
Accepted Students
Upon acceptance into the Doctor of Nursing Practice Program students will need to:
Submit $750 non-refundable deposit and Decision Response Form
Provide immunization records
Annually submit proof of coverage by professional liability insurance ($3 million for each occurrence) and nurse practitioner (NP)  students must carry NP student liability
Meet specific health requirements of the School of Nursing:

Physical examination by a licensed healthcare provider
Annual Mantoux test or chest x-ray

Annually pass a state-mandated criminal background check for all Minnesota nursing students prior to first week of classes
Submit a licensure number and State (to be current and on file at all times)
Submit a copy of current CPR certification (to be current and on file at all times)
Experienced, Dedicated and Distinguished Educators
Expect to be heard, to be challenged and to be involved. St. Scholastica faculty are world-class scholars and experts in their field who invest in your success. Our values of community, respect, stewardship, hospitality and love of learning reflect our faculty's commitment to lifting up others and celebrating our common humanity.