Campus Recreation
St. Scholastica offers innovative programming and exceptional facilities to encourage an active and healthy lifestyle. Work out in the fitness center, attend a fitness class, hike the trails or participate in intramural sports.
Open Recreation
The Burns Wellness Commons features two indoor 200-meter running tracks, four multi-purpose sports courts, two batting cages, a weight room, a fitness/dance studio, a cardiovascular fitness mezzanine, 40-foot climbing wall with a bouldering field, Reif Gymnasium and locker rooms. The campus also contains an intramural sports field, turfed soccer and football field, a softball field and miles of scenic hiking and running trails.
Weight Room and Cardio
The weight room contains several bench and squat stations along with multiple free weight stations, cables, and numerous stacked weight machines. There are plyo boxes, stability balls, medicine balls, BOSU, jump ropes, and more.
The cardio area features Cybex, Precor, and True fitness equipment including ellipticals, arc trainers, steppers, rowing machines, treadmills, and traditional, recumbent, and spin bikes. There are a variety of stacked weight machines, as well as free weights, kettlebells, BOSU, medicine balls, stability balls, resistance bands, jump ropes, stretching mats, and more.
The Campus Rec info desk also carries additional fitness equipment that can be checked out with your CSS ID.
Reif Gymnasium
Catch a Saints game at the Reif Gymnasium, which contains the main floor basketball and volleyball courts with 2 side basketball or volleyball courts.
Sports Fields
The Saints Field located on campus near the Monastery is used as a practice field for the Saints teams as well as for outdoor intramural sports leagues, tournaments and fitness classes.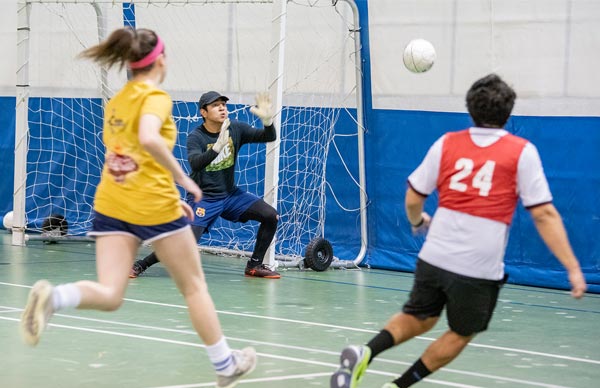 Participate in Intramural Sports
The Intramural Sports program is one of the most popular extracurricular activities on campus with nearly half of all students participating in our 30+ leagues, tournaments and other special events throughout 4 unique sports seasons. Intramural Sports is open and free to all St. Scholastica students and employees and is a great way to meet new people, continue playing the sports you love and learn fun, new sports along the way.