Bachelor of Science

Health Informatics and Information Management

Are you interested in the healthcare field and are more interested in business and technology than direct patient care? Are you detail-oriented? Do you have a desire to use information to improve the efficiency and effectiveness of the healthcare industry? If so, HIIM is a good choice for you.
With an atmosphere inclusive of online students and industry experts as faculty, I'm prepared for future professional and educational goals.
Degree Details
Are You Looking for a Face-to-Face (on-campus) Experience?
St. Scholastica's longstanding commitment to inclusivity and generous financial aid packages make our world-class educational programs accessible to students from any background.
Are You Looking for a 100% Online or Hybrid Experience?
St. Scholastica is committed to providing adult students highly competitive tuition for all programs. This exceptional value for a comprehensive educational experience will allow you to advance in your career.
Visit our Catalog to view the program, course and degree requirements, and learning outcomes. Be sure to create your course plan in consultation with your advisor.
Professional practice experience opportunities
Students in HIIM take part in the Professional Practice Experience — a two-week program that takes them out of the classroom and into the healthcare workforce.
The College coordinates Professional Practice Experiences for students based on the student's preferences related to setting and geographic location.
St. Scholastica students are placed among dozens of possible clinical sites for their internships. Students have completed their Professional Practice Experiences in such locations as Seattle, Honolulu, Phoenix, Los Angeles, Tampa, Washington, D.C., and San Francisco in addition to Minnesota hospitals.
The healthcare industry is booming and the use of Electronic Health Record (EHR) software nationwide has increased the need for qualified HIM professionals. The U.S. Bureau of Labor Statistics predicts a 32% growth rate over the next decade for HIM and related careers.
Whether you want to work in coding and revenue cycle, informatics, data analytics or information governance the national credentialing organization AHIMA has a pathway designed for you. Salary varies by geography and title, but those with the most credentials tend to earn higher wages.
Examples of jobs in the HIM industry are Medical Records Clerk, Director of HIM, Education Specialist – Data Analysis, Clinical Informatics Specialist, Medical Records Director, ROI Medical Records Specialist and Health Information Intake Specialist.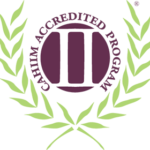 The Health Informatics and Information Management accreditor of The College of St. Scholastica is the Commission on Accreditation for Health Informatics and Information Management Education (CAHIIM). The College's accreditation for the baccalaureate degree in Health Informatics and Information Management has been reaffirmed through 2021. All inquiries about the program's accreditation status should be directed by mail to CAHIIM, 200 East Randolph Street, Suite 5100, Chicago, IL, 60601; by phone at 312-235-3255; or by email at info@cahiim.org.
Program Outcomes
The reporting period for these outcomes is Aug. 1, 2021-July 31, 2022.
84% of students complete the BS in HIIM program in the calculated average completion time
100% of BS in HIIM graduates responding to the graduate survey were employed full-time within 1 year of graduation*
100% of employers responding to the BS in HIIM Program employer survey stated they would hire a St. Scholastica graduate in the future
100% of professional practice experience mentors feel graduates will meet employer expectations
81% retention rate overall for BS in HIIM students
*For the graduate data, a graduate survey is sent out to all graduates 1 year after a student confers their degree. During the reporting period, there were 18 graduates contacted of which 6 responded to the survey. Of those, 6 were employed full-time within one year of graduation.
Visit our admissions page for information about transcripts, online application, international admissions and financing.
Eligibility
New Student
High school diploma or GED
Cumulative GPA of at least 2.0 for entrance into the college
Cumulative GPA of at least 2.7 for entrance into the program
Note: Meeting minimum entrance requirements does not guarantee admission.
Returning Students
A returning student is a student who was admitted and enrolled in a program at St. Scholastica but has been absent from the program for at least three continuous semesters, including summer. To return to the same program at St. Scholastica, a returning student must be in good academic standing and must apply for readmission to the College.
Application Deadlines
Are You Looking for a Face-to-Face (on-campus) Experience?
Students applying for the fall semester have two application timelines to choose from – Early Action (Nov. 15) and Regular Decision (Feb. 1). Both options are completely free and deposits are fully refundable until May 1. We will accept applications for fall semester through the end of August.
Are You Looking for a 100% Online or Hybrid Experience?
Most of our online and hybrid programs operate on a rolling admission basis – allowing you to apply anytime. Once your application and other necessary documents are received, we will forward them to the appropriate department for review.
Experienced, Dedicated and Distinguished Educators
Expect to be heard, to be challenged and to be involved. St. Scholastica faculty are world-class scholars and experts in their field who invest in your success. Our values of community, respect, stewardship, hospitality and love of learning reflect our faculty's commitment to lifting up others and celebrating our common humanity.