Bachelor of Science

Health Informatics and Information Management

Are you interested in the healthcare field and are more interested in business and technology than direct patient care? Are you detail-oriented? Do you have a desire to use information to improve the efficiency and effectiveness of the healthcare industry? If so, HIIM is a good choice for you.
With an atmosphere inclusive of online students and industry experts as faculty, I'm prepared for future professional and educational goals.
Degree Details
Are You Looking for a Face-to-Face (on-campus) Experience?
St. Scholastica's longstanding commitment to inclusivity and generous financial aid packages make our world-class educational programs accessible to students from any background.
Are You Looking for a 100% Online or Hybrid Experience?
St. Scholastica is committed to providing adult students highly competitive tuition for all programs. This exceptional value for a comprehensive educational experience will allow you to advance in your career.
Program Requirements
Total degree requirements: 128 credits
Major: 00 credits
Any applicable transfer credits or credit for prior life experience will shorten this timeline.
Courses
Here are some classes you could take as part of this major or minor. Be sure to create your course plan in consultation with your advisor.
Coursework
BIO 2005 – Essential Anatomy and Physiology
A semester course that combines essential topics of anatomy & physiology for Health Informatics & Information Management students. Topics include: Chemistry/Cell Biology Basics and the anatomy & physiology of the Integumentary, Circulatory, Nervous, Musculo-Skeletal, Urinary, Respiratory, Digestive, Endocrine and Reproductive Systems.
BIO 3005 – Concepts in Pathophysiology
A semester course on pathophysiology that is necessary background for students in the Health Information Management undergraduate program. Topics include: Chemistry/Cell Biology Basics, Neoplasia, Pathophysiology of the Circulatory, Nervous, Musculo-Skeletal, Urinary, Respiratory, Digestive, Endocrine and Reproductive Systems.
CIS 1001 – Computer Science Principles
Focuses on engaging students in activities that show how computing changes the world. By learning the central ideas of computer science and computational thinking, students will learn to be creative, collaborative, and innovative in developing technical solutions to problems. The course includes learning to create mobile apps to solve those problems, examining how computing has impacted society, and analyzing large data sets.
CIS 3107 – Database Modeling
Provides an understanding of fundamental concepts in the management of data, hands-on experience with a small-scale database management system, and an awareness of the application of business data base management systems. Lab exercises involve use of a relational DBMS to load, update and retrieve information from a database.
CIS 3108 – Systems Analysis and Design
Focuses on the five phases of the systems development life cycle. Topics include: preliminary investigation, physical and logical documentation, detailed investigation of requirements and alternative specifications, analysis and design techniques, implementation considerations, development of logical and physical data flow diagrams, data modeling, prototyping, CASE tools and the use of Gantt and PERT charts. A sample project is introduced and is integrated using the SDLC methodology.
CIS 3205 – Information Systems
Explores the ways computer-based information technologies and systems are used to address specific organizational needs. Students will become familiar with the terms, concepts, and issues in information technology management; become involved in the process of developing and modifying information systems which support crucial problem solving and decision-making in organizations; and conduct data analysis using common techniques.
CIS 4108 – Project Management
An introduction to project management and the supporting techniques and tools. The course exposes students the project management process, the deliverables produced while managing a project, and the collaborative nature of the project environment.
HIM 2101 – Medical Language
Studies terminology common to medicine; utilizing word elements as a basis for building medical terms and analyzing meanings; defining, pronouncing, and spelling commonly used medical terms; conversion of layman's terms to appropriate medical terminology. In addition, terminology of specific medical allied health specialties (surgery, dentistry, radiology, etc.) and abbreviations are reviewed.
HIM 2110 – Concepts and Principles of Health Information Management
Introduces the field of health information management. Content areas include an overview of the electronic patient record, professional roles within the field, professional organizations and the professional Code of Ethics; the content and structure of manual, computerized and hybrid health record and the standards that govern the development of the record within a health care facility; viewing medical documents and e-forms. Hands-on lab experience will be used by students to develop their confidence and competence with employing this type of clinical information technology in the practice of their profession.
HIM 2111 – HIM Technologies in Practice
Applies technology to HIM practice including electronic health records, clinical information systems, and management information systems in HIM. Hands on experience with electronic systems and technology applications for creating, managing, and storing and retrieving electronic health data will be used by students to develop their confidence and competence with employing this type of clinical information technology in the practice of their profession.
HIM 3132 – Medicolegal Issues
Studies of the U.S. judicial system; hospital, medical staff and other professional liability; health information as evidence; consent for treatment; retention and release of medical information; the health record as a legal document; risk management, prevention and potential; confidentiality of health information; and a patient's right to know.
HIM 3211 – Classification of Clinical Data
Focuses on the roles of classification systems, vocabularies, and terminologies in the healthcare setting. Topics include the collection, maintenance, utilization, and retrieval of specified healthcare code sets, clinical terminologies, classification systems and data in healthcare facilities. The course will focus on the application of standard code sets most commonly used in healthcare facilities in the U.S.
HIM 4231 – Clinical Quality Management
Calculates meaningful clinical, administrative, vital, and public health statistics; addresses medical staff organization and function; evaluation of patient care; clinical information analysis; integrated quality improvement activities; patient safety; case management; utilization management; risk management; and performance improvement processes.
HIM 4415 – Health Data Analytics
Provides a foundation for designing databases and analyzing healthcare data to enhance clinical and administrative decision-making. Topics include database management, data analysis, data reporting, SQL, statistics, data mining, and data visualization. Students will have practical experience with software applications used in the healthcare industry.
HIM 4421 – Alternative Health Record Systems
Analyzes health record content and format; regulatory and accreditation requirements; privacy & security requirements, data standards and classification systems; computerized information systems; reimbursement and compliance issues; quality measures and reporting, and current trends and issues in a variety of types of primary healthcare settings.
HIM 4520 – Directed Practice
Focuses on the common functions, procedures and staffing requirements in hospital-based health information services.
HIM 4555 – Professional Practice Experience
This is a supervised professional practice experience (internship) that includes managerial or other related professional practice roles and experience in health information management departments and other health information related areas. Hospitals, medical centers, clinics and alternative healthcare facilities across the United States are used. An administrative project, visits with users of health information (finance, decision support, registries, etc.) or unique healthcare facilities or agencies are an integral component of the clinical internship.
HIM 4556 – Seminar in Health Information Management
Seminar is a student-centered experience revolving around internship experiences. Students discuss and present professional practice experiences; share learning experiences, and present project work. In addition, employment preparation and career opportunities are a focus. HIM professionals in unique career settings are invited to interact with the students. Preparation for the credentialing examination is explored to help the student transition successfully into the professional world.
HSC 2203 – U.S. Healthcare System
Covers the history and development of the healthcare system in the United States; health in society today; types of healthcare institutions and services, organizational structure, roles of healthcare professionals and functions of hospitals and other health facilities; accountability in healthcare and the role of government in healthcare, introduction to current models of health financing.
Professional practice experience opportunities
Students in HIIM take part in the Professional Practice Experience — a two-week program that takes them out of the classroom and into the healthcare workforce.
The College coordinates Professional Practice Experiences for students based on the student's preferences related to setting and geographic location.
St. Scholastica students are placed among dozens of possible clinical sites for their internships. Students have completed their Professional Practice Experiences in such locations as Seattle, Honolulu, Phoenix, Los Angeles, Tampa, Washington, D.C., and San Francisco in addition to Minnesota hospitals.
The healthcare industry is booming and the use of Electronic Health Record (EHR) software nationwide has increased the need for qualified HIM professionals. The U.S. Bureau of Labor Statistics predicts a 32% growth rate over the next decade for HIM and related careers.
Whether you want to work in coding and revenue cycle, informatics, data analytics or information governance the national credentialing organization AHIMA has a pathway designed for you. Salary varies by geography and title, but those with the most credentials tend to earn higher wages.
Examples of jobs in the HIM industry are Medical Records Clerk, Director of HIM, Education Specialist – Data Analysis, Clinical Informatics Specialist, Medical Records Director, ROI Medical Records Specialist and Health Information Intake Specialist.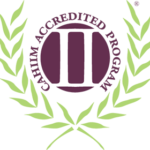 The Health Informatics and Information Management accreditor of The College of St. Scholastica is the Commission on Accreditation for Health Informatics and Information Management Education (CAHIIM). The College's accreditation for the baccalaureate degree in Health Informatics and Information Management has been reaffirmed through 2021. All inquiries about the program's accreditation status should be directed by mail to CAHIIM, 200 East Randolph Street, Suite 5100, Chicago, IL, 60601; by phone at 312-235-3255; or by email at info@cahiim.org.
Program Outcomes
100% of employers responding to the BS in HIIM Program employer survey stated they would hire a St. Scholastica graduate in the future
100% of professional practice experience mentors felt graduates will meet employer expectations
88% of BS in HIIM graduates responding to the graduate survey are employed within one year of graduation
84% retention rate overall for BS in HIIM students
94% of students complete the BS in HIIM program in the calculated average completion time
Visit our admissions page for information about transcripts, online application, international admissions and financing.
Eligibility
New Student
High school diploma or GED
Cumulative GPA of at least 2.0 for entrance into the college
Cumulative GPA of at least 2.7 for entrance into the program
Note: Meeting minimum entrance requirements does not guarantee admission.
Returning Students
A returning student is a student who was admitted and enrolled in a program at St. Scholastica but has been absent from the program for at least three continuous semesters, including summer. To return to the same program at St. Scholastica, a returning student must be in good academic standing and must apply for readmission to the College.
Application Deadlines
Are You Looking for a Face-to-Face (on-campus) Experience?
Students applying for the fall semester have two application timelines to choose from – Early Action (Nov. 15) and Regular Decision (Feb. 1). Both options are completely free and deposits are fully refundable until May 1. We will accept applications for fall semester through the end of August.
Are You Looking for a 100% Online or Hybrid Experience?
Most of our online and hybrid programs operate on a rolling admission basis – allowing you to apply anytime. Once your application and other necessary documents are received, we will forward them to the appropriate department for review.
Experienced, Dedicated and Distinguished Educators
Expect to be heard, to be challenged and to be involved. St. Scholastica faculty are world-class scholars and experts in their field who bring their deep experience to online and on-campus classrooms. Our values of community, respect, stewardship and love of learning reflect our faculty's commitment to lifting up others and celebrating our common humanity.