School of

Arts and Sciences

Feel empowered to ask challenging questions, explore the ideas that matter most to you, and focus on solving real-world problems at the School of Arts and Sciences.
The Art and Science of Doing
Arts and Sciences is more than reading and thinking; it's about doing. It's the most enriching and relevant education you could choose. You'll prepare for your career and a world that is changing at warp speed. No matter what you study, you'll refine your ability to analyze, reason, communicate and empathize — and put your creativity to work in ways that improve lives and communities.
Whether it's history, biology, communications, mathematics, or other areas you're interested in, your education will include a level of hands-on experience that will give you an advantage in whatever field you decide to enter.
What Do YOU Want to Do?
At St. Scholastica, we work to engage the life of the mind and have students engage in what they love. If you enjoy singing, you can sing across Italy with the school's Bella Voce choir or participate in one of the other music ensembles. If you are a writer, you can publish your work in "The Freshwater Review." Or take your love of Shakespeare to the stage. Beyond the classroom, you will have the opportunity to obtain experience practicing your art.
If you want to delve into the intricacies of the mind and find out what makes people do the things they do, you could join the psychology program and conduct research with our world-class faculty. You can flourish and grow as a scientist in our state-of-the-art chemistry labs and explore plant biology in our rooftop greenhouse.
Every program is designed to allow you to learn new scientific concepts, apply them in real-world settings and prepare you for your future career. But this is just a taste of what you can do at St. Scholastica. In the School of Arts and Sciences, you can engage in experiential learning, whether you spend most of your time singing in the beautiful Mitchell Auditorium or doing experiments in the Science Center.
Location
Tower Hall, Room 4111
1200 Kenwood Ave
Duluth, MN 5581
Meet the Dean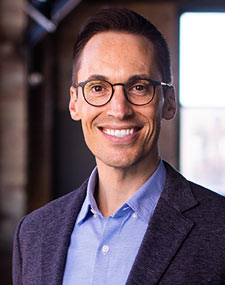 Bret Amundson, DMA
Dean of the School of Arts and Sciences
218-625-4983
bamundson@css.edu
Dean Amundson, an associate professor in the School of Arts and Sciences, became the Dean in 2018. He earned a DMA in Choral Conducting from the University of Washington, an MA in Choral Conducting from St. Cloud State University, an MBA in Leadership and Change from The College of St. Scholastica  and a BA in Music Education and Vocal Performance from St. John's University.
A highly accomplished performer and scholar, Dr. Amundson's passion focuses on a meaningful student-centered approach that holistically views his students as humans who can use their talents to change the world.