Bachelor of Arts

Art

Whether your medium is drawing, painting or design, you understand the importance of art as a means of self-expression, connection and communication. If you want to explore your creativity or make art your life's work, start at St. Scholastica.
Benedictine Scholarship
All new first-year applicants to St. Scholastica will be awarded either the Benedictine Scholarship or the Access Award, upon admission to the College.
Financial Aid
100% of traditional incoming undergraduates receive some type of scholarships. The average for scholarships, grants and/or loans is $31,841.
Art at St. Scholastica
Whether creating murals, working with visiting artists, traveling to museums or creating their own art exhibitions, students explore art from a wide range of perspectives over the course of their time at the College.
CSS Art challenged, inspired and made me a better artist, professionally and theoretically. It gave me opportunities to be a leader.
Degree Details
Are You Looking for a Face-to-Face (on-campus) Experience?
St. Scholastica's longstanding commitment to inclusivity and generous financial aid packages make our world-class educational programs accessible to students from any background.
Visit our Catalog to view the program, course and degree requirements, and learning outcomes. Be sure to create your course plan in consultation with your advisor.
Major
Minor
While internships are not mandatory, students are encouraged to seek them. Students have interned at regional arts councils, galleries, museums and advertising agencies.
Students who majored in art have gone on to work in a variety of professions, including architecture, education, art therapy, graphic design and the fine arts. Others have gone on to pursue graduate degrees. As part of the curriculum, students take a course specifically designed to being successful in an art-based career, ART 4444: Professional Practices.
Boost your brainpower and give yourself a competitive edge in our global economy by pairing your major with a language. St. Scholastica offers programs and courses in American Sign Language, German, Ojibwe and Spanish.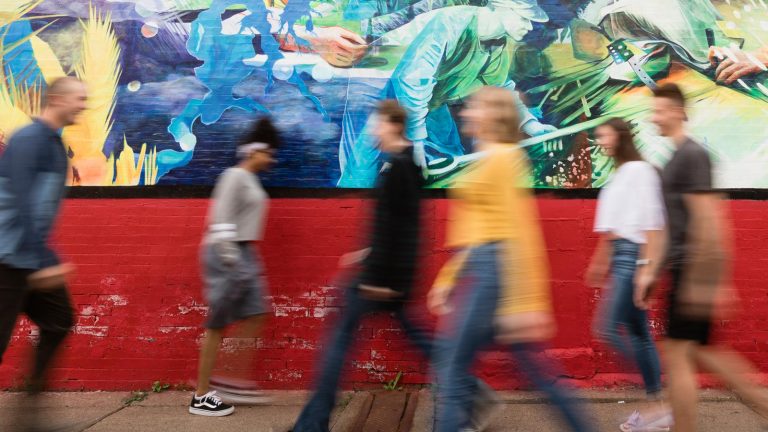 Art Opportunities
Started in 2015, the Mural Initiative Project focuses on collaborating with area schools and the broader community to create public murals alongside visiting artists. The project embodies and conveys the belief that art matters. It is a vital part of culture and humanity, a catalyst helping us to understand each other and the world.
Experienced, Dedicated and Distinguished Educators
Expect to be heard, to be challenged and to be involved. St. Scholastica faculty are world-class scholars and experts in their field who invest in your success. Our values of community, respect, stewardship, hospitality and love of learning reflect our faculty's commitment to lifting up others and celebrating our common humanity.