Accreditation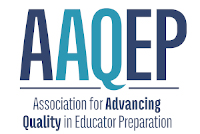 Click to see Performance Data
of Candidates in the College
of St. Scholastica
Teacher Education Program
The Teacher Education program at the College of St. Scholastica is accredited by the Association for Advancing Quality in Educator Preparation (AAQEP) for a period of 7 years, from July 2019 to July 2026. The accreditation does not include individual education courses that the Educator Preparation Program offers to P-12 educators for professional development, re-licensure, or other purposes.
Minnesota Professional Educator Licensing and Standards Board (PELSB)
The fully accredited Teacher Education Program is assessed according to the requirements and standards of the Minnesota Professional Educator Licensing and Standards Board (PELSB). The teacher education program has full continuing unit and program approval through June 30, 2024.
Ranked as a "Best Online Graduate Education Program" by U.S. News & World Report
Seven elective concentrations; tailor your degree to meet your needs
100 percent online format; finish in as little as two years*
33 total program credits
Tuition: Under $14,500/full program* ($435/credit)
---
*Tuition rates are for the 2021-22 academic year. Additional fees and costs for course materials may apply. Total program cost and completion time varies depending on transfer credits and individual program plans. Tuition rates are subject to change.
Making the best job on Earth even better
Teaching is one of the most important and most fulfilling careers. But that doesn't mean it's easy! As teaching changes and more technology is used successfully in the classroom, keeping current can be a challenge.
The Master of Education (M.Ed.) degree program at The College of St. Scholastica is a fully online degree program for practicing teachers and other education professionals. The program engages learners to reflect upon their teaching practices to improve student learning and address critical issues in today's schools.
We prepare "21st-century teachers" who are both familiar and comfortable with the technology of the modern classroom. Learners will also acquire new strategies for using data and research to impact their classrooms.
National recognition. Individual attention.
The 2020 US News & World Report ranked our online M.Ed. program among the top in the nation and highest of all ranked programs in Minnesota.
Seven elective options
St. Scholastica's Master of Education (M.Ed.) program offers students seven concentration options to fulfill their elective requirements:
Cohort model
Online learning isn't independent learning at St. Scholastica. We've applied a cohort model to our M.Ed., which means you'll move through the program with the same group of colleagues. We've also implemented a host of technologies to help bridge the gap between the computer and the classroom.
Program advisor
An online adviser is assigned to you at the beginning of the program and stays with you until you graduate. Your online adviser is available to answer questions and offer support.
Other student resources
Zoom is a fully functional virtual classroom that allows you to participate in live discussions with other students, attend online lectures, and much more.
A 24-hour help desk means that you'll never struggle alone with an uncooperative computer.
Instant messaging and discussion boards enable virtual class discussions.
Other support services, including Hoonuit and SMARTHINKING, help you master important software and provide online tutoring support to make sure you have help when you need it.
Federal loan forgiveness programs for teachers
Learn more about the U.S. Department of Education's loan forgiveness programs for teachers.