Master of Science

Health Information Management

Since founding the first Health Information Management (HIM) program in the nation in 1935, St. Scholastica has been a leader in HIM education. We continue to build on this tradition by offering excellent, rigorous programs in flexible formats for working professionals.
Because of my education from this College, I've had many opportunities through AHIMA to work on different projects.
Meaningful Work Award
Learn how to receive a 10% tuition discount for employees of participating partners.
Saints Succeed Scholarship
Request more information about this scholarship.
Study Buddy Scholarship
Receive a $1,000 scholarship when you and a friend (or a group) enroll.
Degree Details
Tuition: $658/credit*
---
* Tuition rates are for the 2021-22 academic year. Additional fees and costs for course materials may apply. Total program cost and completion time varies depending on transfer credits and individual program plans. Tuition rates are subject to change.
Fees
$66 technology fee per semester.
$75 program fee fall and spring semester.
Outcomes
Upon completion of the Health Information Management program at The College of St. Scholastica, the graduate will be able to:
Acquire advanced knowledge and skills in healthcare data, information and knowledge management.
Evaluate, select and implement information to drive integrated clinical and administrative decision-making, strategic planning, and outcomes management.
Take the leadership role in establishing an organizational culture that embraces the ethical use of confidential information and information technologies.
Introduce appropriate change management strategies while leading organizations toward the use of excellent health information technology systems.
Apply effective communication skills and strategies in interactions with multidisciplinary and multi-facility professionals.
Assume increasingly challenging administrative positions in complex provider organizations and related entities in the healthcare arena.
Thrive professionally in a practice environment that is undergoing fundamental change.
Foundational Courses
If you have not yet taken the following courses, they will be added to your course plan. Foundational courses are available online, and must be completed with a grade of "C" or better.
BIO 2002 | The Human Body in Health and Disease (4)
HIM 2102 | Introduction to Pharmacotherapeutics (1)
Course Descriptions
Required Courses
CIS 6113 – Legal and Ethical Considerations of Information Technologies
An examination of information technology's influence on ethical, legal, and social issues. In this course, students investigate current adoptions of information technology and the management strategies of these systems, apply a decision-making model to evaluate these systems, and develop solutions to better serve, protect, and benefit our society.
CIS 6208 – IT Project Management
A discussion of the project management process through the framework prescribed by a project management certifying body. Providing an IT perspective of planning, estimating, leading, and monitoring projects. In addition, students will explore the influence that strategic planning and change management can have on IT projects.
HIM 6502 – Develop Clinical Info Systems
Focused on providing students with the expertise to conceptualize and strategically plan and build the appropriate health information infrastructure for supporting the knowledge requirements of the healthcare organization. Topics to be addressed include information systems theory and strategic planning; clinical information systems applications and operations analysis, data and technical infrastructures for the electronic health records; information system acquisition and implementation, and the regulatory, standards and ethical environments and future trends of health information systems. Prerequisites: Fundamentals of HIM and US Healthcare System, HIM 6501, or permission of the department.
HIM 6505 – Database Methods Clin Info Mgt
Addresses database theory, methodologies for database design and issues related to database administration. Emphasis is on requirements and methodologies for assuring data integrity and security in healthcare enterprise information systems, specifically in relationship to the database environment. Prerequisites: Fundamentals of HIM and US Healthcare System, or permission of the department.
HIM 6506 – Assessing Healthcare Quality
Assess outcomes research activities, exert leadership in implementing clinical outcomes measurement projects/programs within healthcare organizations and systems. The course focuses on the role patient-centered outcomes information plays in assuring that healthcare systems are able to establish cost-effective clinical practices that do improve the health, functional status and well-being of healthcare consumers, and accreditation and legislative initiatives impacting healthcare outcomes activities. Prerequisites: Admission to a HIM graduate program or permission of department.
HIM 6508 – Healthcare Data Analytics
Covers the techniques, strategies and the need/use of Information Technology (IT) tools for data collection, data analysis, reporting and knowledge management. Offers learners the foundational terminology, concepts, models, processes and tools associated with decision support and knowledge management systems to leverage data into information and knowledge enhance care processes, data quality, cost effectiveness and decision-making, ultimately increasing the strategic acumen of the organization. Prerequisites: Finance or Accounting and HIM 6505, or permission of the department.
HIM 6509 – Med Vocab & Classif Systems
Build on knowledge and proper use of medical vocabularies and classification systems commonly used in contemporary healthcare systems. Clinical and administrative data standards are necessary for semantic interoperability which enables effective exchange of health information. Emphasis is placed on learning about medical vocabularies and classification systems for an area of domain coverage in accordance with regulatory requirements.
HIM 6522 – Final Applied Project
Working with an assigned Final Applied Project advisor, the student completes the applied project and prepares a project report to be submitted to the department for final approval. The goal of the Final Applied Project is to increase students' cognitive sophistication through an activity that requires reading, thinking, and writing, to only further the student's education, and make a meaningful contribution to HIM practice.
HIM 6523 – Graduate Seminar
A capstone seminar in which students present the results of their Final Applied Projects and explore current issues relative to the field of Health Information Management in a rapidly changing health care delivery system.
HIM 6524 – Strategic Management in Health
Explores the theory and leadership practice of strategy, strategic thinking and strategic management in healthcare for success in changing and turbulent times. Focus is on the phases of environmental assessment, business planning, implementation and evaluation. Prepares students to lead through organizational change, innovation, strategic management and execution. The course serves as a core curriculum capstone for the HIM program and requires students to synthesize and integrate lessons learned in their previous courses.
HIM 6532 – Methods of Healthcare Monitoring, Evaluation, and Research
Explores methods and processes used to systematically collect and measure information for the purpose of program evaluation. The course integrates several knowledge and skill areas including: research methods, statistics, proposal writing, budget planning, project management, and program evaluation. Prerequisites: Admission to a HIM graduate program or permission of the department.
HIM 6545 – Corporate Compliance/HlthCare
Addresses a growing need to adequately train health care leaders in the field of health care compliance and various topics in health care compliance, including corporate compliance (fraud and abuse), privacy, risk management and identity theft. Essential elements of a corporate compliance program will be presented as well as primary federal legislation addressing fraud and abuse. Privacy of patient information will be discussed in terms of the HIPPA and HITECH regulations. Risk management concepts will be presented as well as identity theft as relates to medical identity theft. Prerequisites: Admission to a HIM graduate program or permission of the department.
HIM 6550 – Health Care – Global, Preventative, and Systemic Perspectives
Examines health in the global society with a specific focus on the U.S. Explores the meaning of population health, the culture of health and how that interacts with community culture. Covers the history, development, and future of the healthcare system in the United States including types of healthcare institutions, services, payment systems, the government's role and the people and professions that staff this industry.
HIM 6560 – Foundations of Management & Leadership in HIM
Focuses on the concepts, principles, tools and strategies utilized in managing operations within a performance improvement model. The course includes tools and techniques for planning, organizing, directing, controlling, and improving productivity and performance in Health Information Management. All of these concepts are addressed through the lens of various leadership theories and strategies.
The HIM profession is experiencing strong growth with the increased adoption of Electronic Health Records (EHR) software nationwide. According to the U.S. Bureau of Labor Statistics, jobs in medical or health services managers are poised to grow by 32% from 2019 to 2029. And, while it is difficult to predict the number of jobs available in the field, the profession is growing rapidly and career opportunities are high.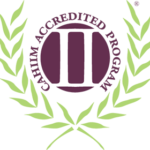 The Health Informatics and Information Management accreditor of The College of St. Scholastica is the Commission on Accreditation for Health Informatics and Information Management Education (CAHIIM). The College's accreditation for the Master's degree in Health Information Management has been reaffirmed through 2023. All inquiries about the program's accreditation status should be directed by mail to CAHIIM, 200 East Randolph Street, Suite 5100, Chicago, IL, 60601; by phone at 312-235-3255; or by email at info@cahiim.org.
Program Outcomes
99% student retention rate for MS in HIM students
100% of students complete the MS in HIM program in the calculated average completion time
100% of graduates responding to the annual MS in HIM graduate survey are employed within one year of graduation
Visit our admissions page for information about transcripts, online application, international admissions and financing.
Application Deadlines
Early submission is encouraged; applications are reviewed as they are completed. Applications completed after the following deadlines will be submitted for the subsequent term.
Fall: Aug. 5
Fall mid-term: Sept. 30
Spring: Dec. 9
Spring mid-term: Feb. 17
Summer: April 21
Eligibility
New Students
BA/BS degree from an accredited college or university
Cumulative GPA of 3.0
Note: Meeting minimum entrance requirements does not guarantee admission.
Returning Students
A returning student is a student who was admitted and enrolled in a program at St. Scholastica but has been absent from the program for at least three continuous semesters, including summer. To return to the same program at St. Scholastica, a returning student must be in good academic standing and must apply for readmission to the College.
Foundational Courses
If you have not yet taken the following courses, they will be added to your course plan. Foundational courses are available online and must be completed with a grade of "C" or better.
BIO 2002: The Human Body in Health and Disease (4), covers Anatomy & Physiology, Pathophysiology, and Medical Terminology
HIM 2102: Introduction to Pharmacotherapeutics (1)
Experienced, Dedicated and Distinguished Educators
Expect to be heard, to be challenged and to be involved. St. Scholastica faculty are world-class scholars and experts in their field who bring their deep experience to online and on-campus classrooms. Our values of community, respect, stewardship and love of learning reflect our faculty's commitment to lifting up others and celebrating our common humanity.