Start Your Adventure

Outdoor Recreation

At St. Scholastica, you'll study hard and play hard. From the hillside campus, your panoramic view of Lake Superior lures you to outdoor adventures and unique experiences year-round. Unrivaled hiking, biking, camping and shoreline parks attract adventure-seekers to this vibrant seaport destination.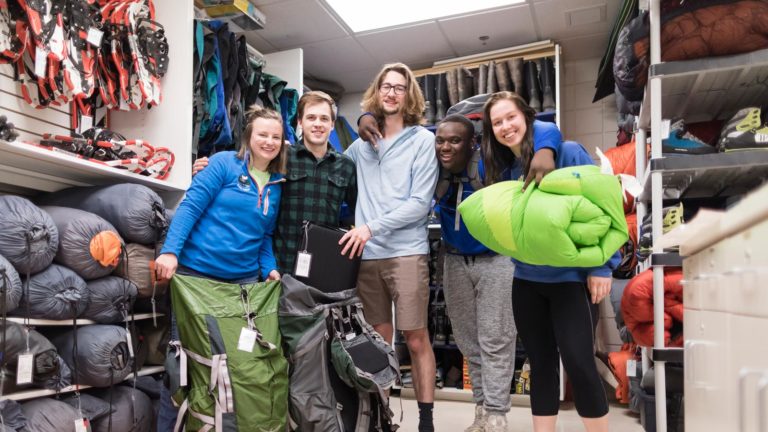 OP Rental
Outfit you and your group for a day of canoeing, biking, paddleboarding, kayaking, snowshoeing or an extended camping experience. Begin planning your trip today. Reserve your gear and equipment through our online rental reservations.
Gear rental is open to the public. Discounts are given to St. Scholastica students, alumni and employees. Payment is due at the time of pickup at the OP Office in Burns Wellness Commons.
Monday-Thursday
4-9 p.m.
Friday
2-7 p.m.
Saturday
10 a.m.-4 p.m.
Sunday
Noon-4 p.m.
Closed during student breaks.
Reservations are restricted to our office hours. Please email Outdoor Pursuit if you would like to create a reservation outside of regular office hours.
Discounts
Current St. Scholastica students, employees and alumni receive discounts on rentals. During checkout use your CSS login/email, enter your respective discount code and students/alumni must enter graduation info.
Students get 50% off, use code: cssstudent
Employees get 25% off, use code: cssemployee
Alumni get 25% off, use code: cssalum
Discounts will be applied to the order total at checkout. No discounts on purchases.
Rentals During Student Breaks and Summer
Email us to discuss rental options when our office will be closed. We handle these requests on a case by case basis.
Our office is staffed by students, so our office is closed or operating on modified hours during student breaks.
During the summer our hours are modified. Usually we are open Monday – Friday during the day and closed on weekends.
Before or After Hours Pick Ups and Returns
Email us to discuss pick up and returns outside of our office hours. Several variables determine what we can accommodate, so we handle these requests on a case by case basis.
Sizing Help
If you are unsure of your size, look at the item descriptions for sizing guides. Some items such as paddles and ski poles can be sized when you pick up the item. If you have additional questions, please contact us.
Customer Inspection, Use, and Care
It is the responsibility of the renter to understand the use and care of all rental equipment. Customers may request a demo and/or explanation of the equipment at pick up.
It is the responsibility of the renter to inspect all rental equipment and verify it to be free of damage, fully functioning, and all parts are included.
The renter is responsible to pay for any missing parts or damaged equipment.
Cancellations, Changes, Late Fees, and Refunds
Cancellations made more than 48 hours prior to pick up receive a full refund. Refunds may take up one week to process.
Cancellations made less than 48 hours prior to pick up receive 50% rental credit.
Outdoor PURSUIT! reserves the right to change, adjust, and cancel reservations at any time.
No refunds will be issued for gear that is returned early.
Reservations which are not picked up or cancelled and have not been paid, may incur a fee added to the users account up to the original reservation amount.
Late gear will accrue a fee equal to the one-day rental fee for each item for every day past the due date.
Payments
Reservations must be paid for before or at the time of pick-up.
Checks (payable to OP!), cash, credit/debit cards are acceptable forms of payment.
Transportation of Equipment
When transporting equipment, it is the responsibility of the renter to ensure all equipment is loaded and secured properly prior to driving.
Outdoor Pursuit staff may assist the renter with loading and unloading. The College, Outdoor Pursuit staff and program is not responsible for any vehicle damage caused by rental equipment.
Damage, Loss, Theft, Cleaning
Gear should be returned in the condition it was given. It is the responsibility of the renter to take into consideration the condition of the gear in order not to accrue damage/misuse.
If gear needs to be repaired, the cost will be assessed to the renter.
If gear needs complete replacement, the renter will be charged the full replacement cost.
If gear needs cleaning, a charge of no less than $10 will be assessed.
All fees are due within 7 business days of the fee being assessed.
Liability
Neither the College of St. Scholastica or the Outdoor Pursuit program will be responsible for any casualties or accidents resulting from the use or misuse of rental/purchased gear. The renter/buyer is responsible for having familiarity with the equipment and understanding the risks associated with many outdoor activities.
Purchases
All sales are final. No refunds, exchanges, or holding of items. The College of St. Scholastica or Outdoor Pursuit cannot be held liable for any of the gear either bought or sold.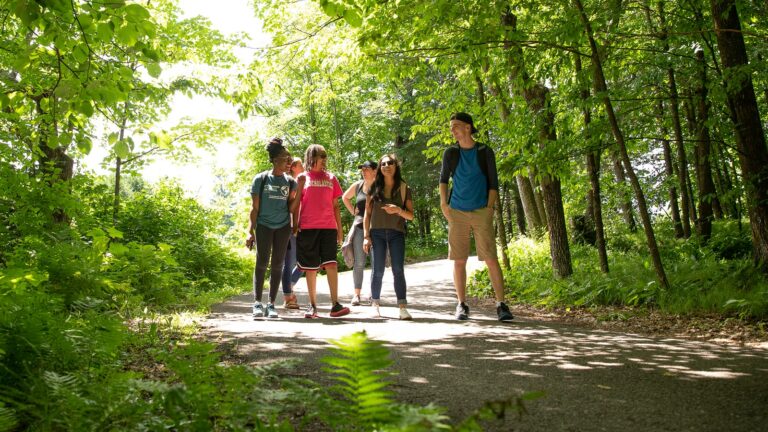 Guided Adventures
Outdoor Pursuit provides students with 50-70 trips per year. Trips range from a hike or hammocking close to campus, to week long dog sledding excursions and spring break ski trips in the mountains. We offer trips to suit all ranges of personal adventure and challenge.
Guided Adventures provide student guides, equipment, training, transportation, food and fun! The cost is minimal and most day trips are free for students. Contact us to learn what we have planned.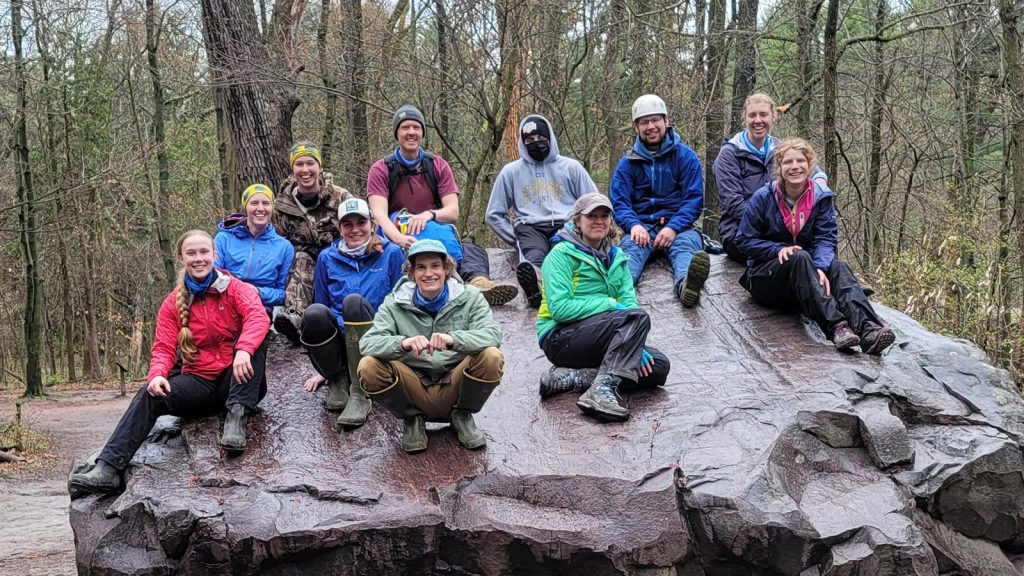 Meet Your Guides
Highly-trained, qualified St. Scholastica student guides lead the trips. Our instructors are excited about the outdoors and providing fun adventures. Passionate about teaching and stewardship, they demonstrate outdoor skills and responsibly help other students explore new places. They show participants the beauty of nature, foster lifelong friendships and make these trips unforgettable.
Outdoor Pursuit's Shawn Olesewski provides guidance, training and leadership to each instructor. He prepares them to lead others safely and ethically.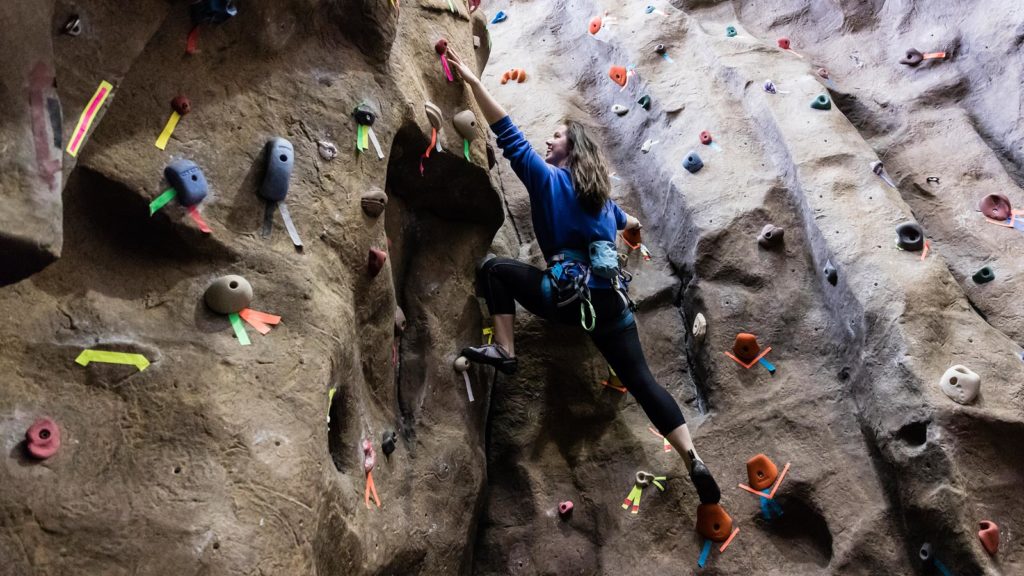 Climbing Wall 
Our 40-foot indoor climbing wall is open from fall through spring and has routes for all abilities. The Bouldering wall is a great place to practice those powerful moves before heading outdoors, while our 5 lead lines offer endless challenges. We have adaptive equipment to assist people with limited mobility and wheelchairs. You can even request the climbing wall for groups or parties.
St. Scholastica students climb for free and can purchase daily passes for guests! Yearly passes are available for the College's employees and alumni.
Additional Climbing Wall Information
New to climbing, looking for a place to climb, climbing with a group or hosting a birthday party? Fill out the Climbing Wall Group and Party Request form to get more information about the details of having a party or group event at the climbing wall.
Climbing wall participants need to fill out a waiver prior to using the climbing wall. You can fill out the waiver electronically or you can print your own copy of the waiver and bring it with you. Make sure to give your completed waiver to the climbing wall staff when you arrive. The electronic and paper waivers are also available to be completed at the climbing wall.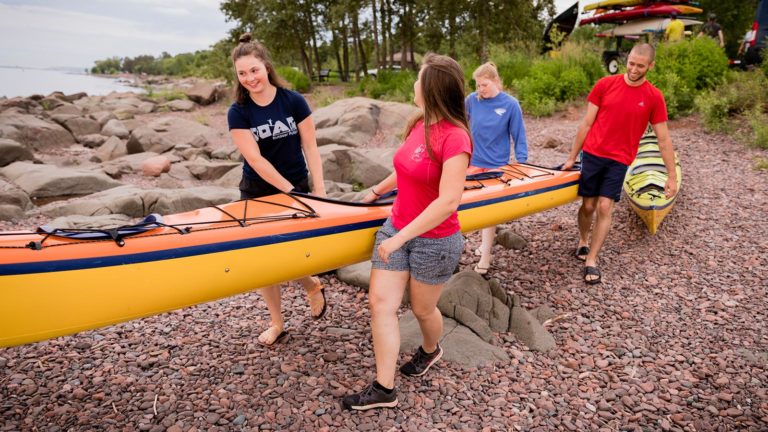 SOAR Program
Duluth is your destination for outdoor fun! Start your college journey with an adventure sponsored by Outdoor PURSUIT! Join us Aug. 24-Sept. 1, 2023 for rock climbing, canoeing or backpacking and leave with new friends and a head start on college. These adventures are guided by highly-trained and nationally certified student guides. No experience is necessary.