September 30, 2022
Getting outdoors at St. Scholastica
A significant part of the college experience is exploring new interests, hobbies and passions. For some at The College of St. Scholastica, this means adventuring in northern Minnesota's beautiful woods and lakes. Through Outdoor Pursuit, we encourage students to get out and be active by participating in group excursions into the wilds. Our trained guides also provide the education necessary to make outdoor activities safe, respectful and fun!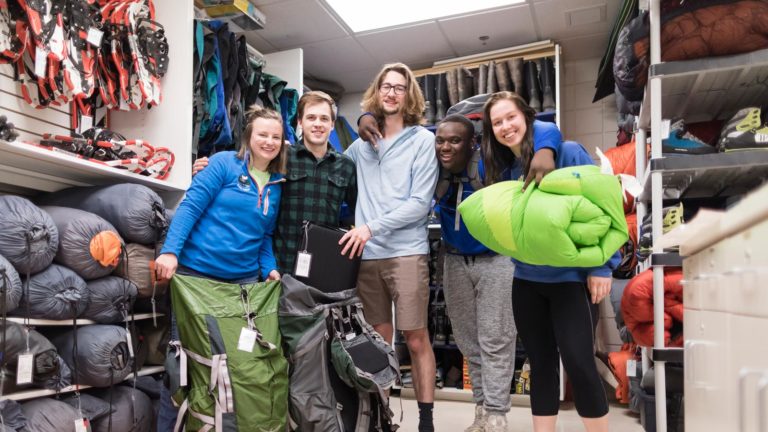 Outdoor Pursuit adventures
Gear up and head out! We offer everything you need to start your adventures in and around Duluth, from gear rentals, resources and guided tours with our students. Getting outside with Outdoor Pursuit is a great way to build relationships with peers, learn new skills and make lasting memories in some of the most beautiful places in the world. Whether you want to head out on the water with canoes and kayaks or the trail with backpacks and tents, we've got you covered!
Meet your guides
What makes Outdoor Pursuit especially appealing for students who might be interested but are nervous about being inexperienced is that the activities are led by other St. Scholastica students. OP guides have completed wilderness training, have expertise in backpacking, leadership and are excited to share their love of nature!
Tatum Severson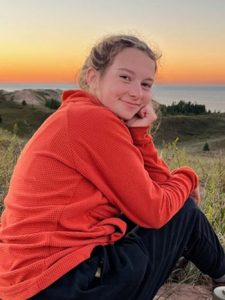 Hi! My name is Tatum Severson, and I am a sophomore at St. Scholastica, majoring in Psychology.
As an incoming freshman, I heard about August Adventures through my future roommate and was hooked on SOAR right away! I knew I needed to take a huge leap and get out of my comfort zone after having my last two years of high school cut short due to COVID. Spending a week in Upper Michigan with a group of my peers sounded like just the push I needed. While on SOAR, my guides talked about Backcountry Saints (our guide training program) and I immediately thought: "I don't want to be a guide; that sounds like a lot of responsibility." I know, probably not what you're expecting to read in the "meet your guides" section.
Well, once we returned to St. Scholastica, I saw what being in the backcountry did to my peers' physical and mental well-being. I started going to Backcountry Saints meetings; all I wanted to do was learn everything I could. During my first year at the College I spent countless hours at the climbing wall, learning knots and being eager to return to the backcountry. I spent the summer working at Outdoor Pursuit, getting nationally certified as a WFR (Wilderness First Responder) and preparing to guide my first SOAR trip.
For me, nature is therapeutic. As a psych major, I am very intrigued by the brain's chemical response to being in nature for extended periods of time. I've seen what it has done for myself and others. It is an amazing detox from the stressors of social media, school and just life in general. Just listening to the trees without the sound of notifications is incredible.
I encourage you to get outdoors for yourself! Take time to be free of distractions and to enjoy Mother Nature. Northern Minnesota has so many great state parks to check out. We even have some fantastic trails in our backyard at St. Scholastica. Take a walk, jog, hike or whatever your heart desires. If you don't know where to start, come join us on a trip. We have so many options, and we'd love to have you!
Logan Holm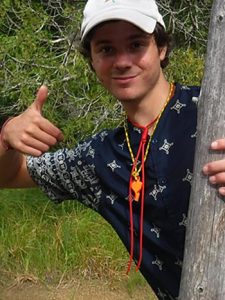 Hello! My name is Logan Holm, and I am entering my Sophomore year at St. Scholastica! I am double majoring in History and Education. I am also a part of the Pre-Law program.
I was drawn to the idea of being a guide for Outdoor Pursuit (OP) on my SOAR trip to Pictured Rocks National Lakeshore. SOAR stands for Student Outdoor Adventure Retreat. Various trips are offered to incoming first-year students at the College. The guides leading that trip told me all about the opportunities within OP and what I could get involved in. I had recently come off a 28-day trip to the BWCA and was craving something more. Guiding seemed like the logical next step for me. I have always been drawn to helping and educating others; it's one of the main reasons I chose to major in education.
By becoming a guide, I felt I could continue developing my leadership and educational skills. The guides at OP are all great educators and role models. The guides at OP fostered such a great sense of community throughout my SOAR trip that I had several close friends by the end of it. I strive to emulate what those guides did for me and the others on my trip.
I revel in being detached from civilization, knowing that no outside stressors can impact me where I am. I find the wildlife and fauna of Northern Minnesota deeply fascinating as the state has such rich biodiversity due to the plethora of wetlands and lakes. Exploration is key to discoveries — I always find something new that I have never seen before.
I believe that only when we are outside our comfort zones do we truly begin to grow. People can change how they view the world and one another by seeking new experiences. All that is left to do is to get out and explore.
Morgan Mack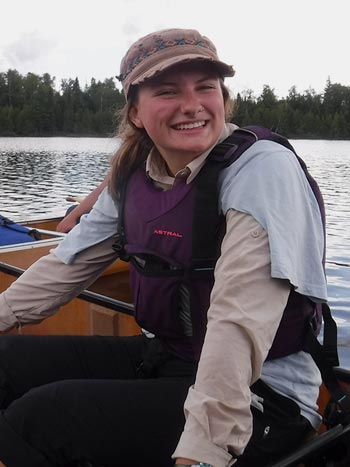 Hey there! My name is Morgan Mack. I graduated from St. Scholastica in 2020 with a degree in Health Humanities and am thrilled to be returning to Scholastica this fall for the Master's in PA Medicine program.
I was drawn to Outdoor Pursuit (OP) because of the people. I met many friends on my freshman SOAR trip and learned much about the College from the upper-level students who guided our trips. The more involved I got, the more I became interested in all the learning opportunities and trips. I could do so many fun things with OP during my undergraduate years and was given a lot of room to grow in the program and take on projects that I was passionate about. These things helped shape my path for the remainder of my college experience and ultimately led to my decision to pursue a career in medicine.
One of the best things about getting outdoors is being able to challenge yourself in different environments. There is so much growth that happens when we are pushed outside of our comfort zones. I've come to appreciate the things I have learned when I have to think outside the box. That is what I love about being a guide and taking others outdoors.
Sharing new spaces and experiences with people is so special, and I love creating a safe environment where people can grow and challenge themselves in ways they usually would not. I hope everyone can have the opportunity to experience the incredible resources we have available to us here in Northern Minnesota and I encourage them to check out Outdoor Pursuit as a way to do it!
Wilderness medicine and land stewardship
Outdoor Pursuit's Shawn Olesewski has also created a 16-week, 4-credit class for St. Scholastica students interested in wilderness medicine. This course, which is a blended format, focuses on critical elements of first aid in a wilderness setting. Topics covered include wound assessment, treatment, risk management, natural disaster response, preventative measures and everything else you need to become "a medic in the backcountry," Olesewski says.
"It offers a different perspective for healthcare, especially for nursing and health science students," Olesewski noted of the holistic quality of the course. "It doesn't just have to be in the middle of nowhere, either. It's also working without the advanced tools and gadgets of a clinical setting, like in natural disaster response." As a general education course, this class provides all St. Scholastica students with an opportunity to prepare for the unexpected.
Students who complete the course will also receive Wilderness First Responder Certification, a national certification made possible by partnering with Longleaf Wilderness Medicine.
Stewardship
Utilizing human resources responsibly. Providing wise and respectful use of all material and monetary resources. Promoting prudent use of natural resources and energy. Finding time for work, play and prayer in daily life which will promote physical, mental and spiritual growth.
Wilderness medicine and Outdoor Pursuit activities offer students the opportunity to get a tangible, applicable sense of our Benedictine value of Stewardship. Going outdoors is ideal for promoting physical, mental and spiritual growth. And when you learn to utilize natural resources sustainably, you ensure that others can enjoy the world for themselves.