August Adventures
Take the first step to college life and make some lifelong friends in the process. Opportunities include serving the community, joining an outdoor adventure or building your leadership skills.
One of the best things to start your St. Scholastica life off well is participating in an August Adventure — they're great! Move-in early and make new friends with activities designed exclusively for incoming first-year students.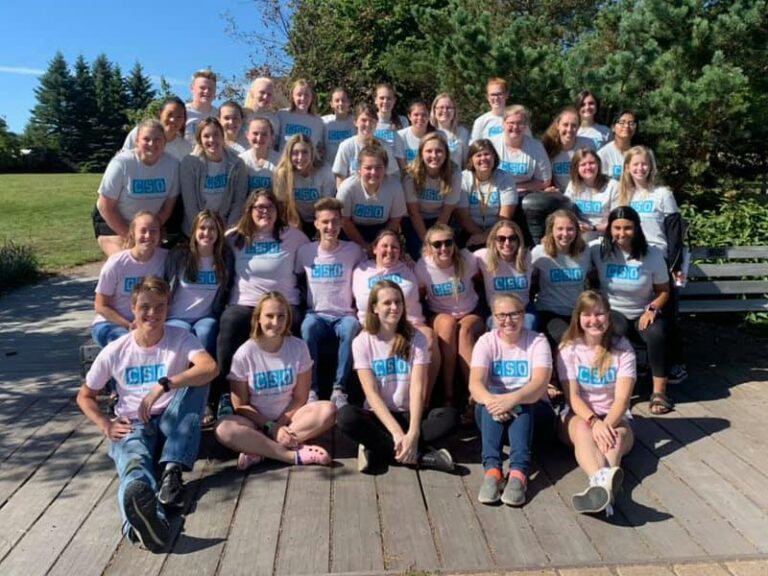 Community Service Orientation
Interested in community service? Campus Ministry provides an opportunity from Aug. 29-Sept. 2, 2022 to put the Benedictine values into action as you transition to St. Scholastica. CSO is an excellent opportunity to serve the local community, develop new friendships, explore campus and the Duluth area, and have fun!
Timeline
Participants move in about a week before classes start and spend time getting to know each other and the community through service and social justice activities.
Typical Daily Schedule
A typical day at CSO is full of opportunity from shared meals, group reflection, daily service projects, and large group evening activities exploring campus and the Duluth area. Service projects may include: Loaves and Fishes Catholic Worker House, Hartley Nature Center, Boys and Girls Club of Duluth, Benedictine Living Center of Duluth, and more! Evening activities may include: Scavenger Hunt in Canal Park, Outdoor Activities on Campus, Small Group Dinners Hosted by Staff and Faculty of the College, and a Park Point BBQ.
Cost
$125. Includes housing, meals, transportation, t-shirt, activities and programming.
Other Information
Welcomes all incoming first-year students to participate of any religious perspective or worldview
Students live in on-campus housing during CSO
CSO Participants are expected to participate in all CSO activities
Former CSO participants serve as CSO Student Leaders
For more information on CSO call 218-723-5933 or email vita@css.edu.
Campus Ministry on Social Media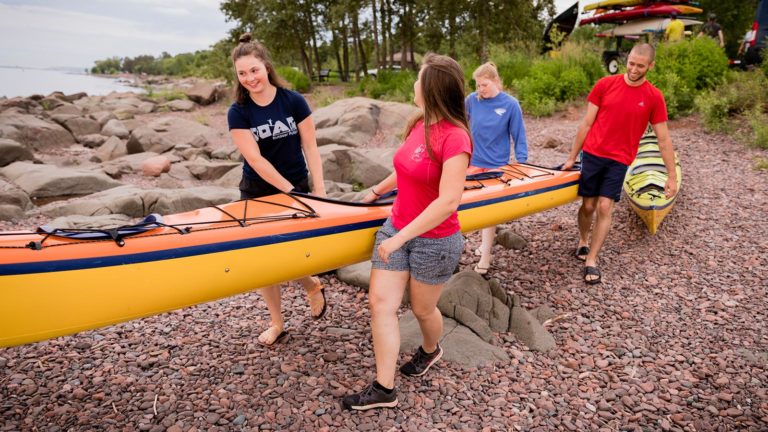 SOAR Program
Duluth is your destination for outdoor fun! Start your college journey with an adventure sponsored by Outdoor PURSUIT! Join us Aug. 25-Sept. 2, 2022 for rock climbing, canoeing or backpacking and leave with new friends and a head start on college. These adventures are guided by highly-trained and nationally certified student guides. No experience is necessary.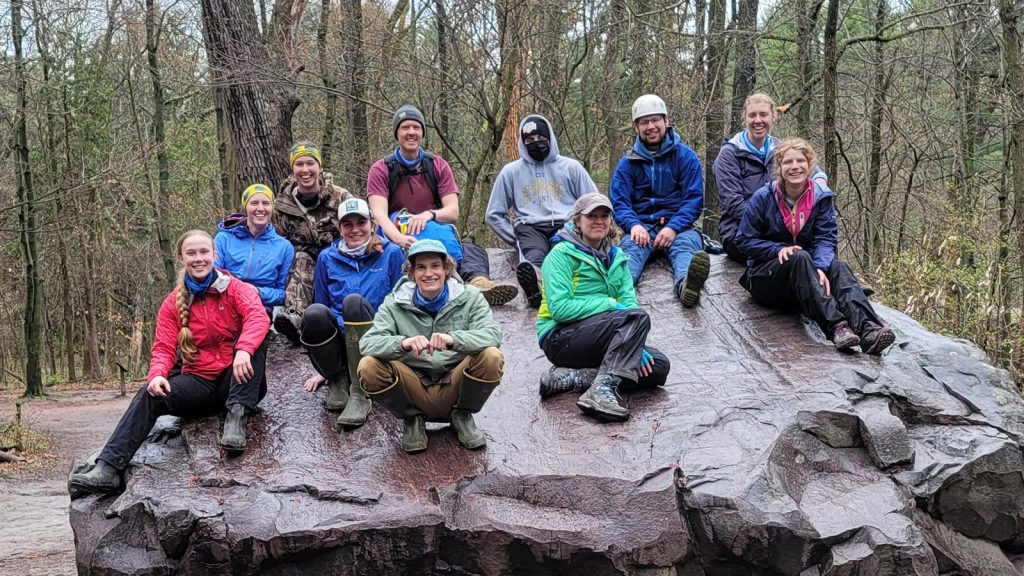 Meet Your Guides
Highly-trained, qualified St. Scholastica student guides lead the trips. Our instructors are excited about the outdoors and providing fun adventures. Passionate about teaching and stewardship, they demonstrate outdoor skills and responsibly help other students explore new places. They show participants the beauty of nature, foster lifelong friendships and make these trips unforgettable.
Outdoor Pursuit's Shawn Olesewski provides guidance, training and leadership to each instructor. He prepares them to lead others safely and ethically.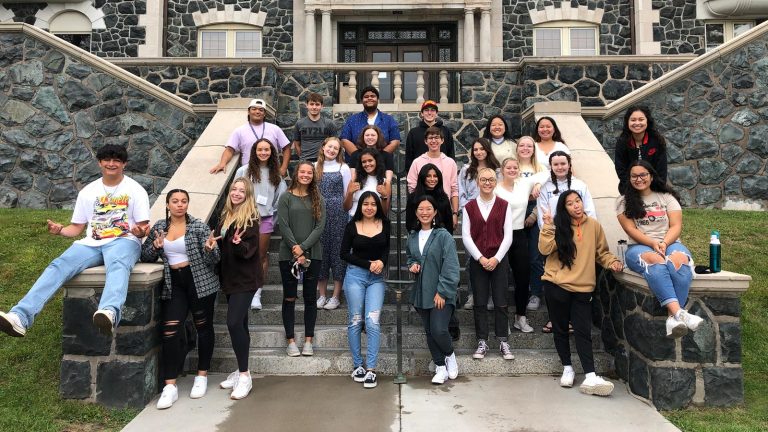 Multicultural Leadership Orientation
Do you have a passion for social justice? Join the Office of Equity, Diversity and Inclusion Aug. 28-Sept. 2, 2022 to explore and expand your understanding of social justice topics, build their leadership skills, and build lifelong relationships with other new and returning St. Scholastica students. MLO is open to all students.
Students will meet staff and faculty who help prepare them to be successful with the transition to college life. This program is run by the Office of Equity, Diversity and Inclusion with student mentors.
For more information, contact Sarah Stewart at sstewart@css.edu or 218-723-6453.
Cost
Free. All housing, meals, transportation, activities and programming are provided by the Office of Equity, Diversity and Inclusion.
Student Quotes
"It's helped me know how to get around campus and helped me open up about how I feel about my beliefs and my identity. "
"It showed me different ways to participate at CSS , also it helped me get out of my comfort zone and meet/talk to people I've never talked to before."
"I had a great time and I made a lot of friends, learned about social justice and how to deal with people who are not so nice/didn't grow up with the same views as I did."
"They did a good job at giving us information on resources that we can use throughout the year to be successful along with introducing us to those who can help us."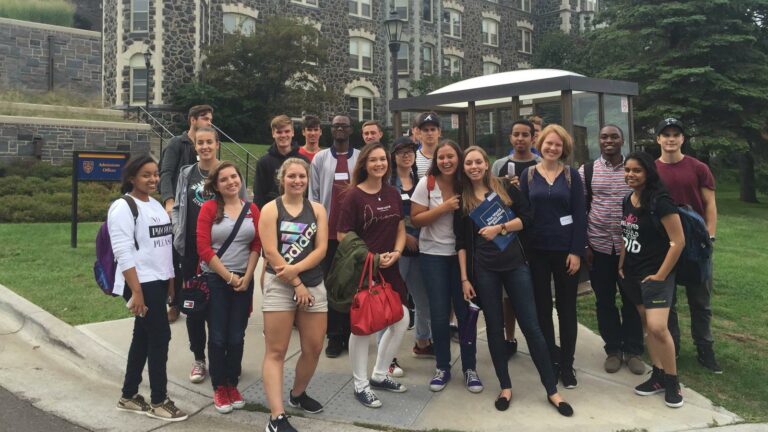 New International Student Orientation
This event is designed to assist new international students upon their arrival to the United States and in their transition to college. The agenda includes information about immigration regulations, cultural adjustment, vital services on campus and participating in fun events around Duluth.
At St. Scholastica, an international student is defined as a person who wishes to pursue an academic program or degree while on an F-1; these students are not U.S. citizens, permanent residents or refugees. Due to immigration regulations, international student orientation is required for the students defined above, and is an invitation-only program.
Cost
$75 (charged to the student's account). This event is by invitation only.