Congratulations!

You're accepted to St. Scholastica

Take the next steps to become a Saint and start your academic journey.
St. Scholastica is a welcoming community that allows you to become part of something bigger than yourself. We're excited to help you follow your dreams and make a difference in the world. Take these next steps to explore campus and begin your adventure.
Steps to Complete
Complete the Declaration of Finance form provided by your admissions counselor*
Submit additional financial documents to verify the amounts listed on the Declaration of Finance document*
Provide one photocopy of the photo and information page of your passport*
You will be sent a draft copy of an I-20 for approval. Verify the accuracy of the draft as quickly as possible. You will be sent an official, signed copy of your I-20 after approval of the draft.
*Submit documents via email to international@css.edu. Application materials received after the deadlines will be reviewed on a case-by-case basis.
Note: Transfer students will need to have their SEVIS file (School Code: SPM214F00189000) forwarded to St. Scholastica.
Pay online from a non-U.S. bank (in Student Reference field, please add student name or student ID)
Pay by check from a United States bank (please make checks payable to The College of St. Scholastica)
Send payment to:
Admissions Office
The College of St. Scholastica
1200 Kenwood Avenue
Duluth, MN 55811
USA
You will not be able to access your @css.edu email account, enroll for classes or apply for housing until you submit your deposit.
Deposits are fully refundable until June 1. if no visa is obtained by intended start date, a refund may be granted. Contact your admissions counselor for more information.
PLEASE NOTE: When you provide a check as payment, you authorize us either to use information from your check to make a one-time electronic fund transfer from your account or to process the payment as a check transaction. For inquiries, contact Student Accounts. When we use information from your check to make an electronic fund transfer, funds may be withdrawn from your account as soon as the same day you make your payment, and you will not receive your check back from your financial institution.
A few days after you have paid your deposit, you will gain access to your St. Scholastica student email address. All communications going forward will be sent to your St. Scholastica student email address, so you will want to check this email address regularly during the spring and summer (we recommend at least weekly, if not daily).
To access your St. Scholastica student email account:
A day or two after you pay your deposit, you will get an email with your username. Your password will be your student ID number, which can be found on the first page of your applicant portal (this starts with a B and is followed by eight numbers). If you have any questions about your St. Scholastica username and password, please contact us at international@css.edu.
Using your CSS username and password, log in to my.CSS, our online student portal
Select the "Email" link at the top of the page
You will receive an email from The College of St. Scholastica with a link to a form with questions about your academic history to assist with your course registration. After you complete the form, you will receive an email from the Academic Advisement and Registration Department with directions for registering, along with suggested courses. If you need assistance with the registration process, please email international@css.edu.
First-Year Students: Submit an original or certified copy of your final high school/secondary school transcript(s). English translations must be included with these transcripts.

Transfer Students: Submit your final college transcripts with official evaluation.

Have official transcripts/scores sent by email or mail to:
The College of St. Scholastica
Admissions Department
1200 Kenwood Avenue
Duluth, MN 55811
USA


transcripts@css.edu
After your deposit has been paid, you will gain access to your housing contract. Complete your contract in just a few easy steps:
Register for housing by following the instructions in step 1 of the Housing Applications page on my.CSS.
Click on the "First-Year Housing Contract" button if you are a first-year student. Transfer students planning to live on campus should select the housing contract option displayed for them (Somers to Apartments).
A confirmation code will be sent to your @css.edu email so that you can complete your housing contract. You must enter that code to complete this process.
If you've had the required vaccinations, please bring the records with you. Once in the U.S., these immunizations can be more expensive than in your home country.
Provide your immunization history online using St. Scholastica's MyHealth tool. You won't be able to complete this step until you pay your deposit and have accessed your @css.edu email account.

Before completing the Vaccination History Form, make sure you have gathered all your records. Once you enter information into this form, you cannot go back into the form and edit or update. If you do need to make updates to your vaccination history, contact Student Health Service.
You will also need to bring printed copies of your vaccination records (preferably in English) when you arrive on campus.
Preparing to Come to the U.S.
Pay the I-901 SEVIS Fee
Once a student has applied, been accepted and provided all the necessary documents to The College of St. Scholastica, we will issue the I-20 for a student to apply for an F-1 visa. The U.S. Department of Homeland Security (DHS) requires each student issued an initial Form I-20 to pay a fee before applying for a visa. Access the SEVIS fee website.
A fee of $350 must be paid at least three days before your visa interview, and you must bring the receipt with you to the interview. Please carefully read the instructions for fee payment.
Schedule a Visa Interview
Students apply for the F-1 student visa at any U.S. embassy or consulate in a country where they are legally present. It is generally recommended to apply in your home country. View information on how to apply for the F-1 visa on the U.S. Embassy website for the embassy where you intend to interview.
Note: Canadian citizens do not need to apply for a U.S. visa, their F-1 status is approved upon entry to the U.S with a valid I-20. You are strongly encouraged to schedule your visa application appointment as early as possible.
Prior to purchasing a ticket to travel to the U.S. or planning your travel to St. Scholastica, check your @css.edu email frequently for communications from various departments related to orientation and arrival.
Duluth is a city located on the westernmost tip of Lake Superior with a population of 87,000. It is a popular holiday location visited by 3.5 million tourists each year.
Visit the resources below to learn more about Duluth and Minnesota.
International students can enter the U.S. up to 30 days prior to the program start date listed on your I-20. Watch for announcements related to orientation dates prior to the start of the semester. These will come via your @css.edu email address.
Once your visa is approved, make travel arrangements to come to the U.S. (please do not make travel arrangements until your visa is approved).
Submit the Arrival Form
Complete the Arrival form to let the Office of International Programs know how you will be arriving in Duluth. Our office will be happy to help arrange transportation to campus for students arriving the week before and during orientation.
Traveling to Campus
There are a few different ways to get to campus:
Air
Fly directly into Duluth, arriving at Duluth International Airport. This airport is only 5-10 minutes away from the College campus. Free transportation will be provided from this airport. If you're flying into an alternate airport, you'll be responsible for arranging your own transportation to Duluth, MN.
Bus or Van
If you fly into Minneapolis/St. Paul International Airport, you can take a bus from the airport directly to the College campus via Jefferson Lines or to the Duluth International Airport via Landline. If you take Landline to Duluth International Airport, please arrange with the Office of International Programs for transportation to campus. Groome Transportation provides daily shuttle (van) service between Duluth and the Minneapolis/St. Paul International Airport.
Car
Rent a car to drive to campus. This is an option many students use when their family is coming with them.
Obtain Driving Directions
When driving to campus, please arrive at the desk located in the main entrance of Somers Residence Hall (No. 10 on the Map) to receive initial arrival information and room access. Staff will be available to greet you between 7 a.m. and midnight.
Online orientation is required for all new students. You will receive an email at your @css.edu prior to the start of term.
All F-1 visa international students at The College of St. Scholastica are required to have health insurance. This requirement is for your health and safety, should you become ill or need to seek medical attention. You are automatically billed and enrolled in a plan provided by LewerMark Insurance that is specifically designed to meet the needs of international students.
The main plan benefits are seen below:
Annual Maximum: $300,000
Annual deductible: $100
Coinsurance: 100% In-network/80% out-of-network
Preventative Care: 100% coverage up to $500 per school year
Annual Cost: $1,740.60 (2023/2024)
The LewerMark plan summary and plan brochure can be accessed via the LewerMark-CSS website for further benefit descriptions
Waiver Eligibility Criteria
All enrolled F-1 students are required to carry the above plan unless they meet one of the requirements below, apply for and are granted a waiver:
You have existing health insurance through a United States-based company that provides Affordable Care Act-compliant coverage
You are a sponsored student (SACM, Fulbright, foreign government) with program-provided health insurance
You have existing health insurance that meets or exceeds all benefits of the LewerMark plan
There are several student employment positions available on the Duluth campus. Information on employment, employment restrictions and applying for positions will be provided. Learn more about student employment.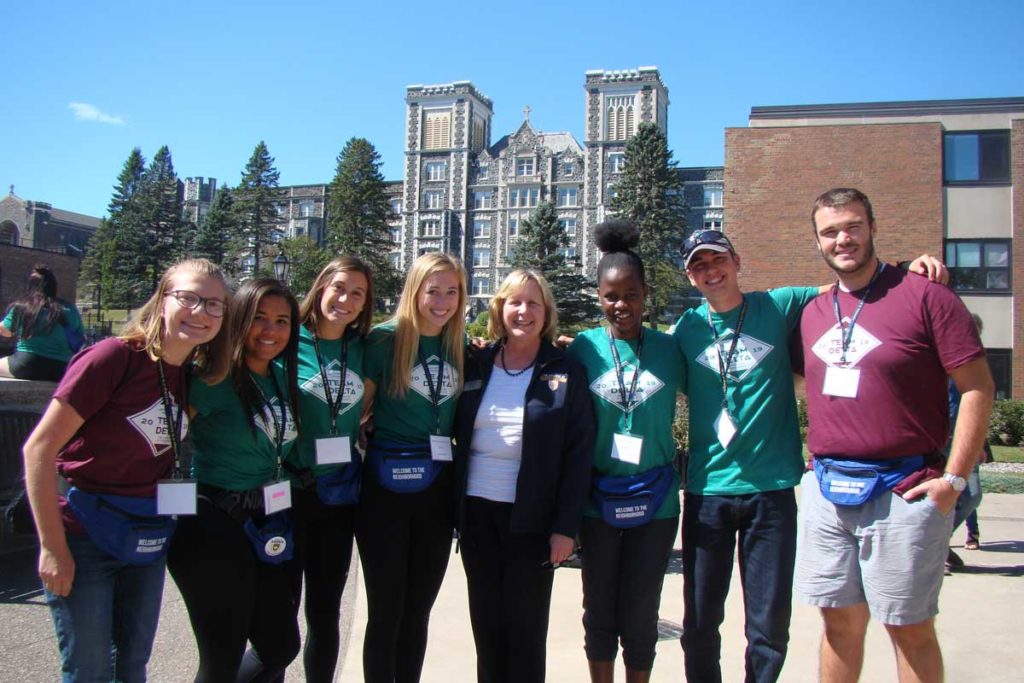 Visit Virtually
Join us from the comfort and safety of your home, school or anywhere! During your personalized virtual visit, you will meet 1:1 with an admissions counselor via phone, email or live video chat.