Master of Science

Health Informatics

Developed for working professionals who wish to take their bachelor's degree to a higher level in the health data field. Students will take courses such as Systems Design and Software Development, Human Factors and Usability, Healthcare Data Analytics and Project Management all 100% online.
This program has given me the skills to analyze health data systems for the improvement of healthcare delivery.
Meaningful Work Award
Learn how to receive a 10% tuition discount for employees of participating partners.
Saints Succeed Scholarship
Request more information about this scholarship.
Study Buddy Scholarship
Receive a $1,000 scholarship when you and a friend (or a group) enroll.
Degree Details
Tuition: $658/credit*
---
* Tuition rates are for the 2021-22 academic year. Additional fees and costs for course materials may apply. Total program cost and completion time varies depending on transfer credits and individual program plans. Tuition rates are subject to change.
Fees
$66 technology fee per semester.
$75 program fee fall and spring semester.
Why St. Scholastica?
The MS in Health Informatics has been developed for working professionals who wish to take their bachelor's degree to a higher level in the health data field. Students will take courses such as Systems Design and Software Development, Human Factors and Usability, Healthcare Data Analytics and Project Management all 100% online. Students will earn eligibility to sit for the CHDA exam.
Foundational Course Requirement
(must be completed prior to starting graduate curriculum)
Total Foundational (Undergraduate) Course Credits (4)
Graduate Curriculum
(after foundational requirement is satisfied )
Required Courses
CIS 6208 – IT Project Management
A discussion of the project management process through the framework prescribed by a project management certifying body. Providing an IT perspective of planning, estimating, leading, and monitoring projects. In addition, students will explore the influence that strategic planning and change management can have on IT projects.
HIF 6010 – Foundations Health Informatics
An introduction to the US healthcare system and the role of informatics. Examines clinical, research, and administrative applications of information technology applications used by healthcare professionals. The course will cover the history of the field, an introduction to clinical data, electronic health records, decision support systems, computerized order entry, and consumer applications.
HIF 6210 – Health Information Technology in Practice
Prepares students to appraise, implement, and optimize Electronic Health Record (EHR) technology to support the utilization and management of clinical information. Students will describe information infrastructure, data, and databases; employ processes for implementing healthcare information systems and clinical decision support tools; relate privacy and security issues to healthcare information; and explain personal health records and EHR applications used in acute, ambulatory, and specialty services.
HIF 6220 – Advanced Biostatistics and Health Analytics
Examines and applies analytic methods, data handling, and data cleansing techniques to ensure quality analyses. Applies current theoretical models and research to clinical practice to gain new knowledge from data. Requires students to use a myriad of analytic tools for analyzing healthcare data with statistics, data visualization, data mining, and report generation.
HIF 6230 – Human Factors and Usability Assessment
Explore human factors principles and the application of usability assessments for the development and use of health information technology by clinicians and patients. The course covers the role of human factors and human-computer interactions in medicine, usability assessments and user-centered design, and theories of cognition, memory, and technology.
HIF 6240 – Consumer Health Informatics
Examine the field of consumer health informatics and apply analytic methods, system analysis and design, and research methods to address issues related to patient use of health information for individual decision-making. Students will also apply current theoretical models and research to gain knowledge regarding the information structures that facilitate patient engagement.
HIF 6511 – Health Information Security Systems
Strategies for designing, implementing, auditing and evaluating the technical, physical and human components of an information security system that adheres to a healthcare organization's legal, ethical and organizational requirements
HIF 6522 – Seminar in Health Informatics
A capstone seminar in which students present the results of their Final Research Projects and explore current issues relative to the field of Health Informatics in a rapidly changing healthcare delivery system. All health informatics students will conduct a formal presentation of their final research project. Faculty, staff, the student body, and the public will be invited to each presentation. The presentations are held virtually and aired live as well as recorded for later viewing. Enrolled students will present the background, research question/hypotheses, methods, results, discussion, and conclusions based on their research from their final research project.
HIF 6534 – Final Applied Research Project
Working closely with the instructor, each student completes the applied research project and prepares a final manuscript that can be submitted for potential publication in a peer-reviewed journal or conference proceedings. The goal of the final applied research project is to increase students' research competencies through actively engaging in the research process. Not only will this further the student's education, but there is the potential that a student will have their work published and recognized by health informatics researchers and professionals.
HIF 6537 – Systems Design and Software Development
Introduction to computer programming with a focus on the phases of the systems development life cycle. Topics include: preliminary investigation, physical and logical documentation, detailed investigation of requirements and alternative specifications, analysis and design techniques, implementation considerations, development of logical and physical data flow diagrams, data modeling, prototyping, and tools.
HIM 6505 – Database Methods Clin Info Mgt
Addresses database theory, methodologies for database design and issues related to database administration. Emphasis is on requirements and methodologies for assuring data integrity and security in healthcare enterprise information systems, specifically in relationship to the database environment. Prerequisites: Fundamentals of HIM and US Healthcare System, or permission of the department.
HIM 6508 – Healthcare Data Analytics
Covers the techniques, strategies and the need/use of Information Technology (IT) tools for data collection, data analysis, reporting and knowledge management. Offers learners the foundational terminology, concepts, models, processes and tools associated with decision support and knowledge management systems to leverage data into information and knowledge enhance care processes, data quality, cost effectiveness and decision-making, ultimately increasing the strategic acumen of the organization. Prerequisites: Finance or Accounting and HIM 6505, or permission of the department.
HIM 6509 – Med Vocab & Classif Systems
Build on knowledge and proper use of medical vocabularies and classification systems commonly used in contemporary healthcare systems. Clinical and administrative data standards are necessary for semantic interoperability which enables effective exchange of health information. Emphasis is placed on learning about medical vocabularies and classification systems for an area of domain coverage in accordance with regulatory requirements.
HIM 6532 – Methods of Healthcare Monitoring, Evaluation, and Research
Explores methods and processes used to systematically collect and measure information for the purpose of program evaluation. The course integrates several knowledge and skill areas including: research methods, statistics, proposal writing, budget planning, project management, and program evaluation. Prerequisites: Admission to a HIM graduate program or permission of the department.
Everyone wants to improve healthcare, and everyone in healthcare wants to improve how healthcare decisions are made. Health Informatics is designed to do both, and as such, is poised to be one of the next top career fields. According to the U.S. Bureau of Labor Statistics, jobs in medical or health services managers are poised to grow by 32% from 2019 to 2029. And, while it is difficult to predict the number of jobs available in the field, the profession is growing rapidly and career opportunities are high.
Examples of employment opportunities are:
Analytics Business Intelligence Management
Chief Medical Information Officer
Clinical Informatics Coordinator
Data Architect
Director of Data Security
Health Informatics Consultant
Health Informatics Director
Healthcare IT Manager
Implementation Support Analyst
Informatics Researcher
Nursing Informaticist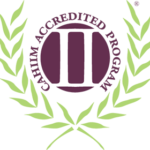 The Health Informatics and Information Management accreditor of The College of St. Scholastica is the Commission on Accreditation for Health Informatics and Information Management Education (CAHIIM). The College's accreditation for the Master's degree in Health Informatics has been reaffirmed through 2029. All inquiries about the program's accreditation status should be directed by mail to CAHIIM, 200 East Randolph Street, Suite 5100, Chicago, IL, 60601; by phone at (312) 235-3255; or by email at info@cahiim.org.
Program Outcomes
88% retention rate overall for MS in Health Informatics Students
85% of MS in Health Informatics graduates responding to the graduate survey are employed within one year of graduation
84% of those that apply to the MS in Health Informatics program are accepted
70% of students complete the MS in Health Informatics within the calculated average completion time
Visit our admissions page for information about transcripts, online application, international admissions and financing.
Application Deadlines
Early submission is encouraged; applications are reviewed as they are completed. Applications completed after the following deadlines will be submitted for the subsequent term.
Fall: Aug. 5
Fall mid-term: Sept. 30
Spring: Dec. 9
Spring mid-term: Feb. 17
Summer: April 21
Eligibility
New Students
BA/BS degree from an accredited college or university
Cumulative GPA of 3.0
Note: Meeting minimum entrance requirements does not guarantee admission.
Returning Students
A returning student is a student who was admitted and enrolled in a program at St. Scholastica but has been absent from the program for at least three continuous semesters, including summer. To return to the same program at St. Scholastica, a returning student must be in good academic standing and must apply for readmission to the College.
Prerequistes
Experienced, Dedicated and Distinguished Educators
Expect to be heard, to be challenged and to be involved. St. Scholastica faculty are world-class scholars and experts in their field who bring their deep experience to online and on-campus classrooms. Our values of community, respect, stewardship and love of learning reflect our faculty's commitment to lifting up others and celebrating our common humanity.