Master of Science in

Athletic Training
Degree Details
The information below provides details for current students in the program.
Tuition: $723/credit*
---
* Tuition rates are for the 2023-24 academic year. Additional fees and costs for course materials may apply. Total program cost and completion time varies depending on transfer credits and individual program plans. Tuition rates are subject to change. View 2022-23 rates.
Course Fees
ATR 5510 | $300
ATR 6002 | $100
ATR 6009 | $150
ATR 6014 | $150
ATR 6015 | $400
ATR 6100 | $100
ATR 6208 | $100
ATR 6303 | $100
ATR 6401 | $150
ATR 6402 | $400
ATR 6501 | $100
ATR 6502 | $100
ATR 6510 | $100
ATR 7004 | $100
ATR 7202 | $100
Students are responsible for costs associated with travel to and from clinical rotation sites. Students may utilize the city transit system for many clinical sites within the Twin Ports, which is free of charge with their college ID card. All other program costs are associated with the specific course fees listed above.
Visit our Catalog to view the program, course and degree requirements, and learning outcomes. Be sure to create your course plan in consultation with your advisor.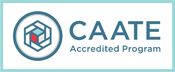 The College of St. Scholastica professional-level Master's program is accredited by the Commission on Accreditation of Athletic Training Education (CAATE). The program has been placed on probation as of May 11, 2023, by the CAATE, 2001 K Street NW, 3rd Floor North, Washington, DC 20006.
AATE Founding Member

Proud to be a founding member of the Association for Athletic Training Education (AATE). The AATE serves as a collective voice for matters pertaining to athletic training education.
Outcomes
CAATE Program Information and Outcomes, including a BOC pass rate above the national average and 100% employment rate for the 2020-21 cohort of students