Certificate in

Project Management

The Certificate in Project Management is a foundational certificate, offered 100 percent online. This graduate-level certificate is designed for professionals seeking increased knowledge and experience with project management processes and techniques.
Degree Details
Tuition: $565/credit*
---
* Tuition rates are for the 2021-22 academic year. Additional fees and costs for course materials may apply. Total program cost and completion time varies depending on transfer credits and individual program plans. Tuition rates are subject to change.
How long will it take to earn the certificate?
The 12 credit certificate program can be completed in two semesters and consists of four foundational courses from the Master of Science in Project Management curriculum. These courses cover topics related to writing and communications, leadership, basic project management practices, and strategic decision-making.
Required Courses
CIS 6101 – Leadership Communication
An examination of the importance of leadership theories and styles, and the essential importance of communication. Oral and written communication methods will be studied to determine how effective communication is integral to the success of IT initiatives. Topics include communicating complex ideas, collaboration in a team environment, and using communication to lead a team and work effectively with complex interpersonal and team processes. (8 weeks)
PRM 6110 – Project Management Principles
Examines the industry standards as fundamentals for practicing project management. Students explore the project environment, the functions associated with projects, systems of delivering value to the organization, and the principles of project management. These standards are applied to the project environment and project management practices are evaluated against these standards. Topics include the concepts and application of project teams, stakeholders, systems thinking, complexity, risk, and organizational change.
PRM 6115 – Project Essentials: Scope, Schedule, Cost, & Resource Management
Examines the project management knowledge areas of scope, schedule, cost, and resource management. Students will learn the primary initiating, planning, executing, monitoring & controlling, and closing activities associated with each knowledge area. Specific hands-on exercises will be utilized to provide students with direct experience related with project scope, schedule, cost, and resource management activities.
PRM 6119 – Strategic Decision Making
An examination of the methods used to make informed and ethical strategic decisions. The course provides a review of qualitative and quantitative methods applied to the decision making process. Topics include goal setting, systems thinking, cost-benefit analysis, contingency planning, decision trees, risk assessment, and decision evaluation.
The courses that comprise this certificate program may be applied toward the Master of Science in Project Management degree program.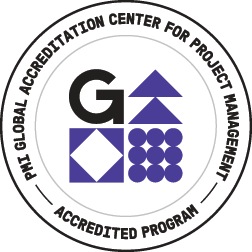 The College of St. Scholastica has been granted accreditation by the Project Management Institute Global Accreditation Center for Project Management Education Programs (GAC). GAC accreditation ensures the quality of academic degree programs and their graduates to meet the standards of the rapidly growing field of project management.
Visit our admissions page for information about transcripts, online application, international admissions and financing.
Application Deadlines
Fall: Aug. 15
Eligibility
New Students
B.A./B.S. degree from an accredited college or university
Cumulative GPA of 2.8
Note: Meeting minimum entrance requirements does not guarantee admission.
Returning Students
A returning student is a student who was admitted and enrolled in a program at St. Scholastica but has been absent from the program for at least three continuous semesters, including summer. To return to the same program at St. Scholastica, a returning student must be in good academic standing and must apply for readmission to the College.