May 27, 2022
Loving what she does even after a pandemic
"It just seemed like the military veteran nurses had it all figured out," Paige Tranah '20 says a traditional classmate of hers that she now works with once remarked. Tranah, who grew up in Esko, enlisted in the U.S. Air Force Reserves directly after high school in 2015, eventually joining the 934th Airlift Wing in Minneapolis as a service member, acting as "the heartbeat of a base," where she continues to drill on a monthly basis.
But the military hadn't been her dream since 6th grade — nursing was. In spring of 2017, she transferred from St. Cloud State to The College of St. Scholastica to pursue her childhood ambition.
"I knew the nursing program was good at St. Scholastica," Tranah said, "and it was closer to family, so it made sense."
What Tranah wasn't initially aware of, however, was The College of St. Scholastica's Veterans' Initiative to Transform Education (INVITE) program, AKA Veteran to BS in Nursing, which prepares veteran nursing students for careers in rural areas. This meant that Tranah would be with a cohort of other veterans with whom she would have all of her classes for the entirety of her St. Scholastica journey.
"Immediately after getting connected with those individuals, it felt like home," she recalls. "Maybe that's a cliche, but these are people who share the same experiences and are just at similar points in their lives."
While attending St. Scholastica, Tranah continued drilling one weekend per month, which she said the Veteran Affairs office helped her coordinate the logistics of with professors, and worked as a CNA in area hospitals including St. Lukes and Essentia.
"I was balancing being a student, being in the military and working as a CNA."
The greatest challenge, however, would come after graduation.
A new nurse in an unprecedented time
The harsh realities for frontline, essential personnel during a global pandemic cannot be overstated. Tranah, who graduated in May 2020, began her post-graduate life as a nurse at Essentia in the neurotrauma intensive care (NTICU) unit just as COVID-19 decimated communities and overwhelmed hospitals around the nation.
"I don't even know if there are words," she says about starting her career in intensive care during a pandemic, "it was greater than anything I could have ever expected or experienced as a new nurse. But they were very sick people, and they needed help, so we were there."
Critical care nursing had been what Tranah was most interested in, and the NTICU at Essentia, where she had previously interned, was the perfect fit. Despite the familiarity, the NTICU as Tranah returned to it was now in the midst of a global pandemic and would be an entirely different environment.
"There's really no way to prepare for that," Tranah says, "I suffered a lot of burnout after about a year and a half, which was something I did not think could happen to me, at least not so quickly."
Tranah was one of many who experienced extreme burnout from the pandemic. A study published by Ontario COVID-19 Science Advisory Table in October 2021 found the level of reported burnout among hospital-based healthcare workers increased from 30-40% in spring of 2020 to >60% the following year.
"I think when you're in that scenario," she continues, "you develop ways of coping and you try not to bring it home, but it becomes very toxic and just oozes out of you."
Fortunately, St. Scholastica's nursing program had equipped Tranah with a breadth of expertise, allowing her several options to continue in the healthcare field without enduring further burnout in the NTICU.
"The nursing program gave me all the baseline stuff needed to succeed as a nurse, but it also gave me the opportunity to expand my options."
Loving her work and looking ahead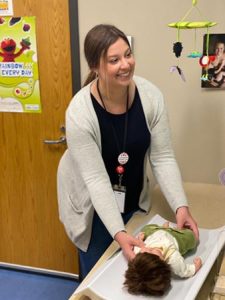 In August of 2021, Tranah became a public health nurse with St. Louis County, working with high-risk populations and connecting them with services provided by the county at no cost. Specifically, Tranah works primarily with first-time and young mothers and their children.
"I'm a home-visiting nurse," Tranah explains, "so I can meet these mothers and their children at their homes or at a coffee shop or wherever they feel comfortable."
In addition to connecting mothers and children with resources, Tranah also personally provides developmental and health screenings, parent-child interaction and more recently, COVID response such as community vaccine clinics.
"I love it," Tranah says of her work, "I haven't looked back. It was a really difficult decision to make, because I loved the patient population and the intensity of an ICU, but what I saw and had to deal with during COVID, " she laments, "it was unfortunate."
Even though Tranah loves public health and sees herself remaining there for sometime, she appreciates that her education at St. Scholastica has set her up well to endeavor in other directions, such as returning to St. Scholastica for her Doctor of Nursing Practice (DNP) degree or even management.
"I wouldn't have been able to transition to the career I am in now without the program at St. Scholastica. It opened a lot of doors for me."
Tranah encourages both traditional and veteran students to explore their passion for healthcare, even after all she's experienced.
"Don't be intimidated by what's going on in the world," she says, "because no matter what, you can still do a lot of good. If at any point you ever feel like your career path isn't good for you anymore, there are so many other options in nursing."
Tranah says the best piece of advice she ever received was from Greg White, a nursing professor at St. Scholastica, and shares it with others regularly.
"He said, 'It never gets easier — you just get better.' And that's so true."
Photo credit: Hannah Gottschald