March 22, 2022
Exploring professions in exercise physiology
A degree in exercise physiology allows you to pursue a variety of professional endeavors and opportunities to make an impact on the lives of others. The profession can be as varied as helping athletes reach peak fitness; guiding people in their journeys to lose weight; or rehabilitating patients suffering from chronic illness.
Our alumni have taken many fulfilling and interesting paths with their degrees. Some are working in a clinical environment, others a non-clinical and still more are seeking further education. Read about Miranda Overland '20 (DPT '24) and her journey from a BS in Exercise Physiology to a Doctorate of Physical Therapy.
From EXP to DPT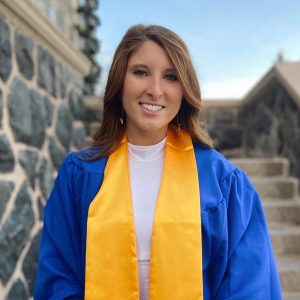 Miranda Overland is a current Doctorate of Physical Therapy candidate who also completed her bachelor's degree at St. Scholastica in December 2020.
"I chose CSS for the amazing Exercise Physiology program, great ratio of professors to students and the amazing community that Duluth offers."
Overland decided to return to St. Scholastica for the graduate program due to the reputable program and faculty. Specifically, Overland is finding a sense of fulfillment as she is working towards the same level of education as the faculty and staff that taught and inspired her along her journey in Exercise Physiology.
"So far, I am loving every day of it," she says of the DPT program. "It is an honor to obtain the same education as those I have learned from thus far and had as a former mentor."
As for future ambitions, Overland hopes to one day open her own clinic for athletic rehabilitation and prevention.
"The EXP department prepares you to succeed in any field related to the program, inspiring my fondness for Sports Physical Therapy." Overland specifically points to when she was given the opportunity to lead and conduct an exercise assessment on the CSS Men's Hockey Team, which she has continued to do for two consecutive years.
Practical experience for a professional calling
At St. Scholastica, we believe that to become the best in your field, you need firsthand experience. That's why both the BS in Exercise Physiology and the MS in Exercise Physiology programs are geared to get you actively learning through a participatory program where you'll spend as much time in the lab as in the library. Outside of the classroom instruction and laboratory experiences, you will also have opportunities to work with real athletes, firefighters and police personnel from the community to familiarize yourself with real-world client interaction.
Graduates of the Exercise Physiology program begin using their skills right away in various areas, including fitness, cardiac rehabilitation, corporate wellness and more.