January 2, 2020
Milestones of 2019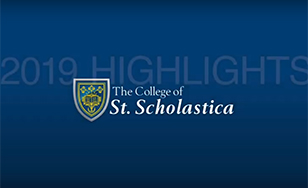 2019 brought many exciting changes, initiatives, and accomplishments for St. Scholastica, including leadership transitions, the rollout of new academic offerings, and athletic achievements. As we welcome 2020 and look forward to the promise of a new year, let's take a moment to reflect on the many milestones of 2019 with this fun highlights video.
Top 5 Saints News Stories of 2019
No. 5
We finished a major three-phase renovation project in Somers Hall that included brand-new residence hall rooms and gathering spaces throughout, as well as a revamped Student Health Service space.
No. 4
This year marked some major milestones for our support of first-generation college students. We were one of only 80 institutions nationwide to be designated a "First Forward" institution, and we launched Tri-Alpha, our new honor society for first-generation students.
No. 3
In honor of everything that President Emeritus Bruce Stender and his family have done for the College through the years, we were pleased to rename the Stender School of Business and Technology.
No. 2
The School of Nursing received high-profile support in the form of the largest public and private grants in College history. The gifts will be used to complete the construction of our simulation lab spaces on campus and to enhance advanced practice nursing learning experiences.
No. 1
The No. 1 news item of 2019 was the appointment of Dr. Barbara McDonald as St. Scholastica's 13th president. Dr. McDonald brings decades of experience in higher education leadership. We welcomed her as our new president in August, and look forward to her inauguration ceremony in February.
There was plenty of other news to celebrate in 2019.
Academic news
Our first class of Physician Assistant students completed their studies, and we launched some innovative new academic programs, including a Master of Science in Data Analytics and an online Bachelor of Science in Psychology. A group of students in our Occupational Therapy program collaborated with UMD engineering students on a 3-D printed prosthetic thumb. A new "Living and Learning Community" gave first-year students in the honors program an opportunity to live together in Somers Hall. Chemistry graduate Nafisa Ibrahim won a prestigious National Science Foundation research fellowship.
Arts and events
We took part in a variety of outstanding performing arts events and community discussions in 2019. Our Bella Voce choir released its "Still I Rise" album, while the Alworth Center for the Study of Peace and Justice speaker series celebrated its 30th year. Students participated in Duluth's Catalyst Content Festival, and St. Scholastica Theatre completed another successful season. Our musical groups and choirs presented well-attended concerts, and meaningful conversations took place at the second Culturally and Spiritually Responsive Healthcare Conference.
By the numbers
We were proud to see 831 undergraduates and 711 graduate students become Saints alumni, and we celebrated the 20th anniversary of our Community Day volunteer event. Our total enrollment reached 3,903, and $45 million was awarded in financial aid. Our student body became increasingly diverse, with 16% of first-year students identifying as students of color. We are the No. 1 college in Minnesota for economic mobility of our students. We raised $6.34 million in gifts and grants raised, and the endowment hit a record $97 million.
Athletics news
We had 106 All-Conference selections, 23 All-Region selections, two All-Americans, nine Conference titles and eight Conference Coaches of the Year. Football quarterback Zach Edwards was named MVP of the FCS Bowl.
Thank you for being a part of our Saints community, and have a healthy and happy 2020!