October 3, 2019
Honoring President Emeritus Bruce Stender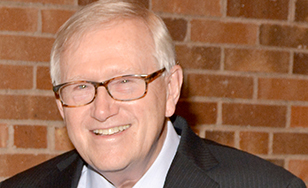 St. Scholastica will host an event to rename one of its schools in honor of President Emeritus Dr. Bruce Stender and his family.
The College will celebrate the new name of the Stender School of Business and Technology at 4 p.m. Wednesday, Oct. 23 in the Mitchell Auditorium on campus. After a program in the auditorium, guests will enjoy a reception, a plaque unveiling, and tours of newly renovated SSBT classrooms on the third floor of Tower Hall.
Dr. Stender is being honored for his service as St. Scholastica's ninth president from 1974 to 1981. The College also recognizes Stender and his wife Kaye and Tom and Mimi Stender for their financial support.
The program will feature remarks from Dr. Rick Revoir, dean of the SSBT; St. Scholastica President Dr. Barbara McDonald; Labovitz Enterprises President and CEO Mark Labovitz; President and CEO of the Blandin Foundation Kathy Annette; Allete Chairman, President and CEO Al Hodnik; SSBT student Nick Anderson., and Bruce Stender.
Wednesday, Oct. 23 has been deemed Bruce W. Stender Day through local, state and federal proclamations.
The Stender School of Business and Technology combines an academic emphasis on liberal arts with experiential learning to create global leaders with strong professional skills who act with integrity and a strong sense of social responsibility. It offers majors in accounting, computer information systems, finance, business management, marketing, and organizational leadership. It offers MBA degrees in Leadership and Change and Rural Healthcare, and Master of Science degrees in Applied Data Analytics and Project Management.