May 15, 2017
How do I build my brand? 10 experts answer FAQs about starting a small business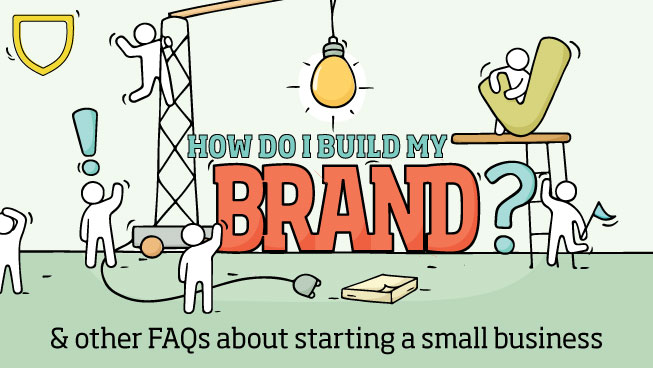 You consider yourself more of a leader than a follower. You've always forged your own path instead of walking the one laid out ahead. This pioneer attitude has helped instill within you the dream of starting your own business.
And you're not alone — as of 2016, there were more than 28 million small businesses in the United States, according to the U.S. Small Business Administration. But any business-savvy individual knows it takes more than big dreams to find success as a small business owner. Starting any new business venture requires a big leap of faith and some general industry know-how.
You likely have quite a few questions about venturing into this next chapter of your life, so we spoke with a handful of business experts who have been in your shoes. Keep reading to find out what you need to prepare for, consider and check off your list before starting a small business, from the experts themselves.
6 questions to consider before starting a small business
1. How do I start building a brand?
Building a brand is much more intensive than just deciding on the color of your logo. You first need a clear objective and direction outlined in order to get your brand up and running. When you're starting to build it from the ground up, it can be helpful to look inwardly to your personal motivations and your overall mission so that you can be sure these things are reflected to your consumers.
"When you're just starting out, building a brand is actually more about deciding what your company mission is," says Adam Broetje, CEO of Odd Dog Media. We see many businesses that start out without making their mission clear, and potential customers can't quite grasp what it is that makes them unique, he adds.
Blending in with your competition can be problematic for your business — you need a strong brand to entice your audience. Broetje suggests asking yourself a few questions to define your brand:
Why is your product or service better than others?
What problems does your product solve that other products can't?
Why is your company better and different than competitors?
Answering these questions will help you define your brand identity to the extent that you can be confident of it when you move forward with your business venture.
2. What should I name my business?
In line with building your brand, eventually the time will come to settle on a name. Like a new addition to the family, this decision is an important step to giving life to your dream of opening your own business. But before you completely fall in love with one particular name, you need to do some practical research.
"Make sure your domain name is the same or similar to your brand's name," advises Bradley Shaw, digital marketing and online consulting expert at SEO Expert Brad Inc. He suggests that when creating a brand from scratch, finding a website domain name is the first thing you should consider. "Brainstorm name ideas and use GoDaddy to ensure that the .com version is available," he adds.
Even the best name ideas will fall flat if the domains aren't available. Make sure your selection doesn't hold you back from success before you even start.
3. How will running a business fit into my current life?
Business may begin with the best intentions, but despite all the planning and preparation, life rarely pans out the way you imagine it to. Maintaining a firm grasp of your needs outside of work can help you preserve a semblance of balance in the face of a demanding business.
"We all plan to be successful, however starting your own business almost never goes according to your master plan," says Robert Botto, Facebook ads expert, entrepreneur and digital nomad. "Ensure you know what is needed to live when building your business plan, because you are important too."
Botto suggests that when first starting out, you should plan on your business taking up whatever free time you may have, amounting to 50 to 80 hours a week. "Measure what you value in life and how important a small business is in comparison to certain aspects that you may enjoy with your free time," he recommends.
"The idea of running a business may appear sexy from a distance, but seen up close, it's sweaty, grinding work," says Levi King, co-founder and CEO of Nav. He recalls a friend who started a business selling his art, but when it came to the behind-the-scenes duties of marketing, bookkeeping, selling, maintaining a web presence and creating business plans, his enthusiasm waned. As soon as that happened, it was over, King recounts.
"Before you start a small business, ask yourself why you're doing it. That probably seems pretty obvious, but it's surprising how many people jump in with both feet without getting this down first," he explains. "If your motivation is anything other than wanting to run your own business, think long and hard before proceeding."
4. How do I maintain and develop my brand?
Promoting your brand is one thing but proving your brand is a whole different challenge. Your audience wants to see you living and breathing your mission, not just talking about it. Once you've defined your brand, content marketing is one way to help you develop and solidify your brand identity and authority in the industry, according to Shaw.
"Content marketing allows you to convey your message in a rapid and controlled manner," he explains. "If you develop compelling stories that connect emotionally with people, they won't soon forget your name or brand. In fact, they will often share your content with their friends, family and coworkers."
Content marketing allows brands to express themselves and relate to their customers. It can even provide organic promotion when done correctly. However, even the best content marketing and advertising can fall flat if you lack a deep understanding of your audience and your customers.
"Before you put out any content or advertising, make sure you consider your buyer persona and how they will engage with that content," urges Sam Selker, communications manager for SD Equity Partners. "Know your audience, what social media platforms they use, what issues they face that your services or product can fix and what messaging will resonate most with them."
5. How can my business stand out against competitors?
No matter how unique you consider your brand, your customers don't see it that way. You're just one of their many choices among a sea of competitors. So how can you stand out and become the one they want to do business with?
Many new entrepreneurs come to the table thinking that their idea is entirely unique, that they have no competitors, suggests Cristina Lombardi, of Follow Me NYC Adventures. "That mentality is a recipe for disaster," she says. "Of course you have competitors, lots of them, and with deep pockets."
She advises aspiring entrepreneurs to educate themselves and learn as much as they can about their industry, their competitors and how they operate. "Become an expert in the field and figure out what niche you can fill that the big guys aren't filling," she recommends. "Find the angle that works for your business and go from there."
Another way to stand out from competitors is to legally ensure your brand and all that it encompasses is properly protected by the law. This will help confirm that your competitors cannot infringe on your intellectual property.
"Too many businesspeople make the mistake of putting off details that they don't see as a high priority and often this comes back around to haunt them," says Charles Vethan, founder and CEO of Vethan Law Firm. He says any trademarks such as logos, designs, phrases, colors or sounds that represent your brand should be registered and any written information, images or video should have a copyright notice. Along those same lines, be sure you're respecting the intellectual property rights of others as well.
6. How will I finance my small business?
Starting a business can require significant funding upfront. When you're just starting out, it's easy to get swept up in the excitement and passion, only to overlook the foundational parts of the business to get it off the ground.
"You need to consider your cash flow and how profitable your endeavor is. Sometimes people have a passion project and forget that it's not about them, it's still about the bottom line," says Adelaide Anno-Kusi, COO of TalkFood Inc. "There is always a way, but you need to figure that out before you go full force."  
When you're starting a small business, one of your options is to recruit investors to provide the capital to get your company running. Your job here is to show a potential investor how your company, and they in turn, will profit.
"Investors aren't looking to buy high-sounding ideas, they're looking for returns," says Danni Lin, CEO of Great Wine, Inc. "If you can prove your company has value and can make money, investors will invest. Investments can help speed up the growth of a business, but cannot change the nature of a company if it is not profitable." In other words, investors cannot salvage a faulty business plan that is not making money. That foundation must be laid prior to investment.
It's also important to remember that investors aren't the only key to launching your business. Steven Benson, founder and CEO of Badger Maps, believes the best way to raise money is from customers — with revenue.
"Focus on getting paying customers from day one. Solve a small part of a problem, then find the people who experience this problem the most and get them to pay you to fix it," he explains. "Not only will this lower your need for cash, but it will guide your business in the right direction in terms of your product fitting a market need." Securing actual revenue has the power to trigger a snowball effect, leading to raising even more funds. Money coming in the door proves to investors that people are willing to pay, and it really reduces their risk, according to Benson.
Building your empire
You have a lot to think about before solidifying your brand and starting a small business. Your customers, your competitors and your cash flow are just the tip of the iceberg. After all, your business may be small, but starting it from scratch is no small feat.
You have big ideas and a mountain of questions. You can research, network and prepare all you want, but are you doing everything possible to set yourself up for a thriving business? Find out if an MBA could be the missing ingredient in your recipe for success by visiting our article, "Is an MBA the best thing to help grow your small business?"
Receive Program Info and Financial Aid Options
Detailed program overview
Personalized financial aid
Individual admissions support