August 15, 2016
Is an MBA the best thing to help grow your small business?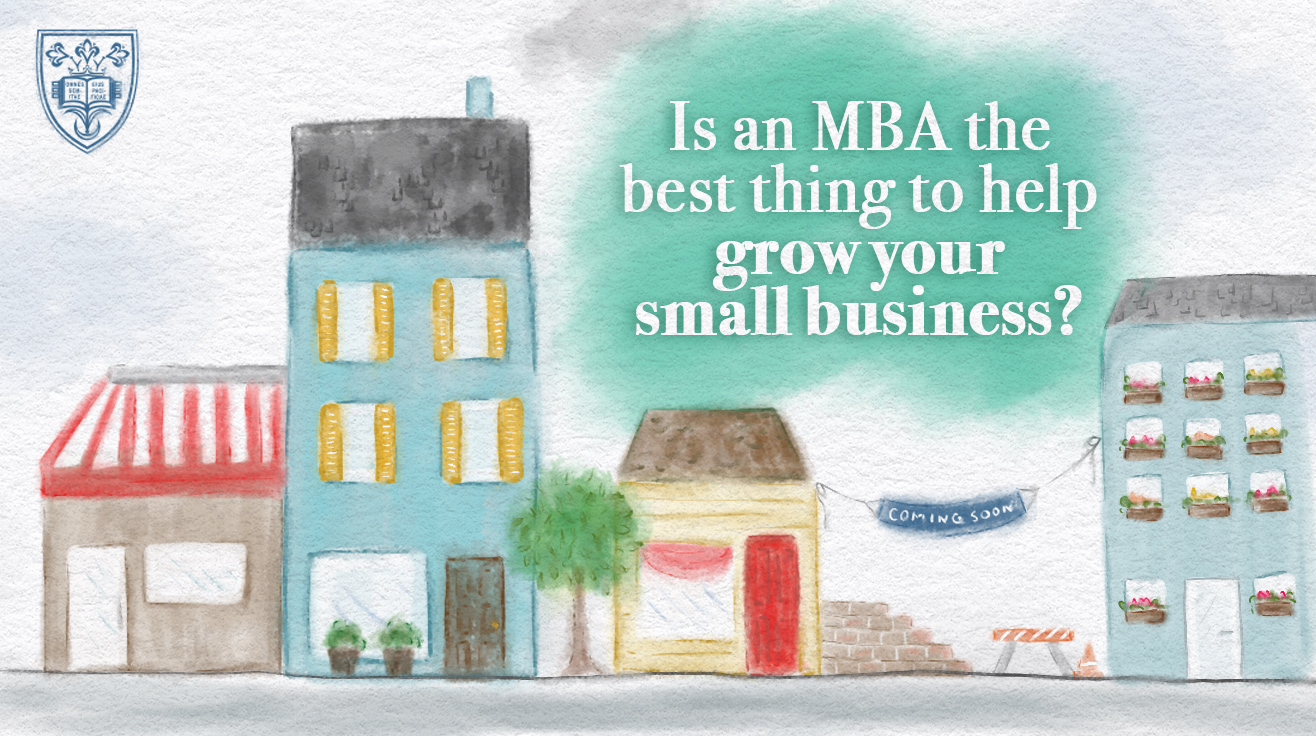 You're a small business owner because it's just who you are – you couldn't ignore the entrepreneurial calling, the drive to achieve or the ultimate satisfaction of being your own boss. And you couldn't imagine doing anything else.
Of course you do everything you can to grow your small business, but sometimes you wonder: Are you doing everything you possibly can be doing? Whether times are tough or you're looking to gain that competitive edge, you may want to consider obtaining your master's degree in business administration (MBA).
If you're serious about helping your business thrive, it may be wise to investigate whether an MBA could grow your small business. We spoke with MBA graduates, a management professor and small business owners to see what the buzz is all about.
Keep reading to see what they have to say. What you find might just surprise you.
Is an MBA what your small business is missing?
First thing's first: MBA programs come in many different varieties, focuses and concentrations to meet the diverse needs of the students entering the programs. Some programs concentrate on a few specific skills while others focus on overarching ones.
More traditional MBA programs may foster analytical skills in areas like finance, accounting, linear programming and marketing. Other programs, like the MBA program at The College of St. Scholastica (CSS), focus on leadership capabilities, aligning employees and leading organizational change initiatives, says Bob Hartl, associate professor of management at CSS.
No matter which type of MBA program you enroll in, know that an MBA can help you develop into the savvy business professional your growing small business needs. Here are a few of the benefits you can expect from earning your MBA from a handful of graduates.
It helps you achieve a holistic approach to business
Here's the most obvious benefit of an MBA – it puts your entire business into a holistic perspective.
"Having one's MBA allows one to approach their business with a holistic understanding of running a business, rather than getting caught up in the main trap of entrepreneurship," says Ellie Kassner, near MBA graduate and president of W.H. Kassner, Inc.
It helps you master time management
Pursuing an MBA puts your time management skills to the ultimate test. After all, it's not exactly a walk in the park to run your small business while completing an MBA program.
"Getting an MBA while working is no easy task. Simply getting the MBA itself prepared me to handle multiple projects at once and manage my time effectively," says Ron Stefanski, MBA graduate and CEO of Jobs For Felons Hub.
MBAs help you build a great network
While the material you learn in the classroom can be valuable to your business strategy, it's the people you meet in the process that may prove even more valuable in terms of social investment.
"During the MBA process, there are a number of people you connect with who can help to further your career and support your small business – not only classmates, but professors and TAs as well," says Ed McMasters, MBA graduate and director of marketing, communications & design of FUSIONWRX. "The connections, relationships and networking opportunities that are molded while achieving your MBA can have significant impact on your future successes."
It makes you work on your weaknesses
We sometimes avoid our weaknesses because it's easier than tackling them head-on. That's not an option in an MBA program – and this can have a huge impact on your small business.
"In completing an MBA, one is forced to recognize that there are parts of business administration that we thrive at and others with which we struggle," Kassner says. "Those weaknesses can be effectively addressed by delegating or building your team, but someone without an MBA is not as equipped to identify those weaknesses."
It makes you develop efficient processes
Think you're pretty efficient now? Reevaluate that once you graduate from an MBA program. You might be surprised by how much your efficiency has improved.
"Business school is great at providing a baseline for applying a perceptive analysis against a variety of problems," explains Pierre Tremblay, MBA graduate and director of HR at Dupray. "[It] teaches you to focus on efficiency and logic of processes. I now work under the presumption that having better logic and better comprehension of the underlying math of each process will result in benefits for the company."
It helps you make smarter decisions
As a small business owner, you make a lot of decisions in your day-to-day operations. But do you make the very best call every single time? Backing your important business decisions with the extensive wisdom of an MBA can ensure you're making the most enlightened choices possible.
"MBA programs provide students with a broad curriculum. My MBA education gave me a base level understanding of all topics that impact my business, which allows me to make intelligent marketing decisions, create operational efficiency and create sustainable revenue models," says Nick Braun, MBA graduate and CEO of Pet Insurance Quotes.
It makes you an effective writer
Here's another overlooked benefit to getting your MBA: You'll become a better writer, and your business will improve because of it.
"Though it isn't often discussed, the amount of writing that has to be done in an MBA program is extremely valuable," Stefanski says. "Being a good writer, whether it be through email or while creating promotional materials, has helped me convey my message to my audience in a clear and concise manner."
An MBA can make you a leader
MBA programs that focus on developing management and leadership skills can build your confidence and capabilities to lead with conviction.
Skills such as "effective leadership, the capacity to think and act strategically, and how to take advantage of ongoing change in the business environment," can all be developed within an MBA program like the one at CSS, says Hartl.
Boost your business
Whether it's the hard skills, the widened network or the focus on leadership that draws your interest, an MBA may be the ticket to grow your small business in ways you've always dreamed of.
If you're up for the challenge and ready to take the first step toward potentially boosting the success of your budding business, check out The College of St. Scholastica's MBA degree page to see how you can develop into a strong, savvy leader in the business world.
Receive Program Info and Financial Aid Options
Detailed program overview
Personalized financial aid
Individual admissions support