December 19, 2016
6 hands-on STEM classes you can take at The College of St. Scholastica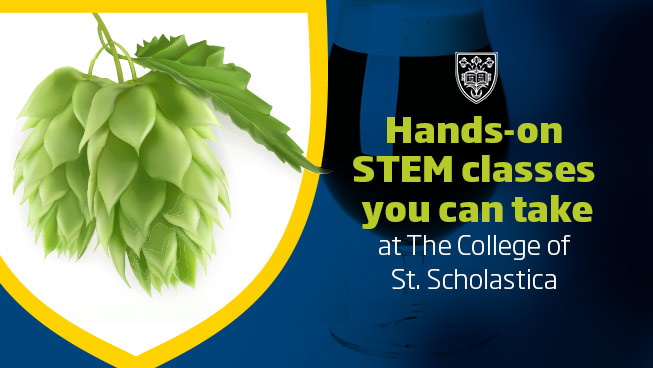 If you've been listening to the career advice doled out by your parents, professors and other influential adults in your life, the following fact shouldn't surprise you: STEM (science, technology, engineering and mathematics) is one of the fastest-growing sectors of our economy.
"That's where all the jobs are," you may have heard. And that's not too far from the truth! While it's clear that all available jobs don't reside in the STEM fields, there were 7.6 million STEM workers in the U.S. in 2010, representing about one in 18 workers.
And there's even more growth on the horizon. The number of STEM jobs is projected to grow 17 percent by 2024, which is more than twice the national average for all occupations. It's an added benefit that STEM jobs tend to pay exceptionally well, with a 2013 national average of $79,640 yearly. To put that in perspective, the national average for all occupations for that same year was just $46,440.*
With numbers like these, it's no wonder everyone seems to be steering you toward STEM. But as you know, selecting the right career isn't only about the job prospects and earning potential. If you're looking for a field that will engage your intellect, stimulate your mind and allow you to have fun while doing so, you might find career satisfaction in one of the STEM fields!
Take a look at the six exciting courses outlined below for a sampling of the hands-on STEM education you can expect at The College of St. Scholastica (CSS).
6 stimulating STEM classes to expect at CSS
1. The Chemistry of Beer
This new course offering at CSS was so popular, all of its slots filled just 10 minutes after registration opened the first semester it was offered. As the class learns to brew beer from scratch, Professor Aileen Beard uses the process of fermentation to teach students about the chemical reactions necessary to create a perfectly frothy product.
In addition to learning how to create their own top-notch brews, students learn how to troubleshoot throughout the brewing process, pinpointing what may have gone chemically wrong to result in an off-tasting batch.
An offering within the chemistry department, this course is open to all students who are of legal drinking age and are curious about brewing beer. Its inaugural semester yielded batches of Irish red ale, java stout, nut-brown ale, Belgian IPA, blonde ale and honey amber IPA.
2. Artificial Intelligence with Robotics
It's no secret that artificial intelligence (AI) has embarked upon a rapid ascent to the very top of the tech world. Take a look at some of these mind-blowing facts:
An estimated 6 billion devices will require AI support by 2018
AI will be a $5.05 billion market by 2020
Most customer relations will no longer require humans by 2020
AI will replace approximately 16% of jobs over the next decade
By now, tech hopefuls know they must get on board with AI, because it's not going anywhere any time soon!
This CSS computer information systems course provides students with an in-depth understanding of modern AI methodologies, techniques, tools and results. Topics covered throughout this course include the history of AI, search techniques, knowledge representation, natural languages, machine learning, robotics, neural networks and expert systems. Students will learn how to implement these topics by writing their own computer programs in the lab.  
3. Global Sustainability
At its core, the concept of sustainability refers to development that meets the needs of the present without compromising the ability of future generations to meet their own needs.
This chemistry course covers the principles of sustainability, including development in industrialized and developing nations; equitable and efficient use of resources; sustainable use of public property; and sustainable economies in agriculture and manufacturing. Students will explore examples of and opportunities for sustainable development, such as solar energy and crop rotation.
If you're passionate about science as it relates to our impact on our planet, this course will definitely pique your interest!
4. Bacteriophage Genomics
Have you always dreamed of being a part of a monumental medical breakthrough? Well students in CSS' Bacteriophage Genomics class may be on the verge of just that!
The biology course explores the genomes of mycobacteriophages using bioinformatics tools. Students use computer-based analyses to deepen their understanding of never before isolated phage in search of viruses that may interact with and kill mycobacteria. When properly harnessed and accommodated, phage have the potential to eat away at some diseases that have proven harmful to people, while the phage remain harmless to humans.
These students embark upon a year-long scientific project that could someday make medical history. In fact, Professor Dan Westholm and two students traveled to Washington D.C. to present their findings at a nationwide symposium! With each new semester, the research within this project is ongoing.
To learn more about the intricacies of this fascinating, hands-on course, visit this article that chronicles the details in greater depth.
5. Mobile Device Programming
Mobile devices have been around for years, but use of these devices has skyrocketed within the last decade. In fact, it's been reported that the average American looks at his or her mobile phone 46 times a day. That translates to Americans, in total, checking their phones more than eight billion times per day!
With this huge increase in mobile device usage, the internet resources we'd formerly access on our desktops must now be conducive to these mobile platforms. That's where the importance of college courses like this one come into play. Students will learn how to develop mobile applications for a variety of resource-constrained devices. They have the opportunity to explore the creation of graphical user interfaces, data storage, network access and game development.
If you're the type who gets frustrated with a non-user-friendly mobile platform or who — while perusing the apps available on your phone — thinks to yourself, "I'd like to try my hand at creating something like this," then this course is right up your alley!
6. Animal Behavior
Do you get pulled in by those documentaries chronicling the evolution and survival habits of animals from thousands of years ago? Have you found yourself lost down a winding rabbit hole of internet research regarding species of animals that went extinct ages ago? Or maybe you've caught yourself wondering about the other species that wandered around during the time of dinosaurs.
If you can identify with any of the above scenarios — or even if you're simply fascinated by the topics they envelop — then you'll find a lot to love about this biology course. From an evolutionary perspective, students will investigate the adaptive value of animal behaviors, such as foraging, communication, predator avoidance, sociality, parental investment and mating systems. Emphasis on the measurement and analysis of animal behavior is highlighted through student participation in laboratory work under field conditions.
If you're looking to expand your knowledge of biological concepts as they relate to the animal world, this is a can't-miss class! For more on this course, check out this video.
Your future in STEM starts at The College of St. Scholastica
Are you itching to learn more about the STEM subjects you're passionate about as you venture toward a successful and fulfilling career? The College of St. Scholastica is proud to offer a wide range of stimulating and engaging STEM classes to help you work toward achieving your dreams.
The six classes outlined above are a mere sampling of all that's available to CSS students! You can learn more about the STEM offerings at CSS by visiting the School of Arts and Sciences and Stender School of Leadership, Business and Professional Studies pages.
*Salary data represents national, averaged earnings for the occupations listed and includes workers at all levels of education and experience. This data does not represent starting salaries, and employment conditions in your area may vary. 
Receive Program Info and Financial Aid Options
Detailed program overview
Personalized financial aid
Individual admissions support