Helping you finance your education
More than 98% of the College's full-time students take advantage of our many financial aid programs. Financial Aid staff will help you review options and get a clear picture of how much assistance you may expect to receive.
The bottom line: If you and St. Scholastica are a good fit, we'll work as hard as we can to make the finances work.
Check out our scholarship directory
Hundreds of need-based and non-need-based academic scholarships are available from a wide variety of sources. To help you identify and successfully apply for these scholarships, we've created a directory of scholarships.
Financial Aid is part of OneStop Student Services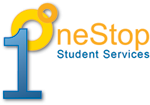 OneStop Student Services delivers a seamless process to all students, allowing them to self-manage the business of being a student. Students can register for classes, review grades, accept financial aid awards, view and pay bills and much more, all at one convenient location.
OneStop Student Services
(218) 723-6570
(877) 287-8716
Fax: (218) 733-2255
onestop@css.edu