Facilities and Parking
With an emphasis on Benedictine values, The College of St. Scholastica's Campus Safety Department seeks to collaboratively preserve, maintain and improve all parking services, regulations and infrastructure on the Duluth main campus.
Parking and Transportation
Below is parking information and policies associated with the St. Scholastica Duluth main campus.
Students and Employees
Visit the Parking and Transportation page on my.CSS for parking and permit policies, citations, appeals and other important information.
Student and Employee Parking Information
Visitors and Overnight Guests
Visitors to the Duluth main campus must obtain a valid visitor parking permit, and park in one of the designated visitor lots listed below. Permits for the visitor parking lots during business hours are required and may be purchased online for $5.
The College assumes no responsibility for any vehicle or its content while the vehicle is parked or operated on College property. All vehicle operators should lock or otherwise secure their vehicles when parked on campus.
Visitor Parking Lots
Parking lot 7 – in front of Somers Hall
Parking lot 9 – northside entrance to the Science Center — these spaces are for visitors to the Admissions Department only
Parking lot 10 – in front of the Chapel/Library
Visitor parking is enforced Monday through Friday between 7 a.m. and 3 p.m. No parking is allowed in these lots seven (7) days a week between 2 a.m. and 7 a.m.
Guest Overnight Parking
All visitors and guest vehicles parked on campus overnight must be in one of the College's designated overnight parking lots (1A, 1B, 15, 16 and 17) seven (7) days a week between 2 a.m. and 7 a.m. Guest vehicles are not required to have a parking permit during this time. If a guest vehicle will be on campus between the hours of 7 a.m. and 3 p.m., Monday–Friday, they must acquire a visitor parking permit online for $5.
Appeal Citations (visitors)
If you're a visitor to campus, you may use the Parking Violation Appeal form to submit your request. The Parking Appeals Committee will review your appeal and notify you of a decision via email.
Visitor and Guest Parking Citation Appeal Form
Paying a Citation
Citations must be paid within 14 business days. Visitors and guests who wish to pay their parking citation can do so by mailing cash or check to the following address:
Attn: Cashier
1200 Kenwood Ave
Duluth, MN, 55811
You may also submit payments by dropping them off in person at the Cashiers Office in Tower Hall, room 2600. Checks should be made payable to The College of St. Scholastica. Credit cards aren't accepted at this time.
Additional Parking Information
Visitor Parking
The Admissions office, room 1101 and the Saints Shop, 1600 Hallway, are located in Tower Hall. For more information, contact Admissions at 218-723-6046.
View Visitor Parking Map (PDF)
View Full Campus Map (PDF)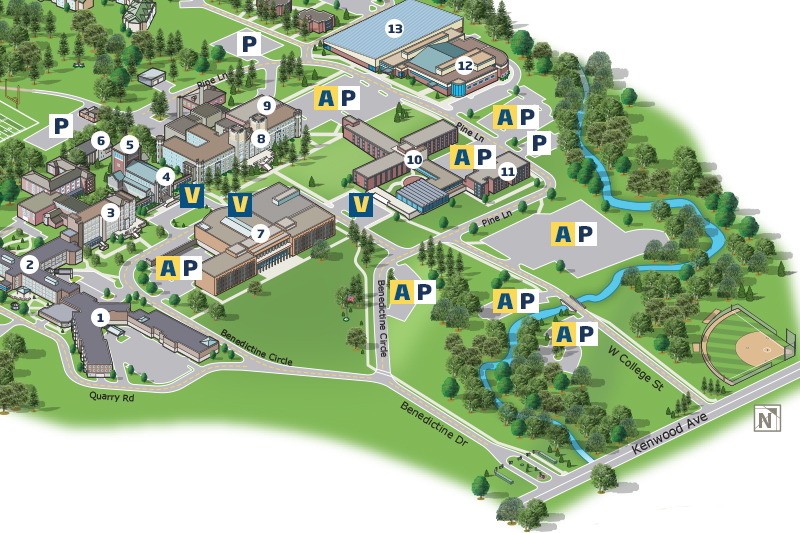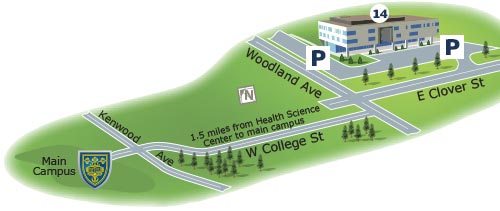 Westwood Apartments
Benedictine Living Community of Duluth
St. Scholastica Monastery
Chapel
Library
St. Scholastica Theatre
Science Center
Tower Hall
Mitchell Auditorium/Student Union
Somers Residence Hall
Somers Suites
Burns Wellness Commons – Reif Gymnasium
Burns Wellness Commons
Health Science Center

Parking

Visitor Parking

Alternate Visitor Parking
Accessible parking spaces are available in most parking lots throughout the Duluth campus. There are handicap spaces near each building. Parking in these spaces is enforced 24 hours a day 7 days a week and requires a state handicap parking permit. Violations in the designated state handicap parking areas can not be appealed.
The parking area along the stone wall in front of the Monastery is off limits to any vehicle other than those authorized by the Monastery Transportation office. A special guest Monastery parking permit is required to park in this lot. Permits may be obtained at the Monastery front desk or you may call 218-723-6555 for more information.
The parking lots next to the Benedictine Health Center, Westwood and Marywood are reserved for employees and guests of the Benedictine Living Community. Visitors, students and employees of St. Scholastica aren't allowed to park in these parking lots.