Master of Science

Project Management

This program builds on our expertise in leadership, change management and technology. Project managers are executing projects, developing strategy and determining business priorities. Our coursework equips students for these executive level challenges.
I was highly impressed with the industry leaders that facilitated learning throughout my graduate program.
Degree Details
Tuition: $565/credit*
---
* Tuition rates are for the 2021-22 academic year. Additional fees and costs for course materials may apply. Total program cost and completion time varies depending on transfer credits and individual program plans. Tuition rates are subject to change.
Seeking your Project Management Professional (PMP) Certification?
As a PMI Global Accreditation Center (GAC) accredited program, completing the CSS Master's in Project Management provides a 12-month reduction to the project management work experience required to seek the Project Management Professional (PMP) certification. The coursework in the program will also prepare you for success on the exam.
St. Scholastica and Project Management: A natural fit
St. Scholastica's online Master of Science in Project Management program builds on our experience in leadership, change management and technology. The successful track record of graduates from our MBA, M.A. in Management and IT Leadership programs positions us well to offer a project management degree that emphasizes ethical decision making, social responsibility, global awareness and professional excellence.
Increasing Expectations for Project Managers
These days, project managers aren't just executing strategy, they are helping to determine business priorities. In fact, recent Project Management Institute (PMI) research shows the ability to manage projects is only one-third of the ideal skill set — coined the "Talent Triangle" — which includes technical ability, leadership, and strategic/business management expertise. In our coursework, we equip students for executive level decision-making by developing skills outside the traditional core.
Career Advancement for Current Professionals
The Master of Science in Project Management is designed for current professionals familiar with the project environment. The proposed curriculum is based upon the offerings from current professionally accredited project management programs and established professional guidelines while maintaining the people-centered leadership approach applied by all Stender School of Business and Technology graduate programs.
Program Mission
The Stender School of Business and Technology follows a mission statement where leaders are developed to embody the values of the school and demonstrate ethical decision-making, social responsibility, global awareness, and professional excellence. The Master of Science in Project Management graduate program seeks to prepare students for a career in project management and develop students as leaders in a manner that fulfills the school's mission.
The Master of Science in Project Management prepares students to be proficient in the skills and techniques of project management, embody the college's Catholic Benedictine values as a leader in successful global projects, and possess the vision needed to align projects with organizational priorities.
Program Outcomes
Upon completion of the Project Management program at The College of St. Scholastica, the graduate will be able to:
Integrate ethical and value considerations in leadership behaviors and decision making
Adapt project leadership and project processes to global and distributed team environments
Apply contextual and project role considerations to stakeholder communications
Guide organizational change efforts to adopt project deliverables
Analyze and improve an organization's project management practices
Evaluate projects in both operational and strategic perspectives
Apply current project management methods, skills and tools
Curriculum Details
The Master of Science in Project Management curriculum is made up of 13 courses for a total of 37 credits. The curriculum consists of four foundational courses to prepare students with the basic project management skills and knowledge, three advanced project management courses, three global and strategic specialization courses, and three courses associated with the capstone project. The foundational courses should be completed before enrolling in the advanced and specialization courses and there are course prerequisites identified in the course descriptions.
Students who have obtained their PMP® certification will earn prior learning credit for two courses. These students will not be required to take PRM 6110 or PRM 6115.
Capstone Project
The capstone project is an in-depth research project that assimilates knowledge from prior courses with findings from current literature of the selected topic area. Students will perform a literature review, problem analysis and propose a solution to the defined problem. Once complete, the project is approved by a project advisor and published. Students are also required to give an on-site oral presentation of their capstone project.
Cohort Model
Students progress through the courses as a cohort beginning with the fundamental core courses and continue through the advanced and global courses as they conclude with a capstone project. The sequencing of the courses is important since mastery of the topics in the fundamental courses are required for proper application in the advanced courses. As a result, students must progress through the fundamental courses before proceeding on to the more advanced project management courses.
Required Courses
PRM 6110 – Project Management Principles
Examines the industry standards as fundamentals for practicing project management. Students explore the project environment, the functions associated with projects, systems of delivering value to the organization, and the principles of project management. These standards are applied to the project environment and project management practices are evaluated against these standards. Topics include the concepts and application of project teams, stakeholders, systems thinking, complexity, risk, and organizational change.
PRM 6115 – Project Essentials: Scope, Schedule, Cost, & Resource Management
Examines the project management knowledge areas of scope, schedule, cost, and resource management. Students will learn the primary initiating, planning, executing, monitoring & controlling, and closing activities associated with each knowledge area. Specific hands-on exercises will be utilized to provide students with direct experience related with project scope, schedule, cost, and resource management activities.
PRM 6119 – Strategic Decision Making
An examination of the methods used to make informed and ethical strategic decisions. The course provides a review of qualitative and quantitative methods applied to the decision making process. Topics include goal setting, systems thinking, cost-benefit analysis, contingency planning, decision trees, risk assessment, and decision evaluation.
Project Managers have opportunities across a variety of industries including construction management, computer and information systems management, engineering management or a number of other management roles. The master's in project management is designed to build on your current professional experience, providing you with the organizational, technical, and leadership skills necessary to bring large projects to completion.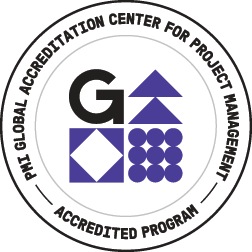 The College of St. Scholastica has been granted accreditation by the Project Management Institute Global Accreditation Center for Project Management Education Programs (GAC). GAC accreditation ensures the quality of academic degree programs and their graduates to meet the standards of the rapidly growing field of project management.
Visit our admissions page for information about transcripts, online application, international admissions and financing.
Application Deadlines
Fall: Aug. 15
Spring: Dec. 15
Eligibility
New Students
BA/BS degree from an accredited college or university
Cumulative GPA of 2.8
Have a minimum of two years full time work experience in any field
Note: Meeting minimum entrance requirements does not guarantee admission.
Returning Students
A returning student is a student who was admitted and enrolled in a program at St. Scholastica but has been absent from the program for at least three continuous semesters, including summer. To return to the same program at St. Scholastica, a returning student must be in good academic standing and must apply for readmission to the College.