May 30, 2017
Unexpected Return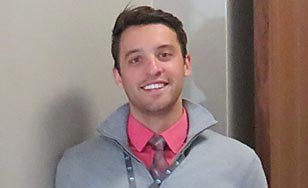 MBA in Rural Healthcare graduate Luke Beirl earned his MBA, and is serving his hometown community
When Luke Beirl left Ashland, Wisconsin for undergraduate school, he thought he was leaving for good. Maybe he'd return for summers or for holidays, but Ashland was in the rear-view mirror.
Fast-forward to 2017, and Beirl is not only living and working in his hometown, he's passionate about his profession and striving to make a difference in this rural community.
Becoming a Saint
After years of schooling — undergraduate studies, and then pharmacy school — Beirl took a position at Memorial Medical Center in Ashland as a staff pharmacist. It was the smallest facility he'd ever worked in, by a long shot.
"I had never worked in a facility smaller than 350 beds, and Memorial had 25 beds," Beirl said. "I worked in ICUs in Milwaukee that had larger capacity. So I was a little apprehensive at first, but then I fell in love with it."
Beirl knew he'd pursue his MBA; he said it was always on his "list," but the timing and program had to be right.
When he was in the process of researching schools, he listened to trusted counsel — his wife, Haley Stellmacher, a St. Scholastica DNP program graduate.
"We take academics pretty seriously," Beirl said. "Seeing Haley being challenged at St. Scholastica and knowing the reputation for their programs, I decided to look into the management degree."
And while many schools had MBA programs, Beirl found the emphasis St. Scholastica placed on rural communities — places with limited resources and a true need for trained leaders — not only appealing, but vital.
During his time in the program, Beirl said he appreciated that many of his professors not only had related experience — they had relevant, recent experience in the field.
"Our human resource management curriculum was taught by an adjunct professor who has a PhD in human resources, but also is the senior vice president at a long-term healthcare facility with 5,000 employees," Beirl said. "Having that type of insight challenges you in a way I don't think you can get from a textbook."
Up the ladder
Back at Memorial, Beirl is is now serving as director of the Regional Enterprises Incorporated (REI) Center for Rural Healthcare Value.
"Our office supports improvement work between the two critical access hospitals in our organization using lean principles," Beirl said. "It allows us to stay nimble, focus on the few critical initiatives that allow us to deliver high-value care."
With an enriched perspective and a set of specific tools perfectly matched to his community, Beirl said education at CSS is the right choice for any student with an eye on rural healthcare.
"The people in the program at St. Scholastica are constantly offering opportunities for you to get involved on a regional level. If you're passionate about rural healthcare, you can't go wrong choosing this program," Beirl said.