July 16, 2015
The Old College Try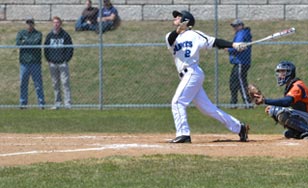 New experiences help Jesse Heaton thrive at CSS
Being from Heyworth, Illinois, you can forgive Jesse Heaton, '15, for not knowing much about Duluth.
"I knew the lake, the big ships, the lift bridge and that's about it," Heaton said.
But he did know what he was looking for in a college.
"I think there's a lot to learn from new experiences," he said. "So I wanted to go to a place where I could try new things and do as much as I can."
And for the past four years that's exactly what he's done at St. Scholastica.
Oh, the things you'll do
A $5 movie at Canal Park. Fifty-cent wings at The Other Place Bar & Grille. A run through local parks like Hartley and Chester Bowl. A day trip along the North Shore to Gooseberry Falls and a slice of pie at Betty's Pies on the way back.
And that's just a Tuesday.
Heaton has also been involved in a number of different clubs — including the Multicultural Club, Asian Student Union and United for Africa — participated in activities through Outdoor Pursuit — canoeing on the St. Louis River and snowboarding at Lutsen — and explored all that Duluth has to offer.
"There's so much to do here, so many ways to get involved or be a part of something," Heaton said.
These new experiences also carried onto the baseball field. During his freshman year, Heaton was called to the outfield — a position he'd never played before — when the CSS baseball team's starting centerfielder tore his ACL.
"I was pretty shocked, but I jumped right in and I guess it stuck," he said.
Grade-A Saint
But his experience on the team didn't just make him a more well-rounded player. Every year, each player is graded by their teammates on how they're performing in three areas: as students, as athletes and as Saints.
"What would you do for someone else? What kind of person are you? That's what it's getting at," Heaton said. "And when coach breaks down your grade with you, it really makes you evaluate yourself and see areas that you need to work on to become a better person."
And judging from the success he's had, he's been an A student in all three.
During his senior season this past spring, Heaton was named a captain of the baseball team and helped lead the Saints to their 18th consecutive UMAC Conference Championship and 11th straight NCAA Tournament appearance.
And he did it while carrying a 3.67 GPA and gaining valuable patient-contact experience by serving as a personal care assistant to a local boy. He also spent over 180 hours observing physical therapy in local hospitals and clinics.
All of this was enough for Heaton to win CSS's 2015 Male Scholar-Athlete Award and to be accepted into St. Scholastica's Doctor of Physical Therapy program, which he just started.
"I'm really excited," Heaton said. "I can't wait to help people become better versions of themselves."
And through all of his new experiences at St. Scholastica, he's been able to do the same for himself.