October 19, 2023
The leadership of Student Government Association
The Student Government Association (SGA) at The College of St. Scholastica is a student organization that plays a vital role in shaping the student experience on campus. SGA is composed of many Saints who are passionate about making a positive impact on the lives of their fellow students. The following students make up the executive board of SGA: Ava Filippi, financial vice president; Renee Booth, diversity vice president; Grace Peterschick, director of operations; Emma Mischke, student trustee; Alyssa Neveau, internal affairs chair; Ella Engen, academic affair chair; and Caprice Castellano, student affairs chair.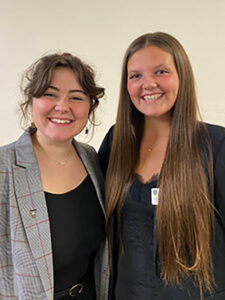 At the helm of the executive board are two leaders, President Maddy Ploof '26 and Vice President Makayla Pearson '24, who have already been instrumental in driving the group's mission forward this year. Together, they work to ensure that SGA is meeting the needs of the student body, as well as fostering a sense of community on campus. "SGA is a way for students to advocate and represent themselves as well as the student body through projects and meetings, helping to facilitate conversations that improve St. Scholastica for current and future students while preserving the mission of the College," explained Ploof.
Dory Kempf, associate vice president of Student Affairs, and Kaitie Selleck, director of Student Activities, advise the group, providing support, resources and encouragement to SGA's work. To Selleck, SGA is one way that students can advocate for the student experience they are looking for. "You have the power to positively impact and make change at St. Scholastica and SGA is a great avenue to do just that."
Maddy Ploof '26
Maddy Ploof, a Peace and Justice Studies and Political Science (pre-law) double major from Little Falls, MN, had a clear idea of what she wanted from her college experience. She sought out a small institution where she would be known by name and where she could immerse herself in the community. Her search brought her to St. Scholastica.
Ploof's interest in student government began in high school, where she was involved in student council. When she discovered SGA at St. Scholastica, Ploof saw an opportunity to make a genuine difference and ran for senator. As a senator, Ploof played an active role in SGA, advocating for change to improve student life on campus, and that work continues as President.
In addition to her role in SGA, Ploof holds several other leadership positions, including vice president of the Political Science and Government Club. She also actively participates in the St. Scholastica Bands and Theatre. Ploof's co-curricular activities, in addition to her coursework, often intersect with advocacy, the main pillar of SGA. "Occasionally similar situations will arise in our textbooks that do in SGA", she shared, providing her with valuable insights and perspectives.
Looking ahead, Ploof is optimistic about SGA's goals for the year. "We've got a great group of people working together to do some great things on campus this year," she stated. Ploof hopes that SGA will strengthen communication between the College and students, provide greater support for student clubs and encourage collaboration among different organizations.
Makayla Pearson '24
As a Social Work major, Makayla Pearson is all too familiar with advocating for others. A Duluth, MN native, Pearson applied to St. Scholastica for its location and program offerings. "I chose CSS as it is close to home and the social work program fits my interests." Those interests would go on to include her minors in Spanish and Native American Studies.
Her passion for social justice and advocacy led her to become involved in several campus groups, including the Social Work Club and the Native American Student Alliance (NASA), as well as serving as a member of SGA. Pearson's interest in SGA began her freshman year, when former SGA President Jaci Tourtellott '22 introduced the organization to Pearson's Dignitas class. Pearson's previous experience in high school motivated her to run for senator and she was elected as a sophomore class senator in 2021.
Last year, Pearson was elected as the external affairs chair where she worked on several projects beneficial to the student body. Her work included spearheading the approval and passing of four bills, and leading the food and external affairs committees.
As Pearson transitions into her new role as vice president, she aims to bridge the gap between faculty and staff to the student body. "I am looking forward to a determined senate and to continue progressing on last year's SGA involvement and participation," Pearson explained. Pearson's dedication to improving the student experience at St. Scholastica is evident in her work and leadership.
What's next for SGA
Under the leadership of Ploof and Pearson, the executive board of SGA is excited for the year ahead; the bulk of their work will be centered around increasing student communication. They look to engage students through SaintsLife, student emails and Instagram to let them know what is happening at the College and to gather feedback on the activity. The group is also looking forward to several events this year, including Diversity Week, Day at the Capitol, Women's History Month, Dining Dollar Drive and Winterfest.
Saints are encouraged to connect with SGA at these events and beyond. "Your voice and perspective are important and always welcome," Ploof stated. "Stop in, email or message us with questions or concerns." For those looking to be more involved, the group is always looking for new senators. "If all the senator positions are filled for a class, you can always be an auxiliary senator and only attend a few meetings a semester," noted Ploof.
Advisor Dory Kempf emphasized the leadership opportunities available in SGA. "SGA provides tremendous leadership and advocacy to our student body in efforts to continually improve the student experience," Kempf shared. "I am excited for the upcoming year and look forward to supporting SGA in their goals and mission."
---
The mission of The College of St. Scholastica Student Government Association (SGA) is to facilitate and advocate for the effective training and support of past, present and future students. SGA accomplishes this by representing students and acting as a liaison between the student body, the College's Board of Trustees, administration, faculty, staff and other Minnesota private colleges. To learn more about SGA, you can email sga@css.edu, visit their Tower 81 office or follow their Instagram at css_sga.