July 27, 2016
Such Great Heights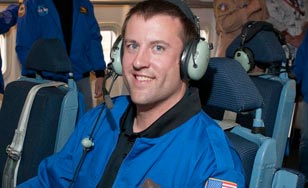 Alum soars in the classroom and beyond
As an educator, Chris Rauschenfels '04 is willing to go to great lengths for his students — and to great heights as well.
He was selected to take a trip aboard NASA's Stratospheric Observatory for Infrared Astronomy (SOFIA) as part of an effort to boost STEM education. He worked with fellow Stockton, CA, teacher Babs Sepulveda on a proposal about how they would apply the learning experience to astronomy lessons in their classrooms and the community.
"We would have her high school students teach my middle school students, and my students would then go to elementary schools and teach some of the concepts to them," Rauschenfels explained.
Sepulveda, a teacher at Lincoln High School, and Rauschenfels, who taught science and astronomy at Sierra Middle School at the time, took flight in the observatory in April 2014.
"It was pretty awe-inspiring to watch all of the people that work together, and to work with the scientists that were on board," Rauschenfels said.
Rauschenfels recently took a new job as a vice principal at Sonoma Valley High School in Sonoma, CA. He credits St. Scholastica's middle/secondary education program with giving him the foundations he needed to succeed in the educational field.
"I loved my experience at Scholastica," Rauschenfels said. "The fact that they were getting us into the classrooms as early as our freshman year to just do observations and kind of get our hands dirty — I thought that was great for my experience throughout the educational program. They required a lot of hours in the classroom. They tried to put us in different environments so that we could see the different aspects of the grade levels."
That real-world experience was key to Rauschenfels' decision to move from elementary education to middle and high school education.
"For my student teaching experience, I jumped over to 7th and 8th grade," said Rauschenfels, who comes from a long line of educators. "That's where I realized that I really liked working with the older kids."
Assistant Professor of Education John Bauman said Rauschenfels lived the Benedictine value of hospitality through his ability to listen.
"I'm sure his energy, willingness to volunteer and work with others, and the values strengthened by his time in the education program at CSS serve him well when working with kids," Bauman said.
Rauschenfels' high-flying accomplishments continued when the former basketball standout was inducted into the St. Scholastica Athletics Hall of Fame. With 1,511 points, he's the second-leading scorer in program history.
"It was nice to be able to have a fun excuse to come back and see some of the old teammates and coaches," he said.