October 17, 2017
Set up to Succeed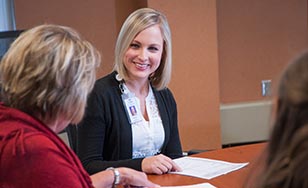 Rachel Hendrickson earned a master's in health informatics and opened a world of opportunity
Rachel Hendrickson '12, '17 found her career field during her freshman year at St. Scholastica in 2008. At first undecided, Rachel was interested in health care, but knew that direct patient care was not for her. So, when a fellow student told her about the health information management (HIM) major, she was intrigued.
"It was even better than I hoped," said Hendrickson. "The professors were great and we got a lot of one-on-one attention. The coursework was relevant and allowed us to get plenty of hands on experience. I really feel we were set up to succeed."
Data opens doors
And, succeed she has. Hendrickson graduated with her HIM degree in 2012 and got a job as a credentialing coordinator at St. Luke's in Duluth. Though she enjoyed the position, she knew she eventually wanted to move on to a different role. That desire is what motivated her to pursue a master's degree in health informatics.
"I knew that a master's degree would open new opportunities in the field for me," she said. "But I wasn't sure if I should get a graduate degree in health information management or health informatics. I met with Professor Ryan Sandefer who explained the differences and shortly after I decided to go with health informatics."
Hendrickson says her choice was partly due to how much she enjoyed one of her undergraduate research classes, as well as her fascination with data and the potential it holds to improve health care. She says the fact she was in the process of earning a master's in health informatics is what landed her a job at Community Memorial Hospital in Cloquet as a clinical informaticist. "I know it's what set me apart. When I got the job, the coursework was related to what I do every day, so I could put what I was learning to use right away."
Hendrickson is responsible for implementing documentation tools and workflows to optimize the way clinicians record information in electronic health records. She also ensures the hospital meets meaningful use requirements.
An easy choice
The choice to come to St. Scholastica for her master's program was an easy one. "I really didn't consider any other schools for my graduate degree because I had such a great undergraduate experience at CSS," she said.
According to Hendrickson, nearly everyone in the HIM field knows of The College of St. Scholastica and its excellent reputation for health informatics and information management education.
"St. Scholastica has an excellent reputation and I absolutely loved the online learning environment for my master's program," she said. "The professors tailor courses in a way that there is a lot of interaction, so I never felt isolated."
"I also found the program to be manageable for someone who works full time. Since it's 100 percent online, you do everything on your own time. It's very flexible for people who have other obligations."
Crossing the stage to receive her master's degree diploma was a memorable moment for Hendrickson. "It really hit home that I did it!" she said. "I would highly recommend St. Scholastica for anyone interested in the HIM field. Both my undergraduate and graduate experiences were outstanding-there's really nowhere better."