May 14, 2018
Second Wind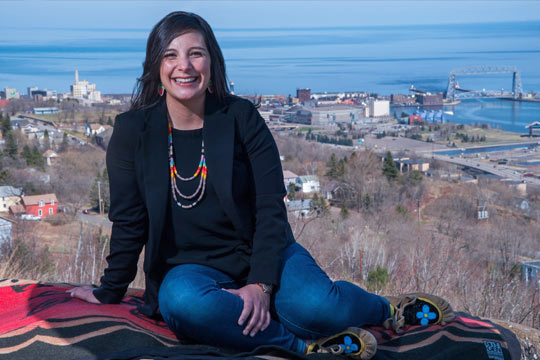 Endurance runner and MBA grad Alicia Cyr is on a path toward community leadership
Alicia Cyr '17 has reclaimed her heritage and found direction for the future. But it wasn't easy.
"Growing up in a tumultuous home, raised mainly by my grandmother, I didn't always embrace or understand the beauty of Anishinaabe people, because I mainly saw the trauma and violence," Cyr said.
She had already overcome the significant headwinds that came with life as a first-generation Native American college student, and earned her bachelor's degree in 2009. But it wasn't until she joined the Kwe Pack in 2012 — an indigenous women's running group — that she gained a new sense of identity, became immersed in authenticity and filled her life with purpose.
"We run with our teaching of the Ode'imin, known to us as the heart berry or strawberry," Cyr said. "The Ode'imin carries many teachings of healing, love, life and it reminds us to run with our hearts out front for ourselves, our family and our community."
New life

As part of the Kwe Pack, Cyr has run tens of miles at a time, including a half-marathon at Zion National Park and a 52-mile ultramarathon. But running isn't the only focus of this group. With each step they take together, they find healing through conversation, laughter and tears.
"This group is comprised of incredibly resilient and strong Native American women — there are lawyers, educators, professional artists and mothers," Cyr said. "It's not just about running, either. The women in the Kwe Pack come from families who are impacted by disease like mine, so we have this common bond."

Embracing healthy lifestyles, the group members strive to help their communities work toward positive change. Through opportunities at the American Indian Conference on Drugs and Alcohol, UMD Medical School, "Native Report" and others, the Kwe Pack runners share their personal stories to encourage healthy living within Native communities.
Leading change
Wanting to cultivate and further develop her leadership skills, Cyr pursued an MBA in Leadership and Change degree at The College of St. Scholastica. She graduated in 2017 and now hopes to expand upon her strengths as an emerging leader — organizing strategies and engaging communities to impact social, economic, political and system-level change.
"I loved that the program focused so much on being a person who serves your community, which is a core value of the Anishinaabe people," said Cyr, who currently works as a registrar generalist at St. Scholastica. "The program was transformative. It forces you to reflect on your own values, how you lead and how to get people to come along with you. Coming into the program, I was more rigid, but to lead through a cycle of change, you have to navigate the unknown and I use these skills every day."
Giving back what has been gifted
Through a Kwe Pack connection, Cyr was introduced to Duluth mayor Emily Larson. Out of these relationships, an opportunity to serve on the Imagine Duluth 2035 strategic planning committee was born.
"As city demographics and economics change over time, it makes sense that the comprehensive plan would adapt," said Cyr, who in 2017 won the St. Scholastica Excellence Award for Service due in part to her participation with Imagine Duluth 2035. "We were charged with ensuring that voices from across the city were heard, and I helped to represent college students, businesswomen, and indigenous people in these deep conversations about housing, transportation, food access and beyond."
In January 2018, Cyr also had the opportunity for advocacy on the national level at the Strengthening Sovereign Responses to Sex Trafficking in Indian Country conference in Palm Springs, Calif. There, she and a team of four Anishinaabe jingle dress dancers were invited to perform healing dances.
"Experiences like these remind us that historical and present trauma continues to affect us as individuals and collective people, yet also reminds us of our beauty, strength and resilience," she said.
Next up for Cyr is the Eugene Curnow Trail Marathon in July 2018. She'll be joined by her Kwe Pack sisters and other CSS runners to conquer another racecourse.
And with each step, she'll move a little closer to the future of change-making she envisions.