March 1, 2017
Power Tools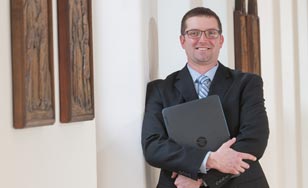 MS in Project Management graduate Brian Watschke gained next-level leadership training at St. Scholastica
As a project manager with UnitedHealth Group back in 2013, Brian Watschke was already on his way up. He'd been successfully navigating the corporate environment for years.
But according to Watschke, he was doing it on natural talent, not training. He had the aptitude without the graduate-level tools. Grinding, not thriving. Fortunately, he knew it and decided to do something about it.
"I had done a lot of project management that wasn't within a defined skill set. I had permission to manage something without the proper toolbox," he said. "I didn't have the processes and tools to fall back on to help me succeed."
A better way forward
After Watschke earned a degree in Computer Information Systems from St. Scholastica in 2011, he developed an interest in project management.
"I happened to hear that St. Scholastica was starting a MS in Project Management program, and I didn't know that such a degree even existed," he said. "Once I had the opportunity to review the course detail and saw that it was reflective of the Project Management Institute's Project Management Body of Knowledge [PMBOK], I felt compelled to apply."
Watschke said the 100 percent-online program was built perfectly for his young family.
"For me, an important aspect of the program I sought was that it had to be in-person locally, or online," he said. "It had to be flexible with my work schedule and conducive to raising two small boys."
Watschke spoke about how the program was focused on alignment with the nationally-recognized Project Management Professional (PMP) Certification exam, the gold standard in project management.
"The fact that the program follows closely with PMI [Project Management Institute] made it so much easier to take the certification test," he said.
While Watschke said he enjoyed all of the instructors in the program, he called out Professor Donna Karch, PhD, and Distance Education Librarian Julie Rustad, PhD, specifically.
"It felt as though Dr. Karch took personal interest in this cohort," he said. "She became a mentor to me, and was available whenever we needed her. Both she and Julie Rustad spent a tremendous amount of time reading various iterations of my capstone project, and helped to refine it."
The next step
Currently, Watschke is the Manager of Business Process in the Advanced Research and Analytics division at UnitedHealth Group. His role is two-fold: supporting project managers who work for him, and launching any enhancements to the web-based auditing tool his team supports.
As for the future, Watschke wasn't content to earn just one master's degree. He's now enrolled in the new MBA in Leadership and Change program at St. Scholastica.
"I was at a place in my career where I needed to decide whether I was going to be an individual contributor the rest of my career, or grow as a change-agent," he said. "The ability to lead change in an industry that is ever-evolving is right in line with my career aspirations."