January 31, 2022
Keeping it a hobby
Sophomore psychology major Aaliyah Paxton knows something about theatre. As she excitedly describes the technical achievements of the 2018 Broadway musical adaptation of Beetlejuice, it's clear that she sees things most others do not.
"Ideally," she says about technical work in the theatre, "the audience shouldn't notice all the effort."
Paxton has been involved with the invisible language of theatre and live performance since she participated in teen intensive shows at the Duluth Playhouse. These intensives involve two shows where participants will act in one and do technical work in the other.
"I wanted to do sound. I figure skate as a sport and I would cut my own music for my programs," Paxton explains. "Then I wound up being sound lead for one of the shows and realized, 'I really like this!'"
Online classes, hands-on work
When she came to The College of St. Scholastica in the fall of 2020, her first class was online. But, as Paxton said, "I was raised to introduce yourself in person," and so she contacted professor Ilsa Hoeschen to arrange an in-person meeting.
"We started talking about stuff I like and naturally the theatre came up. So she recommended that I apply for a job with the theatre department."
Until her work at the theatre, Paxton had primarily acted as a sound technician, but working with the St. Scholastica theatre gave her the opportunities to grow her skill set as she worked on productions like the November 2021 show, The Frogs: A Modern Adaptation.
"My official job title is 'sound engineer,' but like most things in the theatre, you end up doing everything anyway."
Now, Paxton is cutting gels, hanging lights, working on set design and doing anything else that she's able.
"The painting of the set is fun, but I don't like the lighting as much," Paxton admits, "it's more that I pride myself on it. But Kevin [Seime, theatre designer/director] is a great teacher and I love learning from him."
During the 2020 holiday season, she was referred to the Mitchell Auditorium, whose staff were in need of someone with Paxton's expertise. The sound system of the Mitchell, she was warned, had a steep learning curve.
"Every sound system is just a tiny bit different. But I've gotten used to it and it is quite unique."
Paxton has been learning from and working with Scott Yost of National Audio Visual, a Duluth-based A/V rental service, who has been live streaming events and knew the Mitchell's sound system. Since starting at the Mitchell last winter, Paxton has been involved in a variety of events from concerts and performances to lectures and community functions.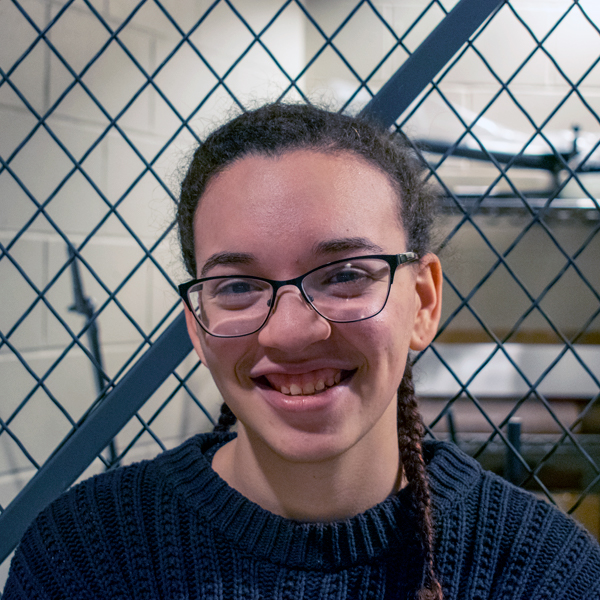 Aaliyah has paved the way for future student workers in the Mitchell and events to be creative and make every event better than the one before.
Balancing priorities
Despite her technical prowess and general love of the theatre, Paxton remains firmly grounded in her separation of academics and hobbies.
"This work is something I could see myself doing as a side job, but I could never do this full-time because I would get burnt out."
In addition to her psychology major, Paxton has also applied to add history as a double major as well as a minor in Spanish. But, at least as her schedule permits in the future, Paxton says that she'll always try to find time to do technical work in the theatre.
"Current Aaliyah says, 'Yes, I'd love to keep pursuing things like this.' But also," Paxton smiles, "future Aaliyah might look back and say, 'What were you thinking?'"
But at least for this season, Paxton likes where she is.
How to get started at the Mitchell and theatre
Paxton was already a lover of theatre, music and sound design before applying her talents at St. Scholastica. But what about students who are curious and lack the experience or background that she brought?
"If you want to try working in the Mitchell," she says, "come to a couple of events and pay attention to the setup. Pay attention to things like how the mics are set up, pay attention to how many songs had to be played — that's all tech. If you come to the theatre, pay attention to everything," she stresses, "the lights, the sounds; that's all built. When you show up at the beginning of the year, it's just a black box with open windows and no curtains."
The theatre can be hard work, but fortunately for students who might find the prospect overwhelming, there is a two-credit practicum that Paxton recommends to get a flavor of theatre work.
"If you've never done it before, try it! You have nothing to lose and after opening night, you look back on it and feel like it was all worth it. It's fun and-" Paxton pauses her thought, "I have tie line in my pocket," she removes a bit of string from her pocket that is used for cable and curtain management.
"I really was in a rush today," she laughs.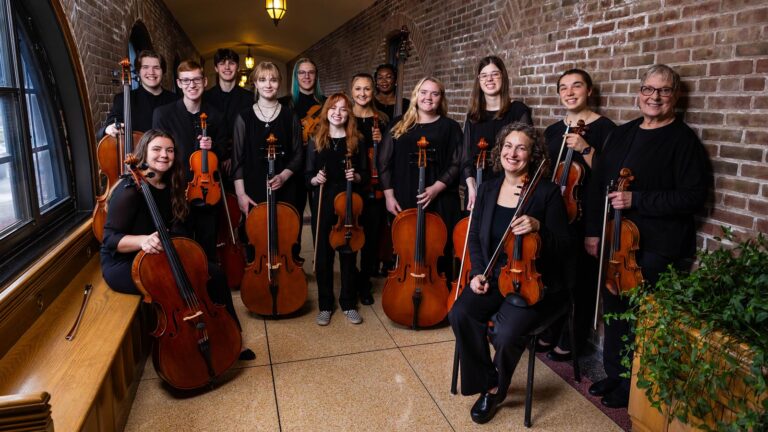 Catch a play, performance or live event hosted by the Mitchell Auditorium or St. Scholastica Theatre.