February 17, 2021
Influencing for Good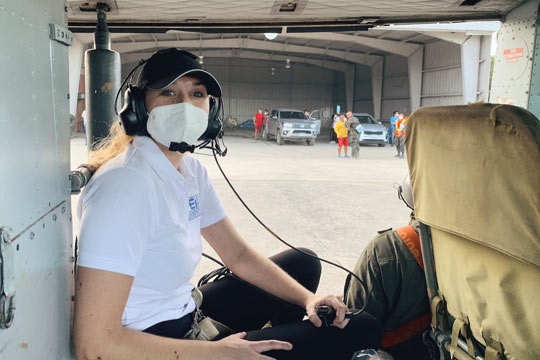 Alum promotes fundraiser, raises $11,000 for hurricane victims
Social media can be used for entertainment, connection or even mindless distraction.
For citizens of hurricane-ravaged Honduras, Grace Getchell '18 turned it into a lifeline.
A career in education
Getchell started her college career as a nursing major, but soon decided to switch to a profession that ran in her family: teaching.
"St. Scholastica was the best choice I could have made, especially for elementary education," Getchell said. Two professors, John Bauman and Rachel Payne, were particularly influential. "They showed their passion in teaching and wanted us to succeed."
It was Payne who told Getchell about an International Education Fair in Iowa her senior year. It gave Getchell the chance to fulfill her dream of living abroad.
The Honduras experience
For the past 2 1/2 years, the Minnesotan has called Honduras home. Originally from Marine on St. Croix, she's now a fourth-grade schoolteacher at the English-language Escuela Internacional School in the town of La Lima. Though the tropical climate couldn't be more different from Minnesota, the warmth of the people made her feel right at home.
"After living here for about 2 1/2 years, I felt a very strong connection to Honduras and this place and the people," Getchell said.
"Everyone is so friendly here, and has offered help in any way that they can."
She bonded with fellow teachers who, like her, were in search of travel and adventure. Together, they've explored Honduras. Getchell, who studied American Sign Language but knew no Spanish, picked up a lot along the way.
"It was totally new to learn the linguistics of something that I've never practiced before," she said. "I caught on pretty quickly."
She also greatly enjoys classroom time with her students, and the way they "think about the world in such a pure way."
"It inspires me as well," Getchell said. Plus, she added, it's just fun to act silly with 15 10-year-olds. "I just love that they're goofy."
Compelled to help
During her short time in Honduras, Getchell has already built a strong connection to the community. It's why she felt so compelled to help out when disaster struck last November. Already reeling from the effects of the pandemic, Honduras was battered by two hurricanes, Eta and Iota, just weeks apart.
Getchell wanted to find a way to help people. But with social distancing measures in place, plus dangerous flooding in the streets, she felt helpless. So, she turned to social media.
"I just decided to start on social media on Instagram," she said. With questionable fundraising campaigns popping up everywhere, Getchell offered people a chance to make donations to someone they could trust. She collected donations from people on her social media network and put them safely in the right hands to make the most difference.
"I felt this was something I could do for my community back home so that they could help the community that I'm living in now," Getchell said. So far, Getchell has raised over $11,000. Those funds have been used to send food, water and supplies to people who were stranded in small towns by floodwaters and hurricane damage.
Getchell was able to see her efforts pay off. She worked with the Foundation for Education in Honduras, and spent a week at the airport helping to load supplies for delivery. She even went along on a helicopter ride to make deliveries to flooded communities, and was present when the team rescued a stranded family. She said it was an indescribable experience to witness the sorts of scenes she'd only ever seen on TV, with floodwaters invading homes, farms and fields, and families trapped on their roofs.
"It really made me see how much was actually needed!"
More than 50 percent of the families at her school lost everything in the storms, Getchell said. It's been particularly meaningful for her to be able to raise funds for work colleagues and their families, she said.
"I know that I have impacted some lives, and that I did all I could for not being able to do much."
Rebuilding efforts continue in La Lima. To find out how you can make a donation, contact Getchell at ggetchell@css.edu.