April 5, 2022
Healing through goal-based advocacy
April is Sexual Assault Awareness and Prevention Month (SAAM), a national initiative aimed at providing awareness of sexual assault, harassment and abuse. In observance of SAAM, the College shines a light on alumna Michelle Ruszat Klee who serves as the campus' Violence Intervention and Prevention Coordinator.
Carrying on a St. Scholastica legacy
Ruszat Klee '14 grew up hearing stories about her great-grandma attending The College of St. Scholastica. Francis Sheridan was an alumna from the class of 1942. She served as class Vice President, studied social work, and according to family lore, would often commute to campus on foot, a walk that spanned several miles.
"She was a stay at home mom and a farm wife," Ruszat Klee recalled. "But she also had a college degree, which was such a rare thing for a woman in the '40s."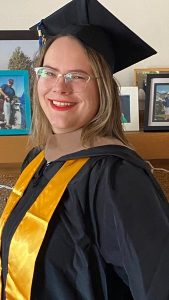 Ruszat Klee considers Francis' daughter, her grandma Marty, to be one of the most inspiring women in her life. "She paved her own way and really did whatever she wanted," she described. "She lived such a cool and interesting life; I didn't learn about it until after she had passed and I read her journals."
These stories, coupled with Ruszat Klee's special connection to Duluth, inspired her to write her own St. Scholastica story. She earned a double major in communications and Spanish, and especially enjoyed her study abroad experiences in Ecuador and the Galapagos Islands. After graduation, she stayed in the Duluth community, and eventually found her way back to campus in 2017 when she was hired as the Violence Intervention and Prevention Coordinator.
Empowering victim-survivors
Ruszat Klee coordinates advocacy services and resources for victim-survivors of stalking, and sexual, domestic and gender-based violence. She works with a group of faculty and staff known as GEVAs who are trained as advocates to create safe, supportive spaces.
She describes the work as goal-based advocacy. "We ask, what can we help you do and what do you need right now, instead of saying, you have to do this and this and this," she said. "Our main goal is to make sure victim-survivors have control to drive their own healing process."
Ruszat Klee also works to educate the college community on preventative measures, including talking to students about healthy relationships or how to set up an environment that allows for safety and equity in social spaces such as house parties.
"St. Scholastica is unique in that we have an advocacy representative on campus," she explained. "But Duluth is internationally renowned for gender-based violence work. If you want to work in violence prevention, Duluth is the place to be."
The work can be emotional, and Ruszat Klee is intentional in establishing boundaries for herself as a result. She also allows time for self-care, sometimes in the form of HIIT workouts, sometimes in the form of ice cream. Outside of work, she loves to be outside — canoeing, camping, snowshoeing. She also enjoys reading for pleasure, a hobby she was excited to resume upon completion of her MBA capstone.
Nonetheless, she considers her position an honor.
"Student survivors are the most resilient people I've ever met in my life," she shared. "I'm honored to walk that healing journey with them and serve however I can."
Learn more
The Violence Intervention and Prevention Program has compiled this list of resources including books, movies, podcasts, and resources related to the impact of sexual violence, prevention, and resources.