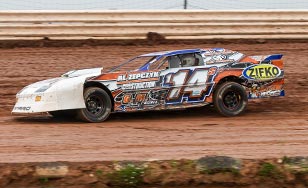 Tiffany Hudack's path to a championship and HIM career goes through CSS
She's strapped in her seat, unable to move and barely able to look around. The constant roar of the engine fills her ears and the smell of gasoline her nose. Her fingers grip the steering wheel tightly, knuckles white with tension as she takes another turn at 65 mph, with only a layer of metal protecting her from others doing the same. But her mind is clear. She just wants to go.
And Tiffany Hudack has.
For the past five years, she's spent her summer weekends racing stock cars at the ABC Raceway in Ashland, Wis. And in summer 2014, she became the first female track champion there — taking home the most points for the season.
"I love the thrill of it," she said. "I guess I'm kind of an adrenaline junkie."
So she obviously chose a major that reflected that, right?
"I know it's weird, but I am actually a Health Information Management major."
That's right, the race car driver chose a field that uses data to help healthcare systems improve their efficiency and patient outcomes. But at CSS, the two have more in common than you might think.
From the track to the field
Since Hudack and her brother got their first four-wheeler when she was 6 and promptly started tinkering with it to make it go faster (against the wishes of their mother), she's had a hand in the creation and maintenance of the vehicles they've raced.
"I've always liked doing the hands-on stuff like that," she said.
Fortunately, she's had the chance to do the same in the HIM program.
In her senior year alone, she had three separate internships — Memorial Medical Center in Ashland, and St. Luke's and Essentia in Duluth — all set up by the program, to give her a taste of what it's like to work in healthcare systems large and small and learn about the different procedures and resources that go along with them.
But she didn't just sit and watch. She was actually assigned projects, with her most significant one being a trend cause and analysis of the reasons why certain medical coding errors were made and what caused them.
This involved extensive collaboration with people throughout the health system and afforded her the chance to present her findings to her mentors at the facility when she was finished.
"You don't know what you don't know until you step in and have an experience like this," she said. "It was incredibly valuable to actually use what I learned and make connections with people in the field."
These connections also extended into the classroom, as Hudack learned the ins and outs of HIM from a group of nationally recognized professors who wrote the textbook that's used in HIM departments across the country.
"I've had a lot of people in the field say, 'Oh you're from CSS. Great, you should apply here,'" Hudack said. "It's great to hear that just being from this program and learning from these people makes you stand out to employers so much."
That and winning races.