May 15, 2015
Dream Job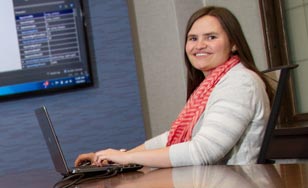 Computer Science major Shauna Donahue found hers with some help from CSS
When Shauna Donahue, '15, was offered the chance to go to the Grace Hopper Celebration of Women in Computing Conference in Phoenix this past October, she nearly turned it down.
"I didn't want to miss school," Donahue said.
Now she's glad she did.
When she was walking through the rows of booths in the conference hall, Donahue struck up a conversation with a representative from Macy's.
Sentences later, she had an interview set for the next day. A day later she had a job as web developer at macys.com in San Francisco, set to begin in August.
"It took a really long time for me to actually comprehend that I just got offered my dream job before I'd even graduated," she said. "I didn't think it was possible."
Making a name for herself
On the recommendation of her sister, Rianne, a former computer science major at CSS, Donahue decided to follow the same path during her freshman year at CSS.
As she sat in class on that first day, Donahue and her classmates were tasked with using the programming language Java to make the computer write out her name on the screen.
"I was like, 'What! I just did that!'" Shauna Donahue said. "It was probably the most rewarding way to see my name written."
And with that, Donahue took her first step into computer science, a field that once was of little interest to her, and in which she had even less experience.
"I took a graphic design class in high school," she said. "That's as close as I'd ever come."
But once she took her first web development class and saw the diversity of the field, she was hooked.
"There's an artistic aspect to web development, and that's what I like about it," Donahue said, "You can be artistic and creative and help people. That's why I decided to go for it."
When she did, she encountered a group of faculty committed to taking her to the top, no matter where she started from.
"The amount of personal time with the professors really helped my learning," she said. "To know that you can ask for help and that they will spend the time with you to make sure you get it is very comforting. Even if you don't know anything about computer science, if you go into it here, you will learn."
This learning has had tangible results. It's led to the creation of her own app that's designed to help select movies to watch at get-togethers, an area in which Donahue claims her friends and family need significant help.
It also led to something much bigger.
"I owe my career to this program."