December 27, 2013
Decisions, Decisions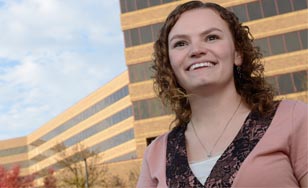 Rianne Donahue chooses Thomson Reuters
Before she even graduated from St. Scholastica, Rianne Donahue had options.
"I had interviewed and had great offers at three companies in March of my senior year," she said. "Deciding which offer to take was one of the hardest decisions I've had to make."
Most recent college graduates only wish that they'd have a decision like that in front of them. But then again, most graduates don't have a St. Scholastica education.
Donahue does – graduating in 2012 with a degree in computer science/computer information systems.
"As a computer science major at St. Scholastica, I got to work on various projects – both in small groups in a class and with clients in the community," Donahue said. "I was introduced to a variety of technologies and skill sets, which prepared me to take on and learn new technologies and challenges fairly quickly in the workplace, which I attribute much of my success to."
This success has taken her from the small consulting company she chose after graduating to Thomson Reuters, where she currently works as a software engineer.
The power of communication
Also helping her climb the corporate ladder is her ability to effectively communicate with clients, customers and fellow workers.
"I've been complimented many times on my communication skills. I'm good at asking questions and getting my ideas across," Donahue said. "Those are definitely skills I developed while being at Scholastica. "
This skill stems in part from the level of openness found at St. Scholastica. Whether it was in club hockey, computer club, as an attendee of the Grace Hopper Women in Computing conference or even in class, Donahue was able to interact with an array of different people on a personal level – including professors like Jen Rosato.
"What I found unique about CSS is the small class sizes and the one-on-one interaction with professors when I needed or wanted it. I could just drop by any of my professors' offices, and they would be glad to talk to me about whatever was on my mind," she said. "I feel like that really helped keep me motivated and helped me with getting the feedback I needed to excel in the program."
Not to mention the workplace.