January 3, 2017
Carry it Forward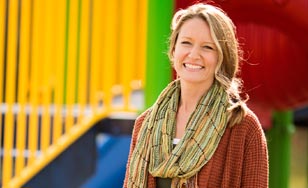 St. Scholastica graduate Molly Pavleck earned the 2016 Mr. Pete Legacy Foundation Award
When you do what you love, and you do it well, people tend to notice.
That's the story with St. Scholastica education program graduate Molly Pavleck, '01, recipient of the 2016 Mr. Pete Foundation Legacy Award. Named after renowned elementary instructor Mike Peterson, the honor is bestowed annually to recognize a teacher in the International Falls School District for their innovation, dedication and community focus.
St. Scholastica associate director for admissions Ollie Meyer — who worked with Pavleck through her application process — lauded the accomplishment.
"St. Scholastica students can learn from Molly's example that hard dedicated work, kindness and stewardship can take you far," Meyer said.
Pavleck might have had a leg up in career development — she learned from the master as a student in Mr. Pete's fourth-grade class back in the late 1980s.
"Mr. Pete was the kind of teacher you always remember," said Pavleck, a kindergarten teacher at Falls Elementary School. "I know we worked hard, but I honestly don't remember that part. I remember writing plays, learning songs and building math skills through games."
Where it began
During her time at St. Scholastica, Pavleck said many professors were influential, but that assistant professor of education John Bauman had the greatest impact on her perspective.
"Professor Bauman really showed me what the passion for teaching looked like," Pavleck said. "He made it fun to be in his class, and that's how I wanted my students to feel one day."
Pavleck stressed that the education program at CSS is doing things the right way — getting students in the classroom as soon as possible.
"For me, the biggest thing was the diverse practicum experience. The best thing you can do is watch other people teach," she said. "The tricks and tools you need are not found in a book; they're found by watching others do it, and making connections with students."
Forward thinking
Looking forward, Pavleck says she is interested in pursuing her master's in education and continuing to grow with her young family. Her experience at St. Scholastica solidified her love of learning, and she is excited at the prospect of an advanced degree.
For now, she'll continue investing in her kindergarteners, passing along the spark she gleaned years ago. With her passion and dedication to teaching, she'll undoubtedly keep Mr. Pete's legacy alive.
"I try to always remind myself that curriculum and lessons aren't what stick with kids forever, so I try to teach to the whole child," Pavleck said. "We're learning how to be a school family, and that's a lot of what I try to carry over from Mr. Pete."