February 15, 2023
Bringing a cider-filled event to Duluth
A St. Scholastica student was at the heart of Duluth's inaugural Cider North event, bringing together over a dozen cideries from across the state of Minnesota. Continue to learn more about Olivia Niska '23 and her internship experience with Duluth Entertainment Convention Center (DECC).
"Just go for it"
Olivia Niska of Cook, MN has always had an inkling towards business. She recalls playing with the cash register at her mom's flower shop while her sister would be more interested with the details of the bouquets. And with a history of Saints in her family, Olivia grew up with the familiarity of the sense of community 90 miles away from her hometown. It only made sense then that she would attend The College of St. Scholastica and major in Organizational Leadership and minor in Marketing and Business Management.
Olivia credits connecting with Career Services, close relationships with professors and hearing from local leaders as pivotal points in her St. Scholastica experience. In fact, it was a Sandbulte Center for Ethical Leadership Speaker Series that initially sparked her interest in interning with Duluth Entertainment Convention Center (DECC). Dan Hartman, executive director of the DECC, presented to the community last spring and shared advice with students.
Olivia shared that "his advice that if you really want something you should just go for it really stuck out to [her]." Soon after, she followed this advice and emailed Dan for information regarding an internship. After meeting, Olivia landed herself a position with the DECC as a DECC Presents events intern. Even better, she completed the internship for credit as part of her studies.
The ins and outs of Cider North
Since the start of the internship in November, much of Olivia's work has been centered around Cider North, Duluth's first large-scale cider festival on Saturday, Jan. 21. Olivia was "given a general outline of the vision for the event, some contacts and a date in the books and was told to run with it." And run with it she did.
In addition to the Minnesota cideries, attendees had access to food, yard games and an unbeatable Duluth view from the DECC's Harbor Side Ballroom. As the lead event coordinator, Olivia served as the main point of contact for all of the activities, communicating with internal and external vendors as part of her internship. The internship allowed Olivia to collaborate with teams across the DECC organization, create new relationships with members of the Minnesota Cider Guild and set standards for future events.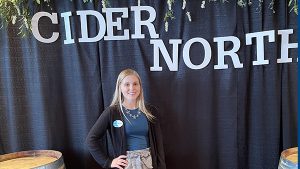 As part of the new DECC Presents Series, Cider North was produced in-house from beginning to end. Olivia explained that "normally we bring in people who want to use DECC spaces for specific events," but Cider North proved to be new territory for the entire team, resulting in a "self-guided learning opportunity" for Olivia.
Cider North was well received by the local community and from all over Minnesota, so much so that tickets sold out nearly a week before the event. Olivia is the first to admit that she didn't pull off the success of Cider North on her own and stated that "the DECC team was really great to collaborate with; they were really receptive to my ideas and execution as an intern."
Career Services at St. Scholastica
As an intern, Olivia was able to dive deep into the world of event planning, working with industry professionals and learning more about her own interests along the way. By applying classroom learnings to her internship at the DECC, Olivia combined her passions for business with real work in her community. Olivia's work at the DECC helped her realize that "there's nothing like getting out of the classroom and experiencing the real world in an internship."
Post-Cider North, Olivia continues her internship with the DECC through May and is ready for her next step with graduation right around the corner. She is considering several career options in marketing and event planning in the Duluth area after graduation.
---
Ready to find your next internship like Olivia? Whether you have a specific organization in mind or want to explore your options, Career Services is the place to get started. Reach out to Career Services to learn more about the great opportunities available to St. Scholastica students.