May 21, 2021
Physician Assistant Studies program receives a $1.49 million grant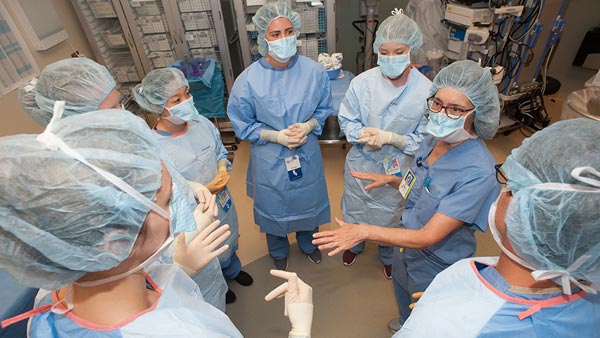 St. Scholastica has been awarded a $1,490,204 Primary Care Training and Enhancement grant from the Health Resources Services Administration (HRSA) to bolster the number of primary care physician assistants in rural northern Minnesota and Wisconsin. The five-year grant will support enhanced primary care training and curriculum development, including addressing HRSA priorities for mental health, combating the opioid crisis, and improving trainee, provider and faculty wellness.
The College's Physician Assistant Studies program is one of seven programs in the country to receive this funding.
In 2019, the College applied for the grant and received notification that the proposal had been approved, but not funded. Earlier this month, campus leaders were informed that additional HRSA funds were available and the project would be funded, over two years after the original grant submission.
Physician Assistant program director Dr. Kimberly Lakhan acknowledged the uniqueness of this award. "To receive funding for a grant so long after applying is uncommon but very appreciated," she said.
Beginning July 1, the College will receive approximately $300,000 annually. These funds will be used to recruit more preceptors in northern Minnesota and Wisconsin including those from tribal communities, support preceptor orientation and training, support students' housing and transportation costs in longitudinal rural health placements and help introduce new initiatives including rapid response training and telehealth education. The College looks forward to partnering with Essentia Health in working towards these objectives.
"This funding will allow us to equip our students with the necessary skills to be competent, dedicated providers," said Lakhan. "We will be able to better accomplish our mission in developing PAs to practice in rural and underserved areas within the northland community."
About the Physician Assistant Studies program
St. Scholastica offers the only PA program north of the Twin Cities. The 28-month, full-time program focuses on rural healthcare and delivering a curriculum that is comprehensive, interprofessional and innovative. Thirty students are accepted into the program each cohort. Learn more about the College's PA program.
Acknowledgment statement
This project is supported by the Health Resources and Services Administration (HRSA) of the U.S. Department of Health and Human Services (HHS) as part of an award totaling $1,333,332 with zero percentage financed with non-governmental sources. The contents are those of the author(s) and do not necessarily represent the official views of, nor an endorsement, by HRSA, HHS, or the U.S. Government. For more information, please visit HRSA.gov.