September 4, 2020
New beginnings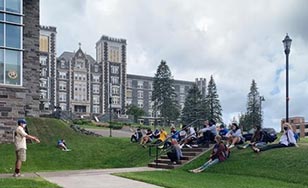 Excitement builds for the start of the school year
For the first time since March 6, St. Scholastica is welcoming students back to its classrooms, residence halls, dining areas and study spaces as Fall 2020 classes begin on Sept. 8.
Faculty, staff and College leaders worked throughout the summer to prepare for a safe return to campus. Classrooms were re-configured for physical distancing. Two hundred wall-mounted hand sanitizer dispensers were installed. New outdoor furniture was placed on campus to provide more safe spaces to socialize outside.
Hybrid delivery
Courses will be delivered through a mix of in-person or online methods, or a mix of the two (hybrid delivery). Melissa Goodson, PhD, assistant professor of Marketing and Business Management, will take advantage of all delivery methods, emphasizing safety and the student learning experience. She said she's looking forward to seeing her students again, whether in a virtual or in-person format.
"I will have a mix of participants online and in-person Monday and Wednesday for active learning (for safety purposes of social distancing), with Fridays for group projects and online activities. All students will be required to be at least six feet apart in the classroom, and masks are mandatory."
Her advice to students this semester is to prioritize self-care.
"Make a plan for yourself that includes time on your calendar for rest and fun," she said. "It will be important to take care of you. Also, be willing to commit to being proactive and engaged in the learning process. Showing grace to one another will be key to a successful learning environment."
Advice for students
Jessica Johnston, director for Academic Access and Support, encourages students to create routines and schedules and to use technology to help them succeed. Google Calendar is a great way to stay organized, she said.
"Brightspace, our new online learning management system, integrates with Google," she said. "Put all due dates, to-do tasks, tests, and class meetings and appointments on your CSS Google calendar, and then sync the calendar on your smartphone."
Time blocking is an effective tool, Johnston said. "Create a master weekly schedule and set up blocks of time now for studying, class, working out, and things you enjoy!"
Many important messages are sent through email, but students often feel overwhelmed with the number of messages they receive. Johnston advised making an email game plan.
"Check your email twice a day, once in the morning and evening," she said. Gmail has many helpful filters, folders and labels that can help students organize their messages.
All students are part of the Student Community Digest email listserv, which is often used to promote events, share news, and buy or sell books. Many students find it helpful to receive a summary of these messages daily in one morning digest instead of one-by-one as individual emails. This can be changed easily in the Gmail settings.
Campus resources
Johnston urges students to take advantage of the many academic resources available on campus.
"Try out at least one new resource this semester," she said. She recommends the Tutoring Center, Writing Center, and the Library.
The College also offers extensive mental health resources, including Counseling services, Student Health Service, and WellU.
'Keep moving'
Marketing major Tianna Cady '21 of Sauk Rapids, MN, is taking mostly in-person classes this fall as she prepares for graduation and a career in the Air Force and real estate. Her advice to first-year students is to simply focus on what needs to be done and push onward.
Like Johnston, she said that having a routine is key. This helped her greatly during the hard pivot to online courses in the spring semester.
"My best piece of advice would just be to keep moving through, even when things get hard," Cady said. "I know that is a lot easier said than done, but at the end of the day they can say 'I started my college career during a global pandemic.' Not too many people can say that."