February 7, 2022
Feb. 4 Safe Return update
Dear Colleagues,
Happy February! I hope your month is off to a peaceful, healthy start. Although we experienced yet another cold snap in Minnesota, we know that spring is just around the corner, and with it, all the hope and promise of a new season. Days are getting longer, and that light brings us to new seasons.
Get your booster!
As we shared last week, boosters are not yet a requirement but we strongly encourage everyone who is eligible to get a booster when you are due. The Minnesota Department of Health has created this graphic to clarify the timing of your booster depending on the date/type of your primary series: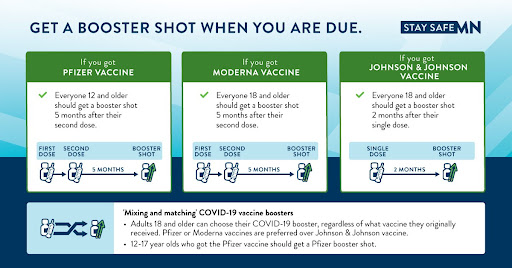 Don't forget, you are considered up to date when you have received all of your recommended COVID-19 vaccines, including your booster when eligible; you are considered fully vaccinated when you have received your primary series of COVID-19 vaccines. This distinction significantly impacts whether/not you must quarantine if exposed to a COVID-19 positive person.
Students can upload proof of their booster to the College's MyHealth portal. Employees, our Vaccine Attestation qualtrics form has been revised to now include the option to upload proof of your booster. Thank you for taking the time to provide this information in our ongoing efforts to measure the overall vaccine coverage of our employee community!
Changes to Contact Tracing
Beginning this month, Contact Tracing will no longer routinely ask faculty for seating charts in the course of contact tracing case investigation in classroom settings. Instead, Contact Tracing efforts will provide classroom exposure notification, and prioritize resources towards identifying cluster cases in classes.
Contact Tracing will continue to email faculty and students in the event of a student testing positive for COVID-19 attended class during their infectious period
Contact Tracing will continue to work with MDH and in accordance with CSS policies to employ mitigation strategies in the event of identified clusters
Contact Tracing will continue to provide contact tracing of individuals identified specifically as close contacts by individuals who have tested positive for COVID-19
This change in strategy aligns with other Minnesota colleges, and was made in light of evidence that classroom settings have not been identified as an area of high transmission of COVID-19, likely as a result of the masking and distancing mitigation strategies in place. If you have had a close contact, are experiencing symptoms or have tested positive, please continue to self-report using the COVID-19 Report Form. Thank you for supporting the College's contact tracing efforts!
Spring 2022 Commencement
Once again, the College plans to provide our Spring 2022 graduates with a celebration rooted in our Benedictine values of hospitality and community. We will host a pre-recorded virtual commencement, featuring remarks from myself, Dr. Ryan Sandefer and a keynote speaker, and we will also host an in-person ceremony on Saturday, May 14 at the Duluth Kenwood Campus. The schedule of events is as follows:
Baccalaureate Mass, 9 a.m., Mitchell Auditorium
Graduation Brunch, 9:15 a.m.-12:30 p.m., Greenview Dining Room
Graduation Procession, 10:15 a.m.-4 p.m., Burns Wellness Commons (each graduate will be pre-assigned a timed entry slot)
Virtual Commencement Ceremony, 4 p.m., (the link will be provided in March)
Please stay tuned for more information in the coming weeks as well as opportunities to volunteer.
Soliciting nominations for Alumni Awards
Alumni Engagement is soliciting nominations for this year's Alumni Awards.  If you know an alumni and/or faculty or staff member that is making a difference in the community, please consider nominating them for the College's annual Alumni Awards! Visit our Alumni Award Nomination Form website for information on the awards, deadlines, and nomination form.
Thank you for helping us shine the light on our Saints!
Celebrating the Feast of St. Scholastica
Members of the community are invited to participate in the festivities of the Feast of St. Scholastica on Thursday, Feb. 10. The feast day features two events for the community; a virtual panel of St. Scholastica alumni and a Catholic mass, in person, with Fr. John Petrich in Our Lady Queen of Peace Chapel on the Duluth Campus. Please visit this resource guide Celebrating the Feast of St. Scholastica at The College of St. Scholastica for all of the information and how to participate!
Best in the Midwest!
Last week, the College received the tremendous news that our master's in education now ranks #53 out of 337 total online programs in the country. We are now the highest-ranking online MEd program in Minnesota, Wisconsin and the Dakotas. You can read more about this accolade and the methodology in our News Center. Thank you to Chery Lucarelli and Amy Murzyn for their leadership and to all the faculty and staff who work hard to make sure this program continues to grow and meet the needs of our students!
I am very grateful to you all for the ways in which you show compassion and support to our students and our full community.
Enjoy your weekend and stay safe and warm,
Barbara