June 30, 2020
College offers OnTrack Nursing Assistant Training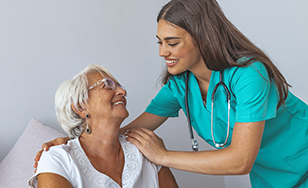 St. Scholastica, a longtime leader in nursing education, is offering a new training opportunity that will allow participants to become nursing assistants in as little as six weeks.
The OnTrack Nursing Assistant training, powered by LeadingAge Minnesota Foundation and EduCare, is a 75-hour program offered in a flexible hybrid format. It combines online coursework with in-person skills training and simulated or direct patient care clinicals.  Students can complete the program at their own pace.
"We are pleased to offer the OnTrack training in a flexible format that will help anyone who is interested in getting a jump-start on a career in nursing," said Sheryl Sandahl DNP, dean of the School of Nursing at St. Scholastica. "We're excited about this opportunity to help a new community of students achieve their goals."
Like many healthcare occupations, nursing assistants are in demand. The Bureau of Labor Statistics predicts a 9% faster-than-average rate of job growth for 2018-28.
Nursing assistants are an integral part of the nursing-care team. Some responsibilities of a nursing assistant include taking vital signs of patients, answering patient calls, and assisting with documentation of feeding and care patterns.
Once participants have completed this program and passed a Nursing Assistant Registry test, they will be able to work in a variety of areas such as nursing homes, home health, clinics, hospitals and more.
The program is available in Duluth and St. Cloud. Courses will meet both Wisconsin and Minnesota requirements.
Applicants must be at least 16 years old with the ability to lift 50 pounds and to bend and stoop. Eligible individuals may qualify for grant funding for their training through CareerForce (contact 218-730-5246 or jcabrera@duluthmn.gov) or through reimbursement from an assisted living or skilled nursing facility (contact Andrea Chartier in St. Scholastica's Career Services office at achartier@css.edu).
With more than 8,000 nursing alumni, St. Scholastica has been a leader in nursing education for decades and is the second-largest nursing program in the state.
Applications are now being accepted. For more information or to apply, go to css.edu/nursingassistant.