October 4, 2019
27 countries and counting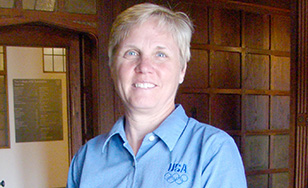 Kim Moncel's expertise in Athletic Training knows no bounds.
She has traveled the world serving as an athletic trainer at four Pan American Games as well as at ParaPan American Games, which are for athletes with physical disabilities. Most recently she was in Lima, Peru, in July and August.
Moncel is a member of the College's AT faculty and is Clinical Education Coordinator for the Master of Athletic Training program.
"If you're going to work in sports medicine, or AT specifically, for me the goal is to work with the highest level of athletes and help them achieve the highest level they're capable of," Moncel said. "When I go to the games I get to work with all the medical providers with all the teams, and have developed a network that's really helpful to me."
Her connections are beneficial to her St. Scholastica students.
"I send students to clinical rotations with these folks," she said, "and sometimes it turns into jobs for them."
Moncel joined the College in 1997 as head athletic trainer. She left in 2014, returning as a faculty member in January 2018. She has been able to continue her international work – in 27 countries so far – in the summers. Here are a few scenes from Moncel's international Athletic Training practice.
"I started doing it because it was an advancement in my career," she said. "Now I continue doing it because of the people I've met and the relationships I've developed. It also gives me an opportunity to still do some patient care. It's good classroom conversation."
She's particularly gratified to work with Paralympic athletes.
"I really enjoy it. It's much more challenging to work with someone who doesn't have the normal biomechanics I'm used to working with. It's fascinating. You become more of an all-inclusive health care provider instead of just an orthopedic health care provider."
She appreciates the encouragement of her colleagues at St. Scholastica.
"I think it's important for us as faculty to still be doing things in health care and in the profession, even if it's not directly for the institution," she said. "The College has been very easy to work with and very supportive of me doing these things."