January 2, 2017
What qualities make a good teacher? 8 signs you should pursue an education degree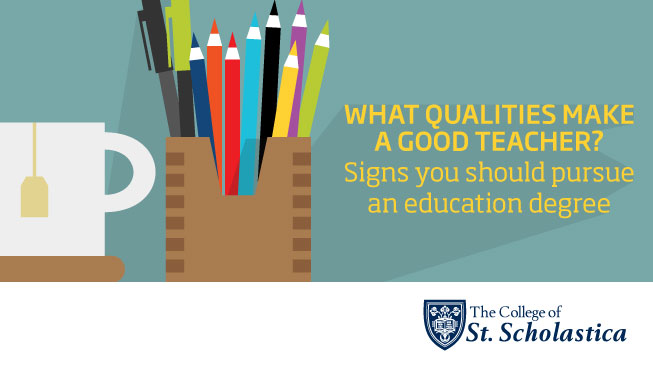 Teachers play such an important role in our society. They help mold the minds of our young learners and prepare them to be successful in the modern world. Each of us can undoubtedly think back and recall a favorite teacher or two who made profound impacts on our lives. But have you ever tried to pinpoint what it was that made those teachers so influential?
The truth is, not everyone is naturally inclined to find success in this highly-valued role. If you're considering becoming a teacher, you've likely asked yourself, "Do I have what it takes?"
"Becoming an excellent teacher is something that can grow over the years through experience and pedagogy," says Sarah Tippett, editor of Homeschool Base. But Tippett goes on to explain that there are other crucial qualities that are unmeasurable — qualities that can't be taught.
We consulted experienced educators to ask them what they would consider to be essential qualities of a successful teacher. Take a look at what they had to say.
8 common traits of a great teacher
1. Confident
Standing up in front of a classroom full of students to teach concepts that they may or may not have much interest in definitely requires a healthy amount of confidence. You'll surely become more comfortable the more you do it, but a certain degree of confidence is needed up front.
"There is nothing worse than a teacher who doesn't look like he or she knows what they're talking about" Tippett says. "Students can pick up on this immediately." That's not to say you can't have your insecurities. But if you teach with assurance, your students will trust you and follow your lead.
2. Innovative
"A good teacher thinks outside of the box and incorporates instructional activities that are catered to students' diverse learning styles and academic needs in order to help students grasp or learn difficult concepts," explains Rebecca Huggins, veteran educator of 22 years. You don't need to be the most creative person out there, but some of the most effective educators tend to put an inventive spin on their lessons.
"Sure, many districts supply lesson plans you can simply follow, but that doesn't make a great teacher," says Christopher Brantner, founder of Scribblrs.com and former teacher of 11 years. "Teachers who truly connect with students are able to carefully craft and amend lessons to suit learners' needs. They understand how to make the most boring information relevant and exciting."
3. Resilient
As a teacher, you will be taken through the highest of highs and the lowest of lows throughout each school year, explains Beth Rosenbleeth, veteran teacher of more than 13 years and founder of Dayswithgrey.com. "You must [be] willing to put in your all and when you fail, rise back up to restart the next day knowing that you will feel that high again when a student succeeds," she adds.
If you are the type who longs to make a difference in the lives of students, this resilience should come second-nature to you. "Teaching can be a thankless job at times," Brantner admits. "But in the end, great teachers simply want to help students."
4. Perceptive
One of the primary roles of a teacher is to track the progress of each student throughout a given school year. But this doesn't simply mean checking in on quiz, test and project grades. Quality teachers should be able to perceive when a student is struggling before it revealed on his or her report card.
"Each child comes with their own set of needs," Rosenbleeth says. She explains that a great teacher takes the time to ensure the dyslexic student is getting the help he or she needs to succeed; the high-achieving student is challenged enough; and the average student who quietly listens to everything you say is still finding ways to perform on the next level.
5. Reflective
"After a good teacher delivers a lesson, he or she reflects or thinks about it," Huggins explains. Parsing out which elements of the lesson went well and which ones didn't can help teachers improve their tactics and really hone their teaching skills as they move forward.
Upon reflection, when starting a new lesson, "a good teacher has already made the necessary adjustments to make certain he or she has incorporated the best instructional activities and assessments to maximize student learning," she says.
6. Humble
Even the greatest teachers experience not-so-great days in the classroom. There will definitely be hurdles to overcome and errors made in the process. But quality educators are able to admit when they've made a mistake.
Teachers are human beings, says Steve Sonntag, veteran educator with 46 years of teaching experience at various levels. He adds that approaching your own mishaps with humility can set an important example for your students. "This will show students that it is okay to make mistakes, and that it can happen to anybody," he says.
7. Curious
The most impactful educators not only have a passion for teaching, but they have a passion for life-long learning, according to Jesse McCarthy, writer, public speaker and educator with 15 years of experience serving infants through eighth graders.
"It's not enough to want to teach children," he explains. "You yourself must want to forever be a student, in that you just love to learn. Above all, this means staying curious. The more curious teachers are as individuals — in and outside of school — the better they will be at cultivating curiosity in students."
8. Inclusive
U.S. schools have encountered an enrollment milestone. For the first time, the number of Latino, African-American and Asian students in public K-12 classrooms has surpassed that of non-Hispanic Caucasian students. Minority students now comprise approximately 50.3 percent of enrolled students.
Whether the differences lie in race, religion, socioeconomic status, gender or learning capabilities, our classrooms are more diverse than ever, and the most impactful teachers have learned how to foster inclusive environments in which all students have an opportunity to thrive. Inclusive excellence in the classroom ensures a better learning experience for all students. Educators who are culturally responsive, adaptable and open to learning diverse teaching strategies can best serve the needs of their 21st Century learners.
Do you have the traits of a top-notch teacher?
Can you identify with some of these critical qualities our education experts have deemed the most important for effective teachers? If so, it may be time to take the next step and learn a bit more about the profession you've set your sights on.
You can learn more about the job outlook, earning potential, required skills and passionate purpose of the teaching profession by checking out our article, "Should I become a teacher? Expert educators weigh in."
Receive Program Info and Financial Aid Options
Detailed program overview
Personalized financial aid
Individual admissions support