April 6, 2015
Should I become a teacher? Expert educators weigh in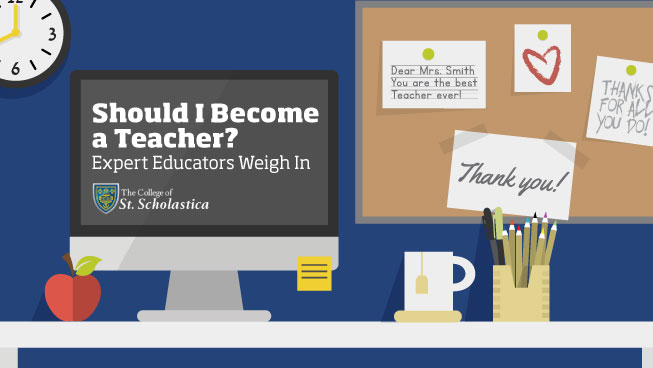 Education is consistently listed among the most popular college majors in the country. This career field, while competitive, is always in need of a new crop of young, passionate educators.
In fact, a recent report from The Alliance for Excellent Education explores tactics for maintaining retention when schools are graced with high quality, innovative teachers, stating that teaching quality is recognized as the most powerful school-based factor in student learning.
Narrowing down a college major can be a difficult decision, but the more you know, the better equipped you'll become to make the right choice for you. Join us as we explore some of the basic facts about the teaching profession, as well as some insights from educators with years of experience in the field to better prepare you to answer the question, "Should I become a teacher?"
Fast facts about teaching
It's no secret that teaching is a competitive career path. But it has long been reported that a surge of educators entering retirement has and will continue to create more job openings for teaching hopefuls, while rural school districts have been facing a long-standing teaching shortage of their own.
So what does the nation's job market actually look like for teachers?
High school teaching positions are expected to grow at a rate of 6 percent through 2022, according to the Bureau of Labor Statistics. Educators in these positions are required to have a bachelor's degree and teaching certification, and they bring in a median salary of $55,050 per year.
Kindergarten and elementary teachers are also required to hold a bachelor's degree and certification, although these positions are projected to increase 12 percent through 2022, and they accrue a median salary of $53,090 per year.*
Pursue the purpose & passion of teaching
The Alliance for Excellent Education's report focuses a lens on the variances in "school climate" and the influence this can have on retention. This mission to find the right teachers to fit into the climate of any given school means that there will always be a need to find the next great educator.
Vocational and financial security can act as major stress-relievers, but it's safe to say that most teachers enter the education field seeking out the non-monetary rewards. Research shows that people who pursue purpose and passion over a fat salary and ample job openings are generally happier. Happiness, for many, comes from the validation that they are making a difference.
Educating children and young adults does not come without its challenges. Teachers are a guiding force throughout some of the most pivotal developmental years. More than simply teaching long division or governmental policy, they can serve as external support systems for their students who are grappling with difficult living situations, relational conflicts, grief and other challenges.
"Those are challenges that are not in your job description," says Felicia Shepherd, seasoned educator and founder of Finesse Consulting Services. "But it is a part of your core belief system as an educator to be of service when needed." Seventeen years into her career, Shepherd maintains that the rewards far outweigh the struggles.
She's even been invited to a number of college graduations, weddings and baby showers for people she taught years prior. "When your former students reach out to you to attend such memorable moments in their lives, it is a wonderful experience."
Create your own extra credit
There are several qualifications schools are looking for in their teaching candidates. In addition to basic requirements like a bachelor's degree and any relevant certifications, employers seek a handful of other skills.
Nearly 150,000 open teaching positions from the past year listed several common required skills such as lesson planning and curriculum development, according to Burning-Glass.com. But listed alongside such skills were also things like child and staff development, collaboration, decision making and even first aid.**
College courses can provide you with the knowledge required to be successful as a teacher, but there will always be things you can only learn from direct involvement. Student teaching is a great source for gaining hands-on experience and confidence, but it doesn't have to stop there.
"Being a great teacher is not limited to a classroom setting," says Shepherd. "A good teacher has several tools in their toolbox." She suggests volunteering at community centers or churches, serving as a tutor and seeking out online resources such as webinars.
"Employers want to see that their potential employee will go beyond the call of duty in order for the children of today to be successful," Shepherd explains. She encourages would-be teachers to take initiative to expand their professional connections in an effort to expose them to new teaching styles and curriculum ideas they can add to those teaching toolboxes.
Develop a lesson plan for success
"Teaching definitely provides you with struggles as well as accomplishments, since every day is unpredictable when you're working with children," says Kathryn Starke, urban elementary school literacy coach and founder of Creative Minds Publications. There are some things for which you simply can't prepare, but there is plenty that you can do before you have to stand in front of a classroom.
Shepherd suggests asking a former teacher if you can shadow him or her; reading through successful lesson plans; and seeking out a mentor. Put simply, she says, do what you can now to convey your passion, eagerness to learn and receptivity to outside advice. Prospective employers will see a clear picture of your potential as the next great teacher in their educational community.
"Teaching is a profession that is not as well respected in our country as it should be," Starke says. "And yet, everyone has a memory of an amazing teacher who changed their lives. We need creative, enthusiastic, loving teachers to provide the best learning environment for our students."
Now that you have the insight from our expert educators in tandem with real-time market statistics, it's time to revisit that question: "Should I become a teacher?"
If you identify with the passion and purpose that comes with a career in teaching, visit The College of St. Scholastica's Stender School of Leadership, Business and Professional Studies page to learn more about our seasoned faculty, hands-on opportunities and variety of nationally-accredited undergraduate, graduate and certification programs.
*Salary data represents national, averaged earnings for the occupations listed and includes workers at all levels of education and experience. This data does not represent starting salaries and employment conditions in your area may vary.
  **Source: Burning-Glass.com (Analysis of skills in greatest demand for kindergarten, elementary, middle school and high school teaching positions, Feb. 1, 2014 to Jan. 31, 2015)
Receive Program Info and Financial Aid Options
Detailed program overview
Personalized financial aid
Individual admissions support