June 12, 2017
What is a business analyst? Learn more about this in-demand position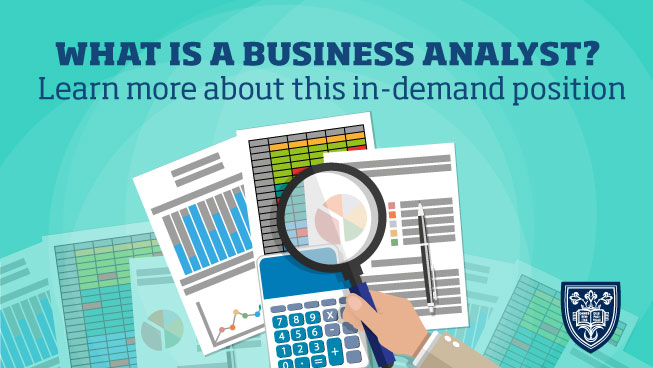 In today's world of ever-growing and changing technology, fields like business are scrambling to find ways to integrate and improve technology in their companies. This shift toward all things tech-related has opened the door to a host of new career opportunities.
One of these exciting positions is that of a business analyst. This role blends business, management and computer skills together to help businesses reach their full technological potential. If you are interested in the intersection of business and technology, this could be the career for you.
But before jumping into a new career path, you likely have a few questions that need to be answered: What is a business analyst, anyway? What exactly do they do? And why should I become one?
Navigating these questions on your own can be tricky, which is why we've done the hard work for you. We understand your most pressing concerns and we've enlisted experts to help bring the answers to you. Read on to take a deeper dive into the fascinating world of business analysis.
What is a business analyst exactly?
Known by a variety of titles — such as application analyst, computer systems analyst, information systems analyst and programmer analyst — a business analyst is an integral part of many companies. Business analysts are a key component in understanding how an organization utilizes certain computer systems and how they can improve them to become more efficient.
The role of a business analyst will vary slightly depending on the company and industry. In a tech company, "a business analyst helps a software development team build the right software," explains business analyst Ben Brumm.
No matter the company, business analysts are vital to ensuring that companies function on the best computer system.
What does a business analyst do?
Business analysts have many duties, depending on the company and the project. However, the main role of a business analyst is to develop processes for a business to use a new technology in a way that will be beneficial to the whole company.
A few broad duties business analysts are responsible for include the following:
Collaborating with businesses to understand current IT and computer systems
Analyzing efficacy of current systems and determining what changes need to be made
Creating plans to design and install new systems
Implementing new systems, including hardware and software
Testing systems and training users on how to use any new systems and software
Brumm explains that a typical day for a business analyst includes attending meetings with various stakeholders such as sales reps and developers; taking notes and translating them into documentation for users; and answering questions from both the developers and the end users.
Business analysts use these discussions with users to identify and capture the requirements for new or enhanced information systems, explains Brandon Olson, department chair of the computer information systems program at The College of St. Scholastica. "These professionals understand the users' business processes and understand the capabilities of software in order to ensure users' needs are met and the developers know what needs to be done," he says.
What skills do business analysts need?
We used real-time job analysis software from Burning-Glass.com to examine more than 160,000 business analyst job postings from the past year.* The data helped us identify which skills employers value most. Consider the following business analyst skills based on employer demand:
Project management
Systems analysis
SQL
Business process
Microsoft Excel
Business analysis
Oracle
Business systems analysis
Software development
Information systems
"A good business analyst will have a technical background [and] is personable and knowledgeable of specific industries or processes," says Dennis Ruggeri, president of Elicere. He explains that not many recent college graduates possess this skill set right away, but as long as you are well versed in the tenets of liberal arts — versatility, communication, critical thinking, leadership and creativity, to name a few — you can develop the other required skills over time.
Why become a business analyst?
As businesses grow and technology becomes more advanced, the demand for business analysts will grow as well. In fact, the Bureau of Labor Statistics (BLS) projects jobs in this field to increase by 21 percent by 2024. This is three times the national average for all occupations. Needless to say, the future is bright for aspiring business analysts!
Job security isn't the only reason to consider a career in this booming profession. The BLS also reports the median annual salary for business analysts in 2016 was $87,220, with the highest ten percent earning more than $137,690. This puts the profession well above the national average of $37,040. With exciting earning potential and steady growth, this field is not to be overlooked.
How do you become a business analyst?
If the information above has you excited about the possibility of becoming a business analyst, there are several paths you can take. While there is no standard education requirement, most individuals in this profession possess a postsecondary degree.
In fact, our analysis revealed that more than 80 percent of employers are seeking business analyst candidates with a bachelor's degree. According to the BLS, many professionals in the field have a degree in a computer-related field. One common option is a degree in computer information systems.
If you are hesitant about pursuing a computer-related degree, don't be! "Computer languages and programming languages are actually way easier than you think, so don't be intimidated," says Michella Chiu of Prime Opt. "Even people with no quantitative background stand a chance of mastering these languages. The key is not to be afraid."
Business analysis has become such an important factor in today's professional landscape, in fact, that the Project Management Institute (PMI) has instated a new Professional in Business Analysis (PMI-PBA) certification. With project management-specific skills in mind, many business analyst hopefuls will also consider pursuing a Master of Science in Project Management degree path.
Are you ready for the challenge?
As you now know, the field of business analysis is growing at an incredible rate, and the earning potential is promising. If you possess this unique blend of business savvy and technical prowess, this just may be the career you've been waiting for.
Are you ready to take advantage of this exciting opportunity? The first step you should take if you want to become a desirable candidate is to earn your degree. There are plenty of schools out there, but not many have a computer information systems (CIS) program. To learn more about what a CIS program can offer you, head over to our article, "What Makes St. Scholastica's computer information systems degree different from the rest."     
*Burning-Glass.com (analysis of 161,087 business analyst job postings, May 01, 2016 – April 30, 2017).
Receive Program Info and Financial Aid Options
Detailed program overview
Personalized financial aid
Individual admissions support