April 18, 2016
What makes St. Scholastica's computer information systems degree different from the rest?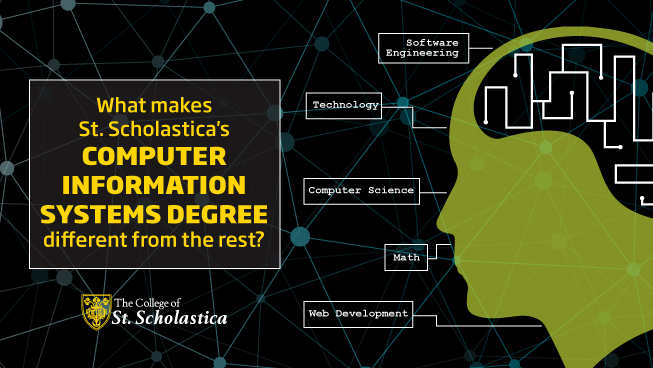 Computer information systems (CIS) is a dynamic career path with a ton of potential for information technology (IT) hopefuls. Graduates in this field are equipped to take on a number of different IT-related careers, from web development to software engineering to innumerable job titles that don't even exist yet!
And in our highly technological age, the future looks incredibly bright for CIS hopefuls. In fact, it is projected that job openings in this field will see faster-than-average growth through 2024, according to the Bureau of Labor Statistics. Add to that the healthy median annual salaries — ranging from approximately $75,000 to $108,000 for those with a bachelor's degree or higher — and you'll be on the path to career success in no time.*
While the decision to pursue a career in CIS may be an easy one at this point, it's never easy to choose the best program for your particular needs. The College of St. Scholastica's CIS degree path is designed to help students just like you achieve their IT career dreams. Check out these six compelling facets of the program that make it stand out from the pack.
6 things you should know about St. Scholastica's CIS program
1. The brand new curriculum is launching in fall of 2016
The faculty members at The College of St. Scholastica (CSS) understand that the world of technology never stops evolving. That is why they've made continued efforts to keep their CIS curriculum as relevant and streamlined as possible.
To that end, CSS is launching an entirely new CIS curriculum in fall 2016 to make sure its students stay on the cutting edge of the industry! "The new curriculum was designed through collaboration with information technology leaders and CSS alumni to make sure our students possess the skills and knowledge needed to succeed in the IT field," explains Brandon Olson, associate professor and chair of the CIS department.
Olson and other faculty members tapped into the needs of the industry at large in crafting this new curriculum plan. "[It] builds upon the strengths of our CIS program by adding courses in communication and project management while continuing to provide the technical and analytical topics we've studied in the past," he adds.
2. Students can choose from 4 distinct concentration options
One facet of the new CIS curriculum is the implementation of two new concentration opportunities that align closely with the jobs many CSS graduates pursue. "The concentration in software development focuses on the art and science of designing and developing software," Olson explains.
"Our concentration in business analysis focuses on understanding business needs and translating these needs into technical requirements and high-level software design," he adds.
In addition to selecting a concentration in software development or business analysis, students can also choose a concentration in mathematics or health informatics if they envision their career focusing more on work with numbers or healthcare.
3. Students can also partake in a unique custom concentration opportunity
If you don't see your future in IT aligning with one of the four concentration options listed above, you're definitely not out of options! CIS students at CSS can also craft a custom concentration.
"The IT field integrates technology with other disciplines," Olson says, "and for this reason, we offer the custom concentration so students may apply their studies in CIS with studies in a second major or a minor." He also explains that the custom concentration is a great option for students who are transferring from a two-year college and hope  to combine previous credits with their CIS coursework.
4. Students have the choice to learn on-campus or online
The faculty and administration at CSS understand that all students come with their own set of responsibilities outside of going to college. Whether you're looking to immerse yourself fully in an on-campus program or you're hoping to work full-time while taking classes online, there's an option within the CIS program for you.
You can opt to pursue your CIS degree either in person at the Duluth, Minn. campus, or through a flexible and convenient 100 percent online path while maintaining the same valuable student outcomes in either modality.
Do note, however, that the mathematics concentration option is only available on-campus.
5. New students can participate in the SUCCEED scholarship program
All newly enrolled students in the CIS program at CSS are eligible to take part in the SUCCEED program, a blend of online coursework and face-to-face campus activities through the St. Paul, Minn. location. The program provides students with a more personalized experience than a typical online education through the addition of on-campus support and engagement activities.
What's more? SUCCEED program participants are awarded a scholarship valued at approximately $4,000 — that equates to a 15 percent tuition markdown for the CIS program!
6. Students get to learn from esteemed faculty with a wide range of experience
Enrolling in the CIS program at CSS will provide you with the opportunity to work with an array of respected faculty and staff who are not only experts in their field, but boast experiences in a wide range of industries.
From a YouTube author extraordinaire and nonprofit webmaster to an outdoorsman with a passion for IT leadership and even a biochemist turned computer science education pro who is working toward bringing more diversity to the CIS field, you can trust that you'll be in good hands at CSS.
Your IT career path starts here
Now that you've narrowed your vocational future to a career in CIS, can you envision yourself at St. Scholastica? From the cutting edge curriculum to the customized learning experience, the CIS program at CSS is eager to help you achieve your IT dreams.
You can learn more about earning a CIS degree at St. Scholastica by visiting the program information page.
*Salary data does not represent starting salaries, and employment conditions in your area may vary  
Receive Program Info and Financial Aid Options
Detailed program overview
Personalized financial aid
Individual admissions support