May 7, 2018
What ELSE can you do with a social work degree? 6 careers to consider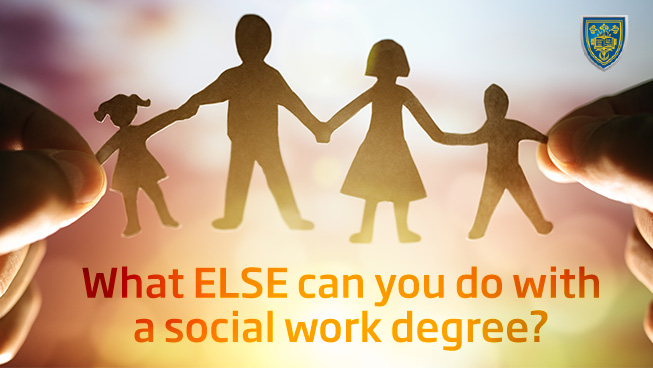 Social workers spend their careers working to preserve the quality of life for those in our communities. Considered by many to be unsung heroes, these human services professionals can work in a variety of different environments within a number of varying specialties.
From working with our military service members and those struggling with mental illness to impacting teen substance abuse and even the well-being of the athletes among us, social workers set out to help our communities thrive. But what if the social work path appeals to your educational interests, but you're seeking something other than the traditional path of working as a social worker?
You may be surprised to learn that there are many managerial jobs seeking qualified candidates who've earned social work degrees. In fact, we used real-time job analysis software to examine more than 38,000 job openings requiring a bachelor's degree in social work over the past year.* With the obvious exception of the traditional social worker path, the following six jobs topped the list.
6 more social work careers to consider
1. Case manager
Case managers and social workers differ in a number of ways. Primary among them is the fact that while case managers may give limited counseling to their clients, they do not provide therapy. Rather, they are social service workers whose primary duty is to coordinate care for their clients by conducting intake interviews to gain a better understanding of a client's needs. After which, they connect the client with agencies and institutions that can meet those needs.
Another common duty for case managers is to continually monitor the client to ensure needed services are being adequately provided. As the job duties indicate, these positions require dedicated, compassionate, bachelor's-qualified professionals. While no licensure is needed for case manager jobs, many in this field go on to pursue one or acquire other professional certifications.
2. Director of social services
The typical role of a qualified director of social services centers on overseeing the daily operations of health services in assisted living or independent living facilities. This can include providing information and resources to prospective residents and families; coordinating admissions for all residents; advocating for and promoting residents' rights; identifying and acting on opportunities to help support the daily efforts of both staff and residents; and much more.
As a managerial role, social services directors will typically have a bachelor's degree in social work or a related field. For some positions, a master's degree may be preferred.
3. Health manager
Medical and health services managers — at times referred to as healthcare administrators — plan, direct and coordinate services within healthcare facilities. This can include managing an entire facility or a specific clinical department, working to improve overall efficiency and quality of healthcare services. Health managers are also responsible for staying up-to-date with any changes in healthcare laws, regulations and technology.
These professionals often work closely with physicians, surgeons, registered nurses, laboratory technologists and other esteemed healthcare workers. It's also true that part of the job includes interacting with patients and even insurance agents. For this managerial role, a bachelor's degree is typically required, while master's degrees are common in the field.
4. Residential counselor
Also referred to as rehabilitation counselors, residential counselors typically work at organizations such as rehabilitation centers, group homes, residential care facilities and shelters. In general, these professionals are tasked with supervising a group of program participants or clients within the organization's structured environment.
For example, residential counselors may work with clients of all ages who have physical, mental, developmental or emotional disabilities. Within this sphere, these human services pros can work with their clients to help them manage or overcome any hindering effects of their disabilities while learning to find success living independently.
5. Care coordinator
As the job title indicates, care coordinators are responsible for managing all the details of a patient's care within a healthcare facility. Hospital-based care coordinators spend a lot of time talking with the care team about post-hospital plans. Then they assist patients in reviewing care plans, secure follow-up appointments, go over information relating to any necessary prescriptions and confirm that any special circumstances will be accounted for.
These professionals often act as the spokespeople advocating for the wishes of the patients, requiring superb communication skills. Care coordinator jobs typically require an associate or bachelor's degree in a field related to social work or healthcare administration.
6. Clinical manager
An offshoot of medical and health services management, clinical managers hold managerial duties in both administrative and medical capacities to maintain smooth operations within all aspects of the establishment in which they work — often doctor's offices, clinics, long-term care facilities and outpatient facilities.
In addition to overseeing day-to-day management of clinical, professional, administrative and clerical staff, clinical managers are often also tasked with managing the recruitment, training and development of new staff members. At minimum, a bachelor's degree in a field like social work or healthcare administration is required.
Have you found your future social work career?
Even if you've determined that the traditional path toward working as a social worker isn't for you, you can still find career success with a social work degree. Could any of the six titles outlined above help you fulfill your professional aspirations while allowing you to use your career to make a positive impact?
If you can envision yourself enjoying the meaningful work of any of the social work careers we've explored, it may be time to truly consider what a bachelor's degree in social work has to offer you. You can learn more by visiting The College of St. Scholastica's Accelerated Bachelor's in Social Work program page.
If you've already earned a bachelor's degree but you're interested in continuing your education with a focus on clinical social work, head over to the Master of Social Work (MSW) program page for more information.
*Burning-Glass.com (Analysis of 38,823 job postings requiring a social work major AND bachelor's degree, Mar. 01, 2017 – Feb. 28, 2018)
Receive Program Info and Financial Aid Options
Detailed program overview
Personalized financial aid
Individual admissions support